Indie Focus: Hidden lives in 'Mission: Impossible - Fallout,' 'Scotty and the Secret History of Hollywood,' and 'Puzzle'
Hello! I'm Mark Olsen. Welcome to another edition of your regular field guide to a world of Only Good Movies.
One of the delights of recent reconfigurations and reconsiderations within the world of film culture has been the reconsideration of Barbara Loden's 1970 film "Wanda." The only film written and directed by Loden, a Tony-winning actress who also stars, the movie centers on a young woman who drifts away from family into a hazily defined life on the margins. Everything about the film, including its style, storytelling and performances, is singular.
Little-seen in its day, the film has rightly been revived and is now seen as an important and influential work. Perhaps the best and easiest way to get caught up on the film and Loden's remarkable story is via a 2017 episode of the essential movie podcast "You Must Remember This."
Currently opening in venues around the country, the film will screen at the American Cinematheque's Aero Theatre on Aug. 4.
We will have a number of screening events coming up in August. For info and updates, go to events.latimes.com.
'Mission: Impossible – Fallout'
The latest film in an enduring franchise, "Mission: Impossible – Fallout" has been receiving strong reviews as a fun summer action movie that also doesn't entirely require viewers to check their brains at the door. Director and writer Chris McQuarrie puts star Tom Cruise through his paces in another action-thriller espionage story, with supporting performances by the likes of Simon Pegg, Rebecca Ferguson, Ving Rhames, Angela Bassett, Vanessa Kirby and more.
Reviewing for The Times, Kenneth Turan cataloged the film's many action set- pieces, adding: "This is a film that wants you to live in the moment, to enjoy what is on screen when it is there in front of you and not worry how it fits into a plot that can be confusing but clears up in time for the inevitably rousing conclusion."
The Times' Josh Rottenberg spoke to McQuarrie and some fo the film's stunt team about the ways in which the series always seems to top itself and how some of the biggest sequences were put together.
"It was so big and so overwhelming," McQuarrie says. "We didn't know how big a bite we were biting off before we did it. It's a very scary way to make a film. It's also intensely invigorating."
As always, the New York Times' Manohla Dargis writes about action movies like no one else, saying, "There's a whole lot of everything in the 'Mission: Impossible — Fallout,' an entertainment machine par excellence that skitters around the world and has something to do with nuclear bombs, mysterious threats and dangerous beauties. Mostly, it has to do with that hyper-human Tom Cruise, who runs, drives, dives, shoots, flies, falls and repeatedly teeters on the edge of disaster, clinging to one after another cliffhanger. As usual, he works hard for our dollars and eyeballs in a movie that spins the oldies (a blonde with a knife in her garter) while pushing to greater spectacle-cinema extremes."
For Buzzfeed, Alison Willmore looked at the connection between Cruise, the franchise and its audience, writing: "There's no reason to believe the actual world would stop spinning without Cruise in it, but there's something peculiarly endearing about his insistence that it might, and that everything he's doing is on our behalf. When he earnestly vows 'I won't let you down' to another character in the movie, it feels like he's stopped just short of turning to the camera and saying the line to the audience, promising to always be there for us. And then he sets off running, as fast as he can — as if, if he just tried hard enough, he could outrun death itself."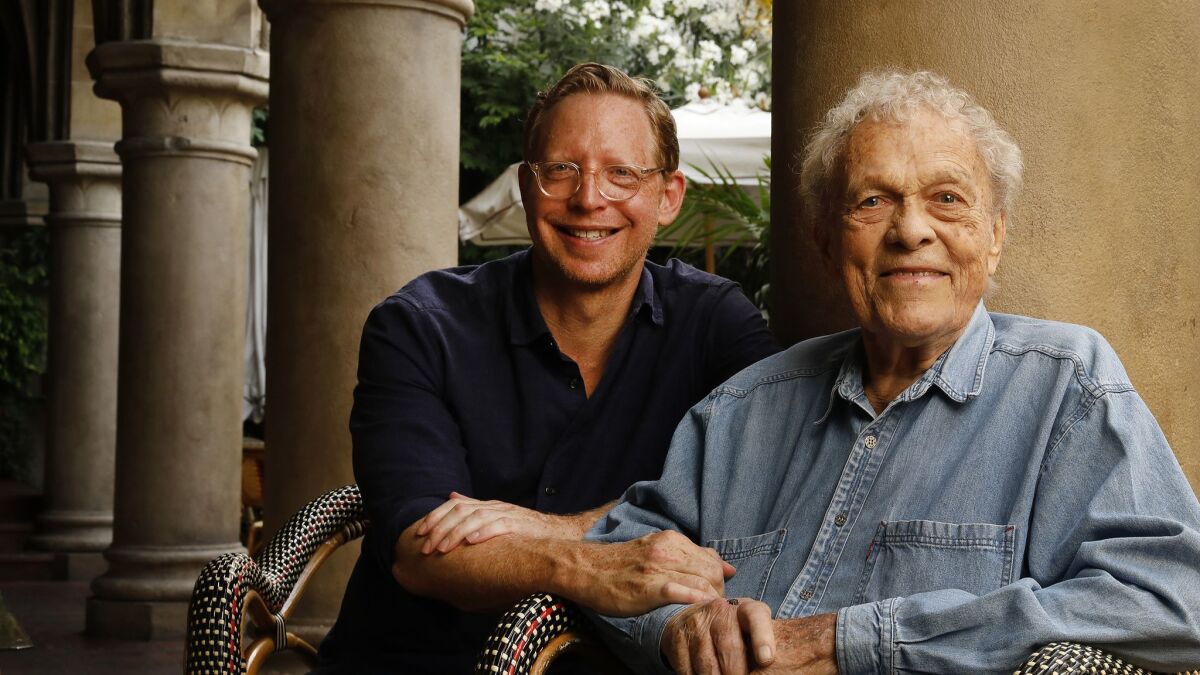 'Scotty and the Secret History of Hollywood'
The new documentary "Scotty and the Secret History of Hollywood," directed by Matt Tyrnauer, is a portrait of Scotty Bowers, a man who found himself at the right place at the right time. During the golden age of Hollywood, he brought people together, gay, bi and straight alike, creating a libertine space where anyone could be free to be themselves at a time when that wasn't so easily done.
Reviewing for The Times, Gary Goldstein noted, "as a candid and involving socio-sexual time capsule of postwar to pre-AIDS Hollywood and how one free-thinking pioneer made a secret society of legendary artists and performers undeniably happy, 'Scotty' definitely succeeds."
The Times' Tre'vell Anderson spoke to Bowers and Tyrnauer about the film. Bowers made note of the changes in social attitudes he has seen over his many years in Hollywood.
"People are still people. And some people say [the change] is for the better or the worse, but I think it just is," Bowers said, before adding a reminder that some things now aren't so different from the classic Hollywood era. "Many people are still very square about what they do, where they do it, how they do it, if they do it."
Writing for the Wrap, Alonso Duralde added: "'Scotty' captures a fascinating era of Hollywood — the public-relations version and the real one, with its morality clauses and scandal sheets — while also examining a key behind-the-scenes figure… There's plenty of gossip to be found here, but there's also no shortage of humanity."
'Puzzle'
In "Puzzle," a suburban mother's life opens up in unexpected ways when she discovers a passion and talent for putting together jigsaw puzzles. Directed by Marc Turtletaub, the film provides a first-time starring role to Kelly Macdonald, a longtime supporting presence in films such as "Trainspotting" and "No Country for Old Men."
In his review for The Times, Kenneth Turan honed in on Macdonald and the film's performances, noting "her delicate but deeply felt performance, along with the work of top Indian actor and costar Irrfan Khan and the rest of the cast, make this gentle, thoughtful yet pointed film the undeniable success it is."
For The Times, John Anderson spoke to Macdonald and the film's co-screenwriter Oren Moverman. Of what sets the film apart, Moverman said: "What's refreshing to me is it deals with something that's not part of the current discourse, which is radical humanism. It's not revolutionary in any kind of way. But in this day and age, a humanistic, compassionate portrayal comes across as a radical departure from the great evil of our time, which is cynicism. And I say that as a cynic."
Reviewing the film for Vulture, Emily Yoshida noted "Like its protagonist, 'Puzzle' finds itself as it goes along, and Agnes becomes a truly interesting person to root for … you needn't go far to find a woman who has ignored or opted not to foster her own talent out of duty to her spouse and children."
Email me if you have questions, comments or suggestions, and follow me on Twitter @IndieFocus.
---
Get the Indie Focus newsletter, Mark Olsen's weekly guide to the world of cinema.
You may occasionally receive promotional content from the Los Angeles Times.