Indie Focus: Coming together, falling apart in 'Roma,' 'The Favourite' and 'Shoplifters'
Hello! I'm Mark Olsen. Welcome to another edition of your regular field guide to a world of Only Good Movies.
The documentary "Amazing Grace," a chronicle of the recording of Aretha Franklin's landmark 1972 album of the same name over two days at Los Angeles' New Temple Missionary Baptist Church, had long been delayed from release due to ongoing rights issues. Since Franklin's death in August those issues have cleared up and the movie is now in limited release, including in L.A.
Reviewing the film for The Times, Justin Chang wrote, "Aretha Franklin didn't transcend the gospel or gospel music; as first her album and now this marvelous documentary remind us, she did more than most to fulfill its potential for truth and beauty, devotion and art."
For the New York Times, Wesley Morris added, "It doesn't matter how much time you've spent with 'Amazing Grace' the album. No suitable preparation exists for the experience of witnessing its recording."
There are still plenty of L.A. Times events focusing on awards season coming up, including a screening of "The Hate U Give," followed by a Q&A with cast members Amandla Stenberg, Regina Hall, Algee Smith and director George Tillman Jr. on Dec. 7, plus a special panel on documentaries on Dec. 9. For info on all these events, go to events.latimes.com/screenings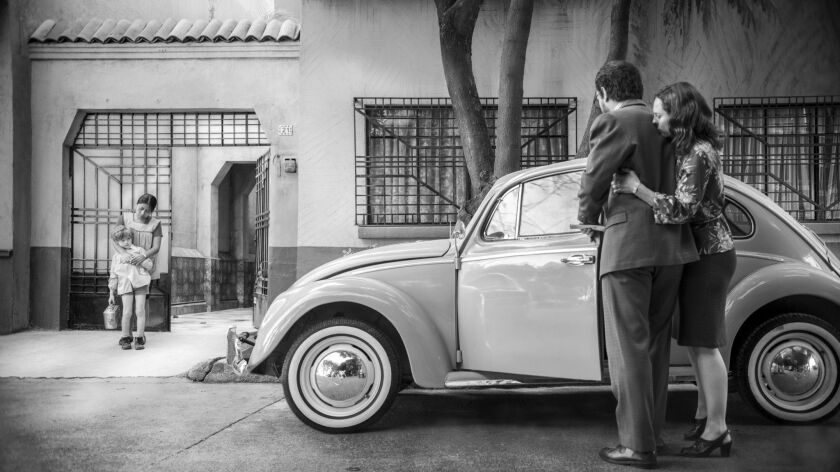 'Roma'
In making "Roma," a story based in his childhood, Alfonso Cuarón wrote, produced, directed, photographer and co-edited the film, making it an intensely personal and deeply felt experience. The story focuses on a family in Mexico City and their nanny/maid, Cleo (Yalizta Aparicio, in her first acting role), amidst personal issues and larger sociopolitical conflicts. The movie arrives on a wave of expectations, having won the top prize at the Venice Film Festival and being given a rare exclusive theatrical run by Netflix.
Reviewing the movie for The Times, Kenneth Turan wrote, "One of 'Roma's' gifts is its ability to subtly interweave the political state of the nation with this personal story, culminating in a visually extraordinary re-creation of a notorious moment in modern Mexican history, the 1971 Corpus Christi massacre of university students …. Though it takes the risk of appearing too quiet too long, 'Roma' and its melding of the personal with a glimpse of a society veering toward collapse is incontestably persuasive, a film whose like we will probably not see again."
For the New York Times, Manohla Dargis wrote "Few directors tell large-scale stories with as much sensitivity as Cuarón .… In 'Roma' he has further refined his style by marshaling various narrative strategies, including cinematic spectacle. Many directors use spectacle to convey larger-than-life events while reserving devices like closeups to express a character's inner being. Here, Cuarón uses both intimacy and monumentality to express the depths of ordinary life."
The website Remezcla brought together a group of Latino critics to write about the movie, including Claudia Puig, Kiko Martinez, Carlos Aguilar and Monica Castillo. As Puig wrote, "A technical marvel, the story is at once achingly intimate and epically sociopolitical. Cuarón's gorgeous, revelatory opus feels recognizable even to those who grew up on the other side of the border. An exhilarating masterpiece, 'Roma' is at once quintessentially Mexican and profoundly universal."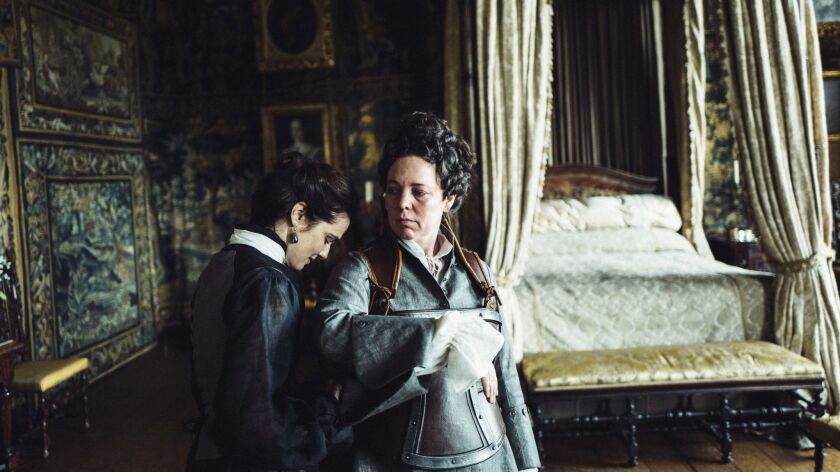 'The Favourite'
Directed by Yorgos Lanthimos, "The Favourite" is a delightfully savage satire set amidst the court of Britain's Queen Anne. Powered by three outstanding performances from Olivia Colman as the queen and Rachel Weisz and Emma Stone as two women vying for her attention, affection and access to power, the movie has made waves since it also premiered at the Venice Film Festival, where it picked up the second place Grand Jury prize and a best actress prize for Colman.
In his review for The Times, Justin Chang wrote, "'The Favourite' is a caustic swirl of a chamber epic, a bawdy, backbiting historical riff on 'All About Eve' carried along on gusts of palace intrigue, lofty vitriol and illicit desire. It may be more pure, devious fun than any other great movie this year."
For The Times, Emily Zemler spoke to Lanthimos and screenwriters Deborah Davis and Tony McNamara about their story's relationship to historical fact.
"I remember Yorgos saying in a meeting, 'Anyone who comes to this movie looking for a history lesson is in the wrong movie,'" McNamara said. "Often in period things the details drag the story down. The slavishness to the detail, the slavish to the truth of it. Whereas we're more interested in the relationships."
At the New York Times, A.O. Scott wrote, "The best — and also the most troubling — thing about 'The Favourite' is its rigorously bleak assessment of human motivations and behavior .… A sentimental soul might wish for a glimpse of something else, but at the same time it's hard to say that anything is missing from this tableau, which is also a devastating, flattering and strangely faithful mirror."
For Time, Stephanie Zacharek added, "'The Favourite' is a wicked delight, a fantastic little cupcake of a movie laced with thistle frosting .… If you're into treachery, manipulative erotic escapades, and flamboyant early 18th century fit-and-flare shooting outfits for ladies (courtesy of costume goddess Sandy Powell), 'The Favourite' is the movie for you."
'Shoplifters'
Winner of the top prize at this year's Cannes Film Festival, "Shoplifters" is the latest film from veteran Japanese filmmaker Hirokazu Kore-eda. In the film, a couple (Sakura Ando and Lily Franky) struggling to get by take in a young girl (Miyu Sasaki), making their makeshift lifestyle even more tenuous. The movie was also recently nominated for a Spirit Award for best international film, alongside both "Roma" and "The Favourite."
In his review for The Times, Kenneth Turan called the film "delicate, poignant and unexpectedly powerful," adding, "'Shoplifters' well understands that family is the most intimate and problematic entity in all our lives. It calls on us to rethink its very nature, its limits, pleasures and responsibilities, unfolding a story that grows in complexity and intimacy almost without our knowing it."
Justin Chang sat down with Kore-eda for an interview in Los Angeles. Of the makeshift group who come together in his latest film, Kore-eda said, "Do you have the right to say this group is not a family? That was the question I'm throwing at the audience. Or to put it another way: Is your family connected more and better than this family?"
At Slate, Inkoo Kang noted, "For all its gentle groundedness, a quality that suffuses much of Kore-eda's work, 'Shoplifters' strenuously resists romanticizing its main characters. Its compassion is more convincing for it. So is its brilliance."
Email me if you have questions, comments or suggestions, and follow me on Twitter @IndieFocus.
---
From the Emmys to the Oscars.
Get our revamped Envelope newsletter, sent twice a week, for exclusive awards season coverage, behind-the-scenes insights and columnist Glenn Whipp's commentary.
You may occasionally receive promotional content from the Los Angeles Times.