Indie Focus: Transformations in 'Sorry to Bother You,' 'Ant-Man and the Wasp' and 'Whitney'
Hello! I'm Mark Olsen. Welcome to another edition of your regular field guide to a world of Only Good Movies.
For our podcast "The Reel," Tre'vell Anderson, Justin Chang and Jen Yamato joined me to talk about diversity and inclusion in the media itself. It's a larger cultural conversation that has been building momentum recently, most notably in a speech delivered by Brie Larson announcing special initiatives being undertaken by the Sundance and Toronto film festivals to ensure that underrepresented communities are part of the press corps covering their events.
As Tre'vell said during our conversation, "There are so many different solutions that have to happen all at the same time in order for us to have any kind of increase or any kind of sustained improvement in representation. … Literally everyone who is in this industry has a role to play."
This week we'll be screening the new movie "Don't Worry, He Won't Get Far on Foot" followed by a very special Q&A with director and screenwriter Gus Van Sant. We'll have more screenings to announce soon, so for info and updates, go to events.latimes.com.
'Sorry to Bother You'
Since it premiered at Sundance until its current theatrical rollout, writer-director Boots Riley's "Sorry to Bother You" has been one of the movies of the year. Absurdly comic and ominously insightful about corporate culture and the difficulty of being true to yourself, the movie features a stunning ensemble of hip talents, including Lakeith Stanfield, Tessa Thompson, Armie Hammer and Steven Yeun.
In his review for The Times, Justin Chang said, "While it is recognizably an extension of the director's activism, it is also a playful and restlessly imaginative work of art, one that gathers up an eclectic range of influences — blaxploitation, Motown, Bob Dylan, Nickelodeon, Spike Lee's rage, Spike Jonze's whimsy — and pushes them rambunctiously forward, into a genre that might be described as intersectional screwball science fiction."
Tre'vell Anderson spoke to Stanfield and Thompson, two of the freshest performers to be found on screen this summer, about the unusual storytelling style, and the very unusual story being told, in the film. As Stanfield said, "It's its own beast, so come and be ready for your logic to be taken on a loop and turned into a roller coaster. … Be ready to be bothered, in good ways, bad ways, in all ways."
Jen Yamato interviewed Riley, a musician making his long-desired debut as a filmmaker. He is also part of a burgeoning wave of filmmakers coming out of Oakland, which also includes Ryan Coogler ("Black Panther"), Daveed Diggs and Rafael Casal ("Blindspotting") and Nijla Mu'min ("Jinn").
For the New York Times, A.O. Scott tried to describe the idiosyncratic style and story of Riley's film, saying, "It's fair to say that 'Sorry to Bother You' sticks to its own script, but crucial to add that the script in question flips, swerves, meanders and all but explodes in a flurry of ideas and inspirations. If Mike Judge's 'Office Space' and Robert Downey Sr.'s 'Putney Swope' hooked up after a night of bingeing on hallucinogens, Marxist theory and the novels of Paul Beatty and Colson Whitehead, the offspring might look something like this."
At Vulture, Emily Yoshida added, " 'Sorry to Bother You' is a house party of a movie, some rooms more lively than others, some you wish you could spend more time in, some downright unforgettable in the best way. … A pro-union, anti-corporate, race-conscious, Silicon Valley side-eyeing tale of one man's journey through the late-capitalist nightmare of an 'alternate present' version of Oakland, 'Sorry to Bother You's' greatest asset is the strength of its conviction, and how far it's willing to go to make sure it stays burned in your brain."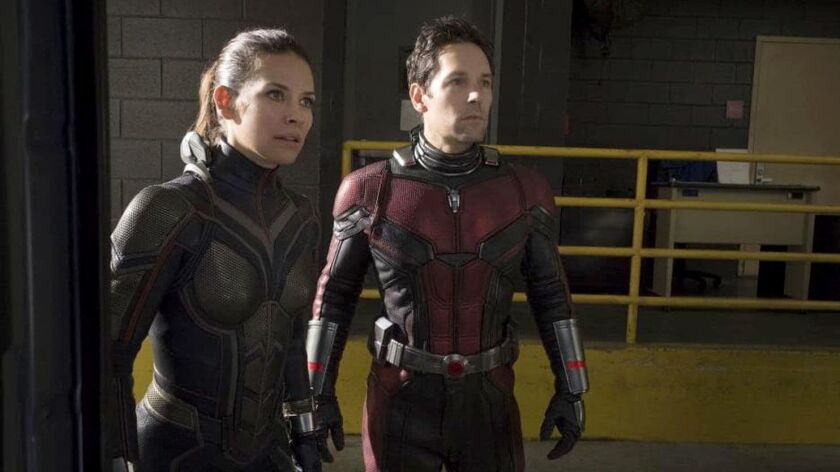 'Ant Man and the Wasp'
In many ways, the new "Ant-Man and the Wasp" is everything you want from a summertime superhero action movie: playful and lighthearted, buoyant and inventive and just fun to be around. Paul Rudd again stars as the title character, but is this time part of a strong ensemble that includes Evangeline Lily, Michael Douglas, Michael Peña and Michelle Pfeiffer.
Reviewing the film for The Times, Justin Chang wrote, "The Disney-Marvel movie cycle and its various subfranchises have always been haunted by dreams of global domination — something craved by emotionally stunted supervillains and, not to be redundant, box-office-hungry studio executives. In this bigger-is-better context, a movie about a hero who finds his strength in tininess is, well, no small thing. Even multibillion-dollar enterprises need a bit of modulation every now and then. … And so 'Ant-Man and the Wasp' — nimbly directed, like its 2015 predecessor, by Peyton Reed — is being rolled out as a midsummer tonic, something bright and cheery to chase away the apocalyptic torpor of 'Avengers: Infinity War.' "
Jen Yamato spoke to actress Hannah John-Kamen, who makes a big impression as the film's conflicted villain known as Ghost. Except she didn't entirely see it that way.
"I approached her as not being a villain," said the actress. "In my mind, it's everyone else's fault; they're the bad guys. I'm the good guy, and it's every man and woman for herself. She's a complex cookie. She's got a lot of depth and she's vulnerable. … I think the audiences are going to be very, very confused as to how they feel about her."
For the New York Times, Manohla Dargis called the film "an engaging goof that resists bludgeoning you with bigness and instead settles for good vibes and jokes," while adding, "It's funny how little things, like personality, can lift a movie. 'Ant-Man and the Wasp' features kinetic action sequences, but what makes it zing is that Mr. Reed has figured out how to sustain the movie's intimacy and its playfulness, even when bodies and cars go flying."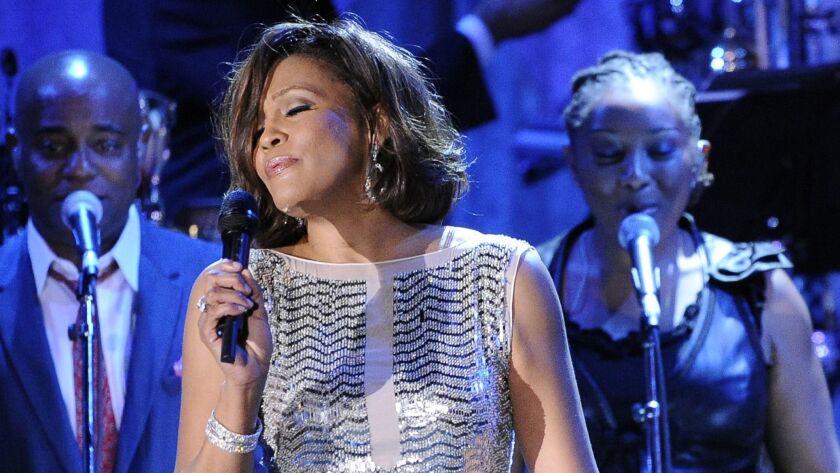 'Whitney'
Directed by Oscar-winning filmmaker Kevin Macdonald and made with the participation of her estate, the documentary "Whitney" tells the sad saga of Whitney Houston, whose life and career saw incredible highs and unimaginable lows. The new film contains disturbing revelations about Houston's family and personal life, include allegations of childhood sexual abuse and her struggles with substance abuse, but it also tries to capture what was unique about her talent.
Reviewing the film for The Times, Kenneth Turan wrote of Houston's story, "No matter how many times it's told … it cannot fail to move and disturb with a story so compelling you can't turn away even if you know the outcome. Maybe especially if you know the outcome."
Times music writer Gerrick D. Kennedy wrote about the film earlier this year, noting, "Ultimately, Macdonald has given audiences a potent assessment of one of the most tragic stories in pop history — one that, sadly, could have been different had Whitney had the room to be Whitney."
Wesley Morris wrote about the film for the New York Times, adding, " 'Whitney' is too funereal to be a party, too sad, strange and dismaying to cheer. Yet, in its grim, guilt-inducing way, the film works, even on the occasions when it's working against itself. What Mr. Macdonald wants to do is a kind of cultural psychobiography."
Email me if you have questions, comments or suggestions, and follow me on Twitter @IndieFocus.
---
The complete guide to home viewing
Get Screen Gab for weekly recommendations, analysis, interviews and irreverent discussion of the TV and streaming movies everyone's talking about.
You may occasionally receive promotional content from the Los Angeles Times.