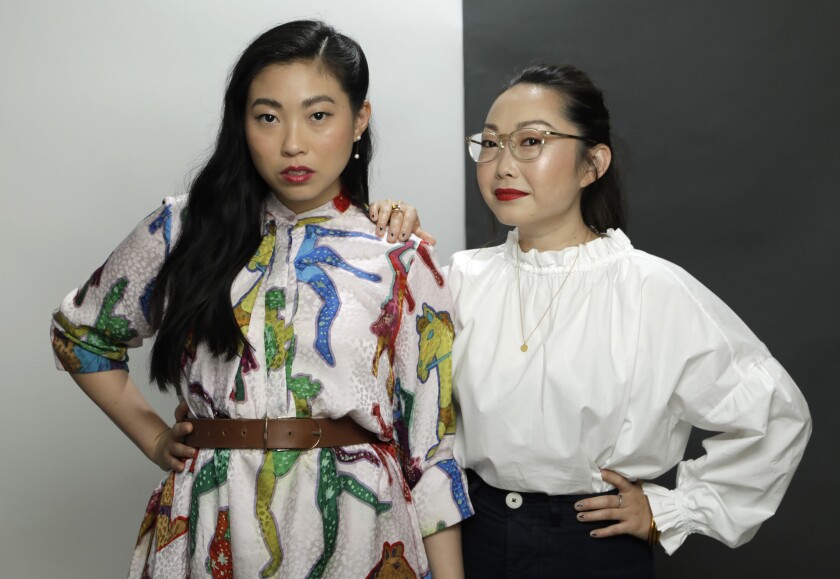 Hello! I'm Mark Olsen. Welcome to another edition of your regular field guide to a world of Only Good Movies.
The UCLA Film and Television Archive is putting on a tribute to the American Genre Film Archive, which specializes in preserving the wild and the unusual in film history. Among the highlights are a program featuring Sarah Jacobson's "I Was a Teenage Serial Killer" and "Mary Jane's Not a Virgin Anymore." Another terrific double bill is Penelope Spheeris' "Suburbia" with Alan Arkush's "Rock 'N' Roll High School."
On Sunday, July 14, UCLA will also screen a 35 mm print of the 1989 cult fave "Miracle Mile," which prominently features Johnie's Coffee Shop on Wilshire and Fairfax. Writer-director Steve De Jarnatt is scheduled to attend.
A new 4K restoration of the 1961 art-house classic "Last Year at Marienbad" is now playing in Los Angeles. Justin Chang wondered how the movie, directed by Alain Resnais and Alain Robbe-Grillet, would be received if it were first released today, writing, "Really, what better film to set off a fresh avalanche of competing hot takes than 'Marienbad.' … I do not mean to reduce or confine 'Marienbad' to the present moment; its ravishing surfaces, somehow both diamond-hard and evanescent, exist gloriously outside of time. It's a movie to see now and ponder forever."
On Monday the 15th we'll have a screening of "Luce," which debuted earlier this year at the Sundance Film Festival, followed by a Q&A with actor Kelvin Harrison Jr. and director Julius Onah. For info and updates on future events, go to events.latimes.com.
'The Farewell'
Written and directed by Lulu Wang, "The Farewell" is drawn from a story that happened in her own family. When her grandmother in China was diagnosed with a terminal illness, the family in China and America decided not to tell her. And then staged a wedding for a younger family member as a way to bring everyone together. The film stars Awkwafina in her first dramatic role as Billi, who has reservations about keeping the secret from her grandmother.
In his review for The Times, Justin Chang wrote, "In some ways, 'The Farewell' is most remarkable for what doesn't happen. Sidestepping the temptations of broad farce or melodrama, Wang stakes out a zone of low-key observational realism, dispensing her sympathies and teasing out emotional subtleties with a graceful, assured hand."
Jen Yamato spoke to Lulu Wang about the unusual family circumstances that inspired the story. She also spoke with Awkwafina; actors Diana Lin and Tzi Ma, who play her parents; and Wang's great-aunt Lu Hong, who appears in the film, with the conversation translated by Wang's father.
"I still think the same thing about the decision, which is that I can't make a moral judgment around it," Wang said. "But I do often think that none of this would have happened without the lie, right? The lie has enabled me to make this film, to tell this story, but more importantly it enabled me to spend time with my grandmother."
At the New York Times, A.O. Scott noted that the story "conjures a premise so rich with potential comedy, heartbreak and family weirdness that it can only have come from real life." He added, "The film version, which announces itself as 'based on an actual lie,' has a loose, anecdotal structure and a tone that balances candor and tact. Much of the charm and power of this story — about events leading up to a sham wedding that's also a fake funeral of sorts — come from the palpable sense that it genuinely happened to someone. "
At Slate, Inkoo Kang wrote, "If last year's 'Crazy Rich Asians' was an affirmation of Asian American identity as distinct from the cultures of the Old World, 'The Farewell' focuses on Billi's diaspora blues, of not feeling entirely at home in either Asia or America. Wang's direction is mostly understated, but her film includes some sublimely composed images that suggest the tacky caprices, the oases of beauty, and the matter-of-fact ordinariness of contemporary Chinese life. The subject matter is inevitably somber, but the picture is also mischievously funny. Wang pirouettes along some tonal hairpins — in one scene, I guffawed in the midst of wracking sobs."
'Stuber'
Directed by Michael Dowse, "Stuber" is a throwback action comedy starring Kumail Nanjiani as Stu, a hapless Uber driver who is drawn into a very long day and night when he picks up Vic, a hard-charging police officer played by Dave Bautista.
In his review for The Times, Justin Chang wrote, "That 'Stuber' seems well aware of Vic's awfulness somehow makes it worse. … Stu's righteous pushback against Vic is meant to exonerate the movie, to reassure the audience that 'Stuber' is itself a more sensitive and enlightened piece of summer programming than it appears. In truth, his presence doesn't really rebuke Vic's attitude so much as sanction it, granting the movie license to sink to the same level of crude, bludgeoning hostility. It's not the clumsiness of the filmmaking that rankles so much as the hypocrisy."
Jen Yamato also spoke to Nanjiani and Bautista about their screen chemistry and the ways in which the movie grapples with issues of masculine identity that often simmer beneath the surface of bigger action movies.
"It felt like that was the challenge," Nanjiani said. "If we could take a buddy cop action comedy that's sort of a throwback to this '80s kind of movie and really talk about these things, if we could pull it off, then it was really worth trying."
At the New York Times, Manohla Dargis wrote that the film "squeaks by on the charm of its two male stars, who handle the nonsense capably. Bautista steam-rolls through both the frame and the dialogue, but he's a natural, magnetic physical presence — a nimble hulk — and fun to watch. He's comfortable sharing the screen with, and being routinely upstaged by, Nanjiani, who's more adept at making the cheap goods feel less insultingly formulaic."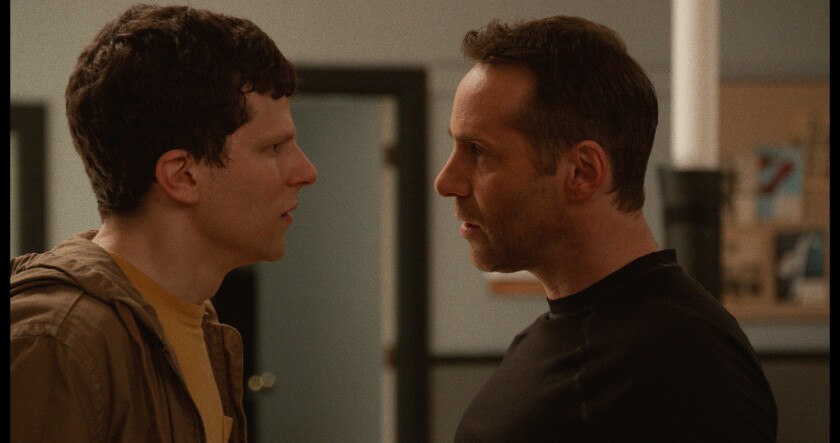 'The Art of Self-Defense'
In "The Art of Self-Defense," a young man joins a martial arts class hoping to toughen up after suffering a vicious attack on the street and finds himself drawn into an underworld of violence. Written and directed by Riley Stearns, the movie features riveting performances by Jesse Eisenberg, Alessandro Nivola and Imogen Poots.
Reviewing the film for The Times, Justin Chang called it, "an unnerving, exacting dark comedy set at the crowded juncture of masculinity and violence." He added, "With icy deadpan control, Stearns walks a perilously thin line between the provocative and the preposterous, courting your shock as well as your laughter."
For the Tribune News Service, Katie Walsh wrote, "The film feels at once painfully personal, an exploration of getting in touch with your own rage, trying on the performance of toxic, entitled, aggressive masculinity and seeing how it feels. … But the film never says anything pertinent about rage and manhood and sex because it refuses to get too personal. Its tone is arch and sarcastic, hitting queasy punchlines that rely heavily on cognitive dissonance."
Email me if you have questions, comments or suggestions, and follow me on Twitter: @IndieFocus.
---