Indie Focus: Finding the horror within 'Us'
Hello! I'm Mark Olsen. Welcome to another edition of your regular field guide to a world of Only Good Movies.
Among the new releases this week is a movie that deserves a spotlight of its own, both for what's on screen and the backstory behind it.
"An Elephant Sitting Still" is the debut feature from Chinese filmmaker Hu Bo, which Times critic Justin Chang called an "extraordinary, overpoweringly bleak movie." On the struggles of the film's four main characters, Chang adds, "Hu locates within them a unifying soulfulness, a shared wellspring of anguish and grief, that reaches toward and occasionally touches the sublime."
"Elephant" is also sadly the only film we will ever get from Hu, as he committed suicide at the age of 29 in 2017. The film went on to premiere at the 2018 Berlin International Film Festival to, as Chang described it, "bittersweet ecstasy by critics and moviegoers, who rightly lamented the loss of a vital new voice in Chinese independent filmmaking."
The Los Angeles Times Festival of Books is coming up April 13-14. On Saturday the 13th, there will be a screening of Victor Fleming's 1933 film "Bombshell" starring Jean Harlow, followed by a conversation between myself and Karina Longworth, author of the vital new book, "Seduction: Sex, Lies, and Stardom in Howard Hughes's Hollywood." Tickets are available online.
We'll have more screening events coming up soon. For info and updates, go to events.latimes.com.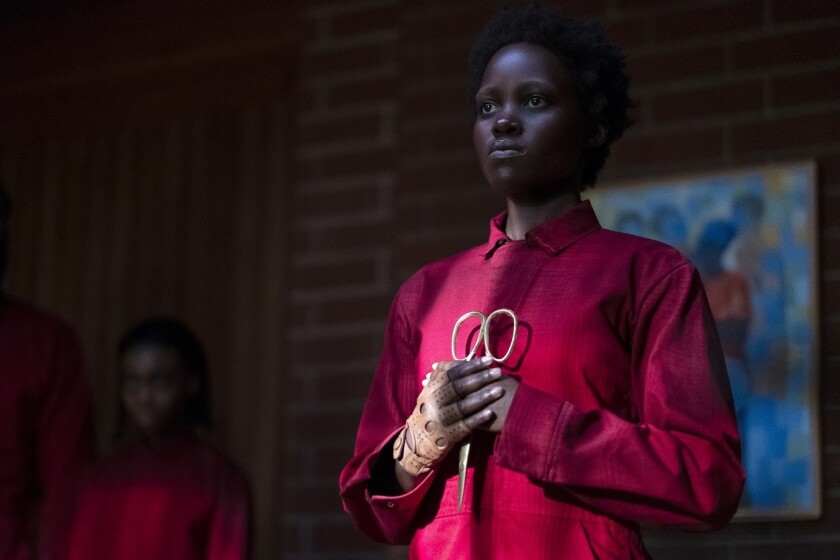 'Us'
Jordan Peele's "Us" is his ambitious, terrifying follow-up to the Oscar-winning smash "Get Out." In the new film, a family goes on a summer vacation only to find themselves under siege by doppelgangers of themselves. With stunning lead performances by Lupita Nyong'o and Winston Duke, each in dual rolls, the cast also features Shahadi Wright Joseph and Evan Alex as their children and Elisabeth Moss and Tim Heidecker as their friends.
In his review for The Times, Justin Chang wrote, "[T]he movie belongs rightly and effortlessly to Nyong'o, and she sustains every moment by distilling innumerable emotional layers — the unshakable resolve of a mother and wife, the stricken gaze of a trauma survivor, the lingering incomprehension of a lost child — into a performance for the scream-queen history books .… There isn't a moment when she doesn't have 'Us' in her grip."
Jen Yamato spoke to Peele, Nyong'o and Duke about the movie and its deeper meanings. As Peele said, "The feeling that we all feel we are the good guy in our own story prevents us from facing our demons. I wanted to make a movie that allows everybody to face their demons, in whatever faction you want to put this movie through the prism of. But as a starting point ... the United States and our xenophobia was the front and center idea to grapple with."
Sonaiya Kelley spoke to Joseph and Alex, the film's young co-stars who play Nyong'o and Duke's children.
Joseph summed up the movie by saying, "The theme is, 'We are our own worst enemy.' So I think the story really circulates around that. You can definitely see how the Wilsons take simple necessities for granted that the Tethered don't."
Sonaiya also wrote about the new documentary "Horror Noire: A History of Black Horror," directed by Xavier Burgin.
As author and academic Tananarive Due said, "Horror as a genre is definitely a way that our American culture has projected its societal fears. We have so many daily anxieties, whether it's at the workplace, with our kids, with the police, and that anxiety has a cost that I believe horror helps us interpret."
At the New York Times, Manohla Dargis wrote, "In 'Us,' Peele uses the metaphor of the divided self to explore what lies beneath contemporary America, its double consciousness, its identity, sins and terrors. The results are messy, brilliant, sobering, even bleak — the final scene is a gut punch delivered with a queasy smile — but Jordan Peele isn't here just to play."
For the Mary Sue, Valerie Complex wrote, "Jordan Peele understands how to disrupt the senses, using unsettling music and sounds with brilliant intention /... He aims to disrupt the status quo by exploring topics that many deem too controversial to touch, and filming them to cause discomfort, which is what horror is supposed to do."
For Vanity Fair, Richard Lawson had something of a dissenting opinion on the film, calling it "a frustrating movie, oddly inert despite all its thrashing. It's a jumble of fascinating threads that Peele fails to weave together. It's what you might call a junk-drawer movie, a collage of bits and bobs that have cluttered Peele's brilliant mind for long enough that he thought he might try to synthesize them all into one movie … but they don't form a whole equal to the sum of the parts."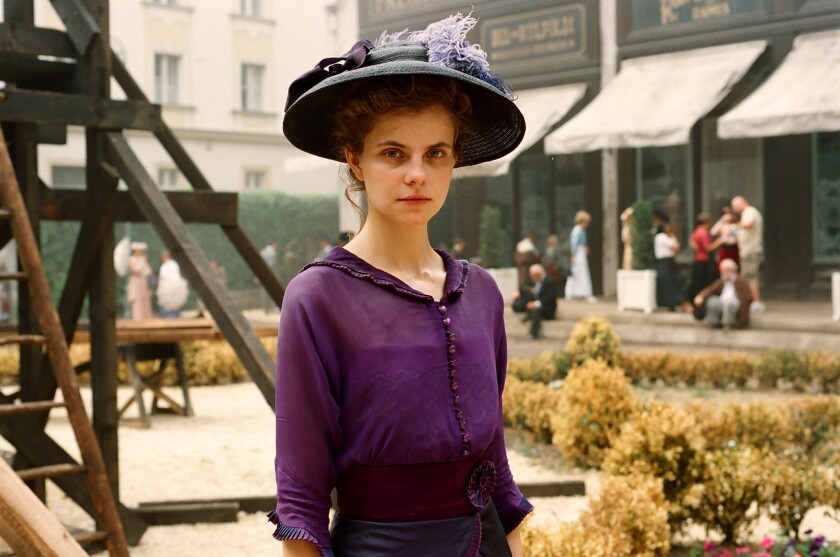 'Sunset'
"Sunset" is the latest from filmmaker László Nemes, whose previous film "Son of Saul" won the Academy Award for foreign-language film. In the new film a young woman named Irisz Leiter (Juli Jakab) returns to Budapest in 1913 hoping to get a job at the luxury store once owed by her family.
In his review for The Times, Justin Chang notes, "[I]f individual scenes and subplots remain dauntingly opaque, the overall arc of 'Sunset' is clear enough. As Irisz moves from bustling streets and afternoon garden parties into a shadowy underworld of crime and conspiracy, she is not merely chasing the truth about her patrimony; she is our witness to the last gasp of European high decadence before it vanishes into the bloody maw of World War I."
For the New York Review of Books, J. Hoberman wrote, "'Sunset' is hardly understated. Nemes has his share of baroque visual ideas — starting a scene behind a pane of frosted glass, exiting a dark interior into dazzling sunlight — but his great gift is for choreographed action .… Nemes here establishes a connection with Hungary's greatest filmmaker, Miklós Jancsó — not only with his restless camera maneuvers but in adopting Jancsó's knack for creating a drama in which trust is an illusion and every interaction is a wary, circling confrontation."
At Sight & Sound, Jessica Kiang wrote, "Soon Nemes's aversion to wide shots and tripods starts to feel less like aesthetic rigour and more like a failure of cinematic imagination, and a lack of faith in his storytelling …. seldom has a film's formal style worked harder to obscure whatever substance its story may have, ensuring that long, long before a spectacularly unearned epilogue that pulls WWI like a rabbit out of a capacious, extravagant hat, the sun has set on 'Sunset.'"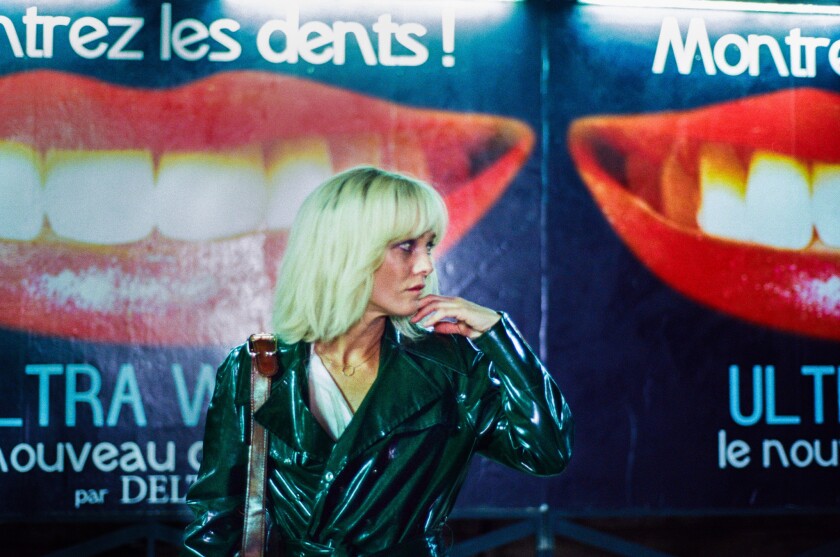 'Knife+Heart'
Directed and co-written by Yann Gonzalez, "Knife+Heart" stars Vanessa Paradis as Anne Parèze, a producer-director of gay porn films in late-1970s Paris. With a style that evokes Italian horror-thrillers of that era, the story revolves around a serial killer stalking Anne's latest production.
Reviewing for The Times, Katie Walsh wrote, "Rooted in queer culture and cinematic history, 'Knife+Heart' is irreverent, sexy and scary, its orgasms as cathartic as the tears. But it also rings true to a variety of queer experiences, and though it's a slasher film, it ultimately comes from a place of deep love and heartbreak, made all the more poignant being set in the days just before the AIDS crisis."
For the New York Times, Glenn Kenny added, "This movie packs in plenty of cinema acrobatics and spectacle without ever feeling out of control, even as it morphs into a far-fetched whodunit. Gonzalez contains his love of screen excess with a deliberation that never feels contrived or cheap .… The movie is an apt, and not at all unserious, example of queer cinema at its most playful."
Email me if you have questions, comments or suggestions, and follow me on Twitter: @IndieFocus.
---
From the Emmys to the Oscars.
Get our revamped Envelope newsletter, sent twice a week, for exclusive awards season coverage, behind-the-scenes insights and columnist Glenn Whipp's commentary.
You may occasionally receive promotional content from the Los Angeles Times.