Indie Focus: Survival in 'You Were Never Really Here,' 'A Quiet Place' and 'Lean On Pete'
Hello! I'm Mark Olsen. Welcome to another edition of your regular field guide to a world of Only Good Movies.
On this week's L.A. Times podcast "The Reel," Jen Yamato, Justin Chang, Tre'vell Anderson and I round up a few of the week's new releases and get into some of the bigger-picture issues they point toward. If I may say so myself, it's a good talk and went to some places I for one did not expect.
This is also another week with more worthwhile movies that we could rightfully fit into the main portion of the newsletter. Besides the spotlight titles below, there lots more to see. Kay Cannon makes her feature-directing debut with the revisionist raunch-com "Blockers." Arnaud Desplechin's "Ismael's Ghosts" opened, starring the French dream team of Marion Cottilard, Charlotte Gainsbourg and Mathieu Amalric. Jason Clarke plays Ted Kennedy in the scandal drama "Chappaquiddick." Directing team Justin Benson and Aaron Moorhead released their sci-fi horror hybrid "The Endless."
Coming up on April 12, we will have a screening of the Western drama "The Rider," followed by a Q&A with Spirit Award-winning writer-director Chloé Zhao and lead actor Brady Jandreau. We have already booked some exciting titles and guests over the next few months, so for info and updates on future events, go to events.latimes.com.
'You Were Never Really Here'
As far as I'm concerned, Lynne Ramsay is among the greatest and most exciting filmmakers working in the world today. Her latest, "You Were Never Really Here," is only her fourth feature in nearly 20 years, and is both a fine-cut jewel and a raw, jagged shard of emotions. The film stars Joaquin Phoenix, an actor whose own affinity for interior states is ideally suited for working with Ramsay, in the story of a hitman/vigilante grappling with his own damage as he goes about his brutal work.
The movie also features music by Jonny Greenwood, recently nominated for an Oscar for his work on "Phantom Thread," this time turning in something akin to a chopped and screwed reimagining of a gritty 1970s crime-jazz score.
In his review for The Times, Justin Chang explored the film's hypnotic power and the emotional complexity of Phoenix's performance, adding of the character that "It may be true that he was never really here, but as this hypnotic, hard-to-shake movie reminds us, in the end we're all just passing through."
I interviewed Ramsay and Phoenix together recently about their collaboration on the film. Asked to explain his process as an actor, Phoenix said what is likely among the most genuinely candid things I've ever heard in an interview.
"Honestly, man, I feel like I want to do press and I want to say the things that good actors are supposed to say," Phoenix said. "And I want to sound like I'm a good actor, real professional, but the truth is that I really don't understand three-quarters of what happens in a movie or why it works or not. And I really like it that way."
At rogerebert.com, Sheila O'Malley placed the film within the context of Ramsay's other films, writing: "In her films, Ramsay digs into the in-between spaces, the voids and vacuums where marginalized or inarticulate people try to understand the codes of a baffling world. They're outsiders. They're survivors. But Ramsay is a tough cookie and she takes a tough approach. Her films are not exactly pleas for empathy … Ramsay doesn't connect the dots for us."
At the Village Voice, Bilge Ebiri added, "Onscreen, our hero is a shadow, literally and spiritually. And by skirting the edge of oblivion, he has somehow turned his self-loathing and self-negation, all his self-destructive impulses, into a kind of secret power. As much as he needs to break free of his demons, his demons are also partly the reason why he's able to do what he does. Ramsay has taken that terrifying paradox — one that many artists can probably relate to — and turned it into a transcendent, at times almost dangerous film."
'A Quiet Place'
An inventive horror-thriller directed and co-written by John Krasinski, "A Quiet Place" is built on solid scares and an unexpected evocation of the strength of family. Krasinski stars along with his real-life wife, the always incredible Emily Blunt, as a couple trying to protect their young children from mysterious, murderous creatures attracted by sound.
In his review for The Times, Chang wrote: "I can't recall the last time I found myself caring as intently for the characters in a horror picture as I did for the family in "A Quiet Place," the sensationally gripping and emotional new alien-invasion thriller from the actor and writer-director John Krasinski."
I spoke to Krasinski and Blunt for an article that will be publishing soon. Before this, Krasinski didn't consider himself a fan of scary movies. "I definitely am a horror fan now. I'm late to the party but I want to stay forever," Krasinksi said. "It's such an amazing genre storytelling-wise that I've been so ignorant to stay away from up until now. In the last few years there have been some of the best movies, period, with these amazing elevated horror movies."
At Time, Stephanie Zacharek said of the movie that "Krasinski has made one of the most poetic horror movies of recent years. Its sound design alone is glorious, locating the infinite gradations in that thing we so casually call silence. 'A Quiet Place,' its shivery terrors aside, captures the imperfect textures of family life. Families are complicated even when monsters aren't hunting them. And a glance often says more than even a whispered endearment can."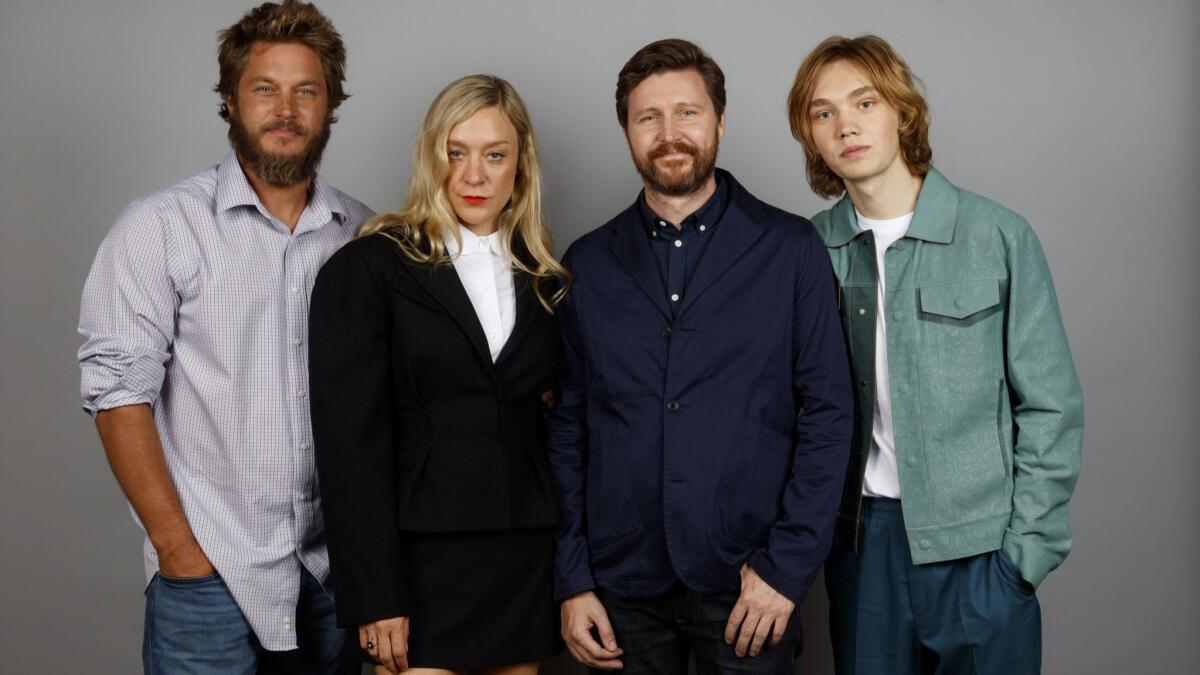 'Lean On Pete'
Directed by the British filmmaker Andrew Haigh, "Lean On Pete" is set in the Pacific Northwest, the story of a teenage boy named Charley, a horse named Lean On Pete and a desperate search for connection and a place in the world. Starring Charlie Plummer, Travis Fimmel, Chloë Sevigny and Steve Buscemi, along with Steve Zahn and Amy Seimetz, the movie is a relatively simple story that becomes emotionally devastating and ultimately uplifting.
In his review for The Times, Kenneth Turan wrote: "What happens to Charley, the film posits, the bad and the good, is not so much the fault of specific individuals but of the indifferent dead ends built into America's despairing culture of the underclass. Your heart goes out to this striving, yearning young man, and that's a tribute to the fine filmmaking on display."
Emily Zemler spoke to Haigh, who previously made the films "Weekend" and "45 Years," about the filmmaker he is and the filmmaker he still can be. "I'm becoming more confident in realizing the type of filmmaker I am and that that's not going to be for everybody," he said. "You can't expect to connect with everybody and that's all right. The more I make films I'm learning that you don't have to make films for everybody. A film can be made for a smaller group of people than that and it still warrants an existence."
At the New York Times, Manohla Dargis paid particular attention to Plummer's performance and the world of the movie, calling it "a very fine movie that I haven't stopped thinking about since I saw it, partly because stories about forgotten and mistreated children tend to be reserved for documentaries and foreign-language art cinema. In American movies, children get roughed up plenty, but rarely by poverty."
Get the Indie Focus newsletter, Mark Olsen's weekly guide to the world of cinema.
You may occasionally receive promotional content from the Los Angeles Times.