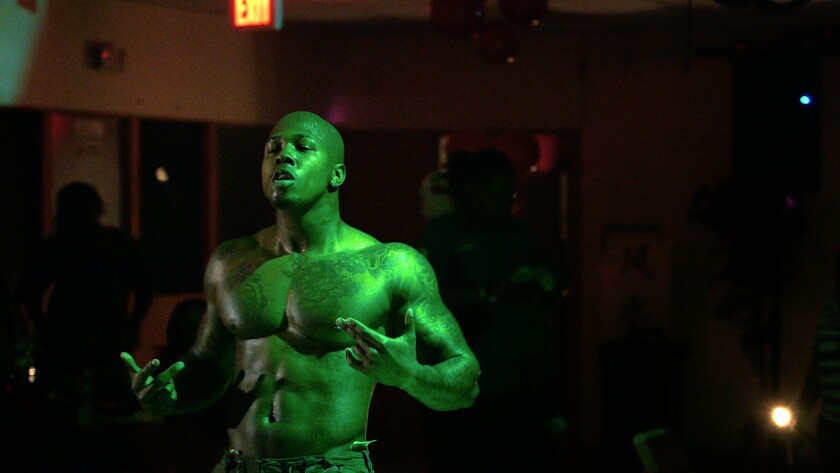 It's unlikely to find a more genuinely joyful film this summer than "This One's for the Ladies," a warmhearted documentary about male strippers and the women who love their work. We're not talking about a slickly produced Chippendales show or even "Magic Mike" — these dancers work a circuit of urban DIY venues up and down the Eastern Seaboard, where the ladies bring Jell-O shots and fried chicken along with their stacks of dollar bills.
Director Gene Graham intersperses jaw-dropping footage of these shows between interviews with flamboyant dancers like Young Rider, Satan, Fever and twins Tygar and Raw Dawg, who peacock in matching neon outfits. But the stars of this film are the women who frequent the circuit as loyal, enthusiastic fans, forging deep bonds along the way.
While Graham and cinematographer Paul Rowley artfully capture these eye-popping moves, "This One's for the Ladies" isn't necessarily about the physical spectacle (though it is astonishing). Graham is more interested in the community created at these shows, where women find friendship, embodied release and a joyous celebration of their sexuality.
Graham also dives into the social and cultural context of these predominantly black spaces, drawing out issues of systemic oppression and poverty, conditions where black men turn to adult entertainment as a unique but legal space to accrue wealth and provide for their families. A detailed and affable exploration of this world, "This One's for the Ladies" is so unabashedly sex-positive you just might want to find the closest all-male revue.
-------------
'This One's for the Ladies'
Rated: NC-17, for some explicit sexual images
Running time: 1 hour, 22 minutes
Playing: Starts June 14, AMC Burbank 16
------------
---