Academy Awards show producers hope their third time is a charmer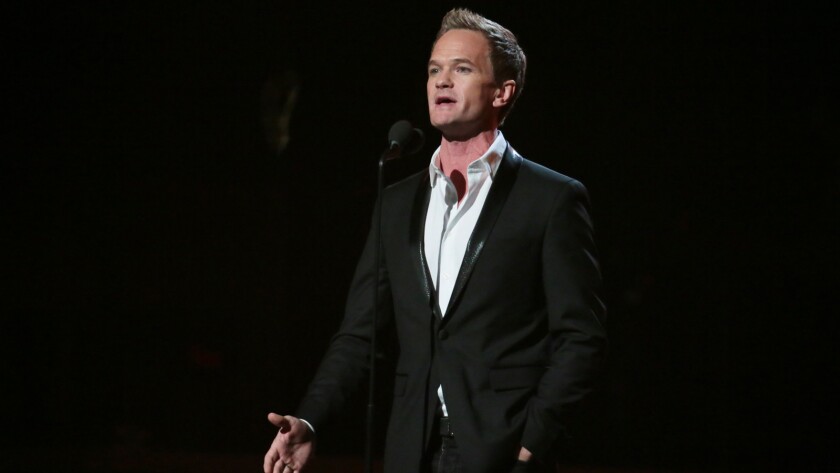 The day after the Oscars last year, the show's producers Craig Zadan and Neil Meron received a call from John Travolta apologizing for fumbling the name of singer Idina Menzel. Travolta's mispronunciation — Adele Dazeem — had become a trending topic on Twitter, been shared endlessly on YouTube and Vine and helped enliven the most viewed Academy Awards telecast in more than a decade.
"John said, 'Oh, God, I hope I didn't ruin your show,'" Zadan recalled, in a recent interview from a backstage office at Hollywood's Dolby Theatre, where he and Meron are preparing for Sunday's Academy Awards. "We said, 'You made our show. The social media went berserk, and the show became historic because of you.'"
This year Zadan and Meron are producing their third Oscar telecast, bringing aboard new host Neil Patrick Harris and hoping for more of the kind of chatter-generating, Adele Dazeem-like moments no team of writers could script.
FULL COVERAGE: Oscars 2015
Zadan and Meron will need some kismet to help draw and keep an audience this year, since their list of nominated films is light on mainstream hits, with "American Sniper" the only one of the eight best picture nominees to generate more than $100 million at the domestic box office.
"The challenge this year is to honor the films that were nominated, which weren't the most commercial, blockbuster-type films, and balance that with a good show," Meron said.
To entice a broad audience who may not have seen art house nominees like "Whiplash" or "Boyhood," the duo will rely on a formula that has worked well for them in the past — inviting a glittery and demographically diverse group of presenters and artists.
This year's list of planned performers includes Lady Gaga, Jennifer Hudson, Jack Black and Anna Kendrick, plus those delivering the Oscar-nominated original songs: Common and John Legend performing "Glory" from "Selma," Rita Ora ("Grateful" from "Beyond the Lights"), Adam Levine with Maroon 5 ("Lost Stars" from "Begin Again"), Tim McGraw ("I'm Not Gonna Miss You" from "Glen Campbell... I'll Be Me") and Tegan and Sara with the Lonely Island ("Everything Is Awesome" from "The Lego Movie").
Presenters will include Oprah Winfrey, Scarlett Johansson, Channing Tatum, Chris Pratt, Kevin Hart, Ben Affleck, Jennifer Aniston, Eddie Murphy, Cate Blanchett and, yes, Travolta.
"If you're tuning in because you care to see who wins what, that's great," Zadan said. "But ... we've attracted a whole new audience who have tuned in to see the entertainment."
In a year when the homogeneity of the acting nominees ignited a controversy and spawned a trending Twitter hashtag "#OscarsSoWhite," the racial makeup of those on the show is also noteworthy.
PHOTOS: Oscars 2015 top nominees | Presenters | Nominee reactions | Awkward moments
"We've always been very conscious of diversity in terms of our presenters and our performers," Zadan said. "We feel that's the way the world exists, and we've always been believers in having an Oscar show that reflects the way the world exists."
In choosing their host, Zadan and Meron selected a friend they've known since the early 1990s, when they met Harris at the 20th Century Fox commissary while he was a child star on "Doogie Howser, M.D."
As host, Harris will rely on skills he's honed winning rave reviews for emceeing the Tony and Emmy awards in previous years. The producers said he'll sing an original musical number by "Frozen" songwriters Bobby Lopez and Kristen Anderson-Lopez titled "Moving Pictures," and perform a magic trick he's been working on for months.
At the Tonys and Emmys, Harris proved adept at walking the line between edgy and obnoxious. His one-liners and zingers were all done with a wink — the audience was in on the joke.
"Neil wants to have a tone that is very funny, very friendly. He's not gonna take jabs at anybody," Meron said. "He has all sorts of unusual, unique things he wants to do that we haven't seen on another Oscar show."
The producers feel one of the host's most important tasks is relaxing the audience in the Dolby, with their empty stomachs, uncomfortable gowns and tuxedos and palpable nerves, and enlisting them as co-conspirators in creating an entertaining show.
"We feel that if the stars are humanized, it feels much better in the living room," Meron said. "If the home audience sees everybody having a good time and their hair is basically let down, it translates to having a good time at home."
OSCARS 2015: Complete list | Ballot | Cheat Sheet | Top nominees | Presenters | Timeline
Some of last year's highlights worked only because A-listers were game — Ellen DeGeneres' much-shared superstar selfie unfolded when Bradley Cooper unwittingly inserted himself into a joke that the host had planned with Meryl Streep, and DeGeneres' pizza delivery bit could have bombed if Brad Pitt hadn't spontaneously jumped out of his seat and started handing out paper plates and napkins.
"Those moments worked because you had a host everybody really liked, and that's the case with Neil this year," Meron said. "They feel comfortable with him. He's not going to bring them down; he's going to celebrate them."
Not since Gil Cates — who produced the telecast a record 14 times between 1980 and 2008 — has a producing team returned to the Oscars. In rehiring Zadan and Meron, who also produced the movie musicals "Chicago" and "Hairspray" and the live television musicals "The Sound of Music" and "Peter Pan," for a third show, the academy has been trying for more continuity in the show.
In that time, the duo says it has learned, more than anything, to have a tough skin. When Meron reminded Oscar nominees at a luncheon last month that, as in previous years, they would have only 45 seconds to deliver a speech, the audience jeered him.
"Everybody wants to talk longer, and then everybody complains that the show's too long," Zadan said. "You learn when you do this show that you can't win. You have to just do what's necessary and not worry about what people are gonna say. If you turn left, they say you should have turned right, and if you turn right, they say you should have turned left."
The two said they have not yet been asked, nor considered whether they'd like to produce the Oscar show again.
"We went into it thinking we were doing this once," Zadan said. "We never expected that we'd be doing three years, but it's been an adventure, and each year's been completely different for us."
---
The complete guide to home viewing
Get Screen Gab for weekly recommendations, analysis, interviews and irreverent discussion of the TV and streaming movies everyone's talking about.
You may occasionally receive promotional content from the Los Angeles Times.