Oscars 2019: The road to 'Green Book's' best picture win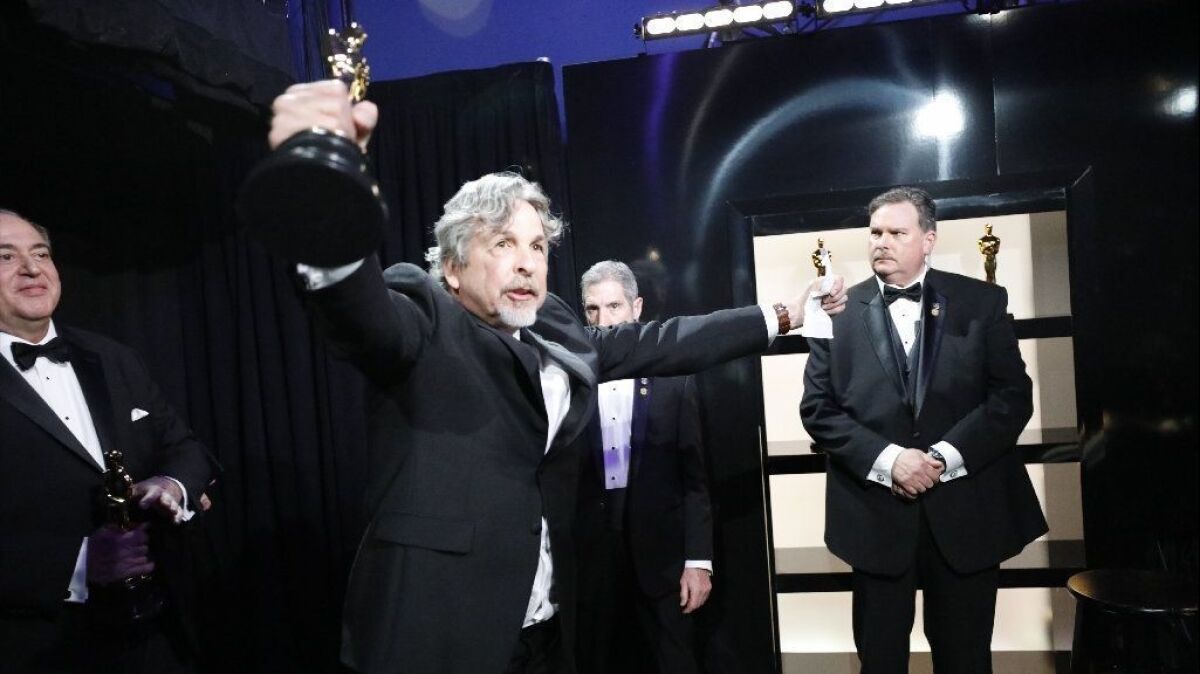 "Green Book" wasn't supposed to win the coveted People's Choice Award at the Toronto Film Festival. "A Star Is Born," backed by Lady Gaga's Little Monsters fan army, was pegged for that prize.
This road trip crowd-pleaser wasn't supposed to win the Golden Globe or the Producers Guild Award either, something Peter Farrelly, who co-wrote, co-produced and directed the movie, was the first to admit.
"When you make 'Dumb and Dumber,' you don't ever expect to get an award," Farrelly said at the PGA event, adding, with a wink, that he'd never heard of the black-tie occasion before this year.
"I don't need awards," he added. "This is like Warren Buffett winning the lottery."
Farrelly might not need awards, but he now has the biggest prize of them all with "Green Book" winning the Oscar for best picture. That wasn't supposed to happen as well, not for a movie that many critics derided as a simplistic look at racial prejudice designed to make white people feel better about themselves.
From Lady Gaga and Bradley Cooper singing to a 'Wayne's World' reunion, these are the highlights from the 2019 Academy Awards.
"Green Book" – the true story of white bodyguard Tony Vallelonga (Viggo Mortensen) and black pianist Don Shirley (Mahershala Ali) bridging their differences on a concert tour through the Deep South in 1962 – found itself enmeshed in controversy throughout the awards season. Mortensen used a racial epithet to make a point about how times had changed during a Q&A in November. Members of Shirley's family condemned the movie, calling it a "symphony of lies."
Three days after its Golden Globe win last month for best comedy/musical, both Farrelly and co-writer Nick Vallelonga (who, with Brian Currie, won the original screenplay Oscar) found themselves in trouble for past missteps.
For Farrelly, it was excerpts from a 1998 Newsweek profile in which he talked about repeatedly pulling out his penis on film sets as a dirty practical joke. Vallelonga, who based the film on his father's experiences with Shirley, was castigated for a 2015 tweet supporting Donald Trump's false claim that Muslims in New Jersey celebrated the destruction of the World Trade Center.
2019 Oscars: See the full list of winners and nominees »
Most movies would have a difficult time surviving such self-inflicted wounds. But the "Green Book" filmmakers and the awards strategists running its campaign never wavered in their belief in the movie and the intentions behind it.
"It's a movie about two people listening to each other, helping each other and changing each other," Farrelly told The Times earlier this month. "It's the kind of movie that can maybe change people's hearts and minds, if just a little bit. I'm an optimist. But you can probably tell that from the movie."
And though many critics weren't on its side – "Green Book" sports the lowest approval rating of any best picture winner since the equally divisive "Crash," per movie review aggregator Metacritic – Farrelly's feel-good film repeatedly scored with the public, winning audience prizes at film festivals in Austin, Mill Valley, New Orleans, Philadelphia, St. Louis and Virginia.
It has also chugged along at the box office, grossing nearly $70 million since its mid-November release, a take exceeded by only "Black Panther," "Bohemian Rhapsody" and "A Star Is Born" among the best picture nominees.
"Green Book" also found many champions within the African American community, including consulting producer Octavia Spencer, Quincy Jones and activist singer/actor Harry Belafonte, who called Farrelly after seeing the film and wrote a statement, saying, in part: "I knew Don Shirley, and, in fact, had an office across the street from his at Carnegie Hall, and I experienced much of what he did at the same time. This movie is accurate, it is true, and it's a wonderful movie that everyone should see.
"The few people who appear to be objecting to the film's depiction of the time and the man are dead wrong, and, if the basis of their resentment stems from it having been written and/or directed by someone who isn't African American, I disagree with them even more," Belafonte continued. "There are many perspectives from which to tell the same story and all can be true."
At the Oscars, no less than John Lewis, Georgia congressman and legendary civil rights champion, presented the film with actress Amandla Stenberg.
Review: Viggo Mortensen and Mahershala Ali's chemistry puts the crowd-pleasing 'Green Book' in overdrive »
That said, a cursory glance at social media after Julia Roberts announced "Green Book" as the Oscar winner reveals more surprise and resignation than celebration. After the best picture wins for "Moonlight" and "The Shape of Water" the past two years, "Green Book's" victory feels like a throwback to a time when traditional films like "The King's Speech" and "Driving Miss Daisy" won the Oscar.
"Daisy," another story of racial reconciliation, triumphed in 1990, the year that Spike Lee's "Do the Right Thing" did not earn an Oscar nomination. The parallels weren't lost on Lee, who was visibly angry when "Green Book" won best picture. Lee was waving his arms in disgust and appeared to try to leave the theater before he was asked to return to his seat.
"I'm snake bit. Every time somebody is driving somebody, I lose!" Lee said backstage. "But they changed the seating arrangement?"
Lee did win his first Oscar on Sunday, taking the adapted screenplay honor for co-writing "BlacKkKlansman." But as was the case 30 years ago, a blistering Spike Lee Joint look at race in America lost the night's biggest prize to an earnest movie about prejudice told from the white perspective.
The academy's membership may have radically changed in the past few years, but "Green Book's" victory shows there's still a strong nostalgia for the way things used to be.
---
Get our L.A. Goes Out newsletter, with the week's best events, to help you explore and experience our city.
You may occasionally receive promotional content from the Los Angeles Times.