Guillermo del Toro's dark, innocent and mystical imagination propels his films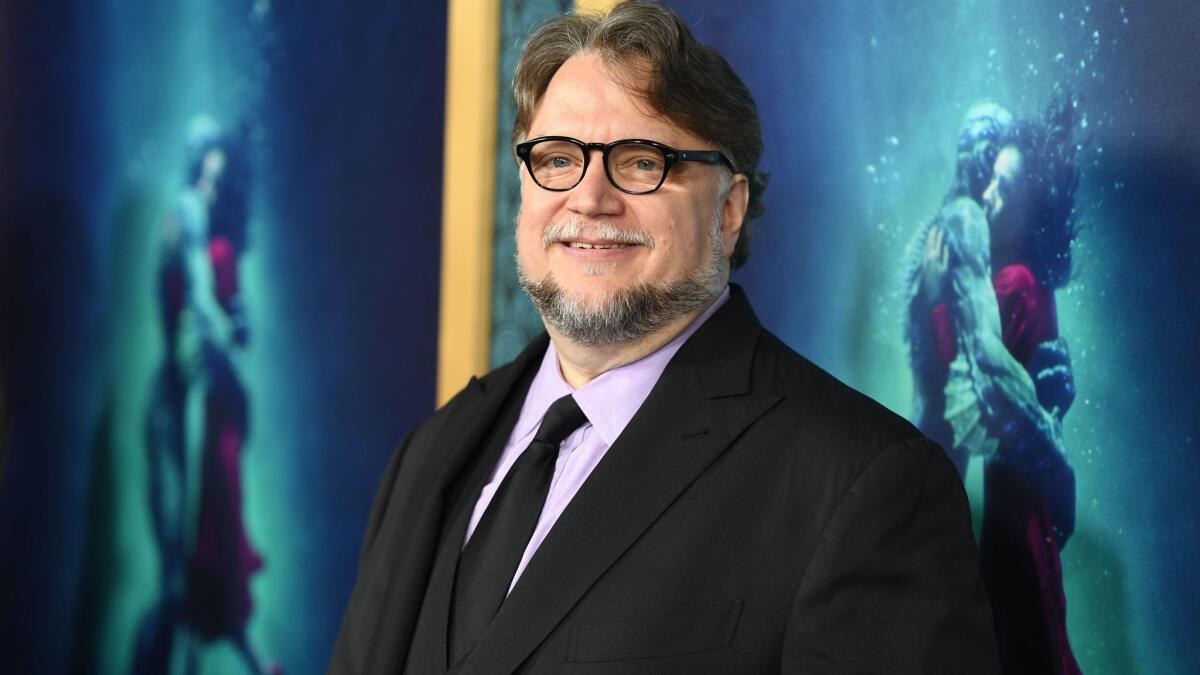 Guillermo del Toro infuses the grotesque with innocence and wonder, as if he has slipped into our dreams and fascinations, not to judge, but to find truth and grace in the dark furrows and creaky hallways of human nature.
His characters, often children or those uncorrupted, are drawn into mystical and scary cinematic worlds of fairies, fauns, fallen bombs and, in the case of his best picture winner "The Shape of Water," a fish-man in a Cold War parable who awakens the passions of a mute cleaning woman. Del Toro is a filmmaker who explores the soul of "the other" and how the things that frighten us can also heal and make us whole.
"I am an immigrant," he said in his acceptance speech Sunday for his directing Oscar for "Shape of Water." "The greatest thing that art does — and our industry does — is erase the lines in the sand. We should continue doing that when the world tells us to make them deeper."
"The Shape of Water" is the refinement of that quest, a crucible of menace and cruelty that is transformed by the love of two misfits, one of this world, the other an exotic manifestation of another. It is in the subconscious — the flight of imagination — where Del Toro likes to play, notably in "Pan's Labyrinth," the story of a girl who escapes war and loss through her own fairy tale, and "The Devil's Backbone," about what lurks in the whispers and darkness at a boarding school.
The magic of Del Toro's work is that things aren't as they appear; the illusionary has the poignancy and substance of the real, much like the nightmares of a child. The idea behind "The Shape of Water," he said, was "gathering everybody up who can be represented as the other, quote unquote, all the invisible people coming together to rescue this creature that can either be a monster or a savior or a lover or a god."
Del Toro is part of a vanguard of Academy Award-winning directors from Mexico, including Alejandro G. Iñárritu ("The Revenant," "Birdman") and Alfonso Cuarón ("Gravity"), who have crafted vivid, immersive and unconventional styles. Del Toro's win Sunday night means that Mexicans have won the directing award four of the last five years.
Del Toro, whose work is imbued with the religious imagery of his Catholic upbringing, is the most fantastical of his compatriots, delving into vampires ("Blade II"), the supernatural ("Hellboy"), and politically charged horror, including "Pan's Labyrinth" and "The Devil's Backbone," which both take place during last century's Spanish Civil War.
In "Pan's Labyrinth," a girl, lured by a mercurial praying mantis, steps into a legend, where she is told she's a princess in a kingdom far away from her sadistic stepfather: "It was the moon that bore you. Your real father had us open portals all over the world to allow your return."
Such is the refuge of a child who embraces things that might frighten others. Del Toro's realm is like a leap through the pitch of night: "Some people find Jesus. I found Frankenstein," said Del Toro. "The reason I'm alive and articulate and semi-sane is monsters."
"The Shape of Water", set in 1962 during Cold War and atomic bomb fears, was inspired by the 1954 B-horror film "Creature From the Black Lagoon." But Del Toro's fantasy resonates today. In the age of President Trump, with anti-immigration fervor running high amid widening political divides, the love between Elisa Esposito (Sally Hawkins) and her mer-man (Doug Jones) unfolds in unexpected and enchanting moments that remind us how brave and sublime cinema can be.
"It's an oasis from the ugliness and nastiness that seem to be pervasive during this time," said Michael Shannon, who plays a government agent who tortures the creature during lab experiments. "I'm not sure the movie can solve anybody's problems or make your breakfast in the morning, but it's so damn beautiful."
To read this article in Spanish click here
See the most-read stories this hour »
Twitter: @JeffreyLAT
ALSO
'Dunkirk' editor Lee Smith fused a tense score and three story lines to make history new
Get the Indie Focus newsletter, Mark Olsen's weekly guide to the world of cinema.
You may occasionally receive promotional content from the Los Angeles Times.