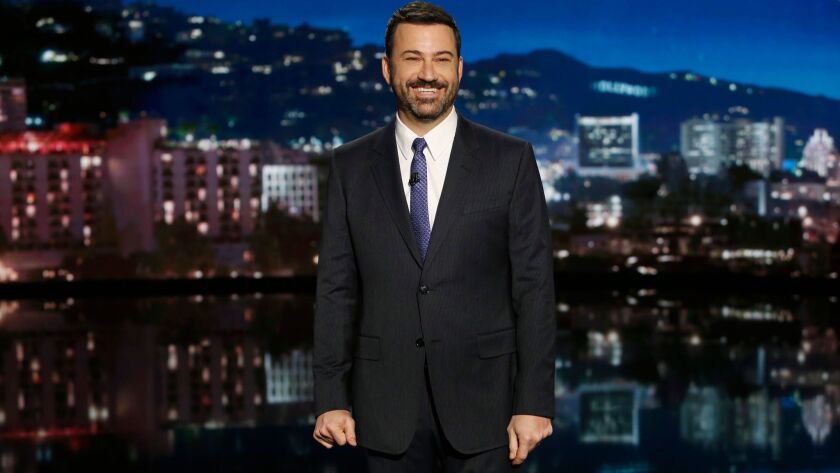 Jimmy Kimmel has been selected as host of the 2017 Academy Awards. His selection comes just four months after the Academy of Motion Picture Arts and Sciences renewed its contract with ABC to air the ceremony through 2028. (ABC has been the exclusive home of the Oscars since 1976.)
The star of "Jimmy Kimmel Live!," which also airs on ABC, is no stranger to emcee duties, having hosted the Emmy Awards twice, in 2012 and earlier this year. He has also hosted the ESPYS and the American Music Awards.
But it will be his first time leading the largest non-sports televised event of the year. He will follow in the footsteps of recent hosts Chris Rock, Neil Patrick Harris and Ellen DeGeneres.
Ahead of the news, the show's producers Michael De Luca and Jennifer Todd told The Times what they expected in a host.
"With hosts and presenters, we want people that can riff, that can come up with one-liners," De Luca said. "Obviously the show is scripted, but we also want to be spontaneous and we want people that can roll with that kind of spontaneity and be entertaining and funny."
Todd added: "Yeah, we like funny. I mean, as opposed to somber, we like funny. … Most importantly, we want to make it a fun night."
Kimmel's selection comes almost a month later than the normal November announcement, which suggests that the comedian might have been a last-minute or difficult choice. Regardless, considering the steady relationship between the academy and ABC, his choice ultimately makes synergistic sense.
Though Kimmel, who normally hosts a post-Oscars version of his late-night show, is sure to deliver laughs, he's a safer choice than last year's emcee, Chris Rock. The comedian-turned-actor was seen at the time as a polarizing yet necessary selection in the wake of an industry-wide diversity conversation prompted by #OscarsSoWhite. As progressive as his take on Hollywood was, especially concerning the lack of African American representation, Rock was also the target of backlash for his jokes at the expense of the Asian American community.
Considering that inclusion is still a Hollywood hot topic — with this year already being dubbed the best ever for blacks in cinema by the African American Film Critics Assn. — the social commentary by Kimmel is expected to follow suit.
It is also likely that the newly minted Oscars host will take jabs at the current political climate following the election of Donald Trump as president. When the show airs on Feb. 26, it will be a little over a month into the reality television star's four-year term.
No matter what jokes are delivered however, many will be looking to the show's ratings; awards shows overall have been suffering from declining viewership. The Rock-hosted Oscars telecast in February drew nearly 35 million viewers, the show's lowest since 2008. (It had its largest TV audience, 55 million, in 1998 — which Billy Crystal hosted and "Titanic" won for best picture.) But Kimmel may not be the cure to awards-season ratings woes: He delivered the Emmys' all-time low at the September ceremony, with an average of 11.3 million viewers.
Times reporter Josh Rottenberg contributed to this report.
Follow me on Twitter: @TrevellAnderson.
---
UPDATES:
3:35 p.m.: This article was updated to include more information about the Oscars ceremony.
This article was originally published at 11:35 a.m.
---