Paula Pell turned to her teenage diary for her first feature comedy, 'Sisters'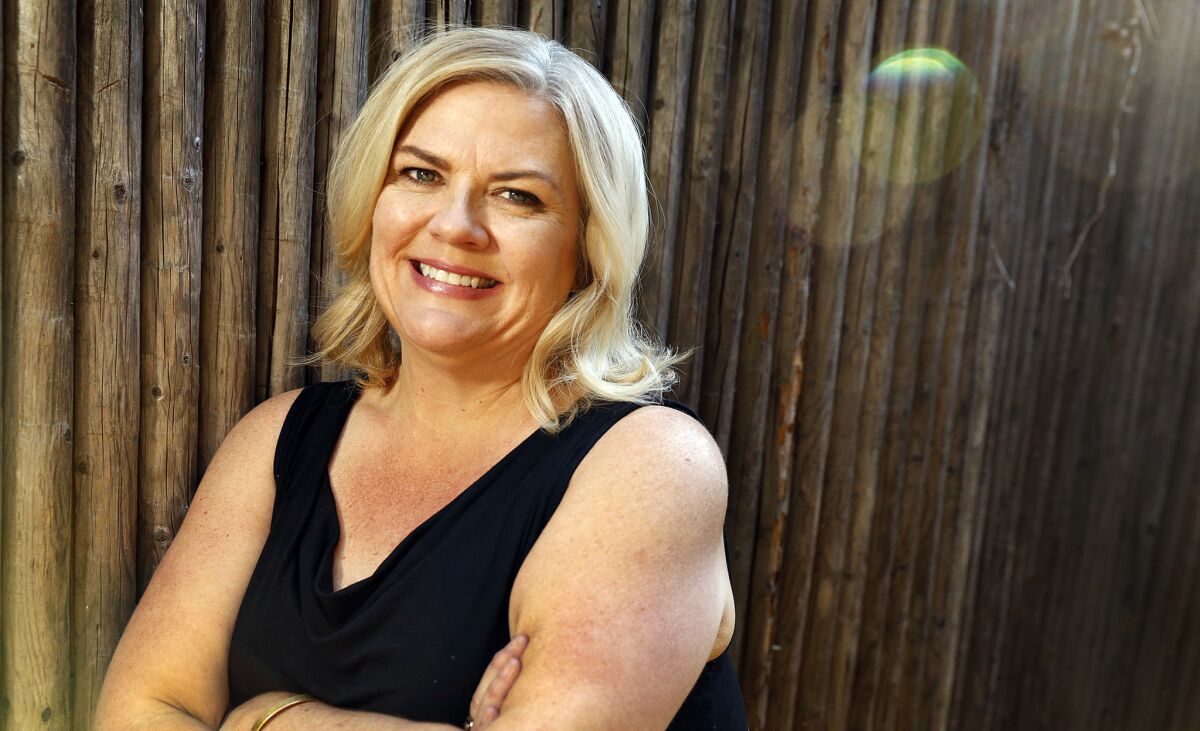 As an Emmy Award-winning writer on "Saturday Night Live" for 20 years, Paula Pell helped create and write such iconic characters and sketches as Debbie Downer and the Spartan cheerleaders. She also was a producer and writer on "30 Rock," played Ron Swanson's mother on NBC's "Parks and Recreation" and contributed to the screenplay of the blockbuster 2011 comedy "Bridesmaids."
The second season of her Web comedy series, "Hudson Valley Ballers," which she writes and stars in with fellow "SNL" scribe James Anderson, was recently released.
And now Pell has written her first feature comedy, "Sisters," starring Tina Fey and Amy Poehler and directed by Jason Moore, about two middle-age siblings who are told by their parents (Dianne Wiest and James Brolin) to come home to clean out their bedroom because the house has been sold. But the sisters won't leave their childhood home without one last high-school rage party.
See more of Entertainment's top stories on Facebook >>
The genesis of "Sisters," which opens Friday, is Pell's diary she wrote when she was 13. The journal became a legend among "SNL" writers because Pell would entertain everyone by reading excerpts. It's still close to her heart — she even brought the 38-year-old yellow Mead binder to a recent interview.
"It looks like it is going to dissolve into dust any minute if someone sneezes because it is so old," Pell said as she opened the notebook to reveal dozens of pictures of Sylvester Stallone glued to the inside cover
What's with all those photos of Stallone?
I'm obsessed with "Rocky." We went 13 times to the theater. My friends and I, we would audiotape ourselves watching it with all the comments. I say [in the diary], "I have a new love. Compared to Terry — this guy I thought was cute in school — he's an absolute, positively complete super fox. His name is Sylvester Stallone, also known as Sly, and he's the star of all stars in the movie 'Rocky,' which is an excellent flick."
You certainly had great penmanship.
We did a lot of promotional stuff with the movie, having different cast members read the journal on camera. Amy said, "Her handwriting is so perfect, she could possibly be a serial killer in the making."
So, like Kate (Fey) and Maura (Poehler), you and your older sister lived in Florida?
I was born in Joliet, Ill. It was totally Midwestern. Small little house. Two great parents and a sister and a beagle. I went to a Catholic girls school before we moved to Florida when I was 15.
It must have been hard to make the move.
My sister was heartbroken, because she had to leave her boyfriend she was totally in love with. He went into the service. She had graduated from high school, and I left my high school that I was super involved in. We both were devastated.
Was your sister as wild as Kate is in the movie?
My sister's journal was the romantic one with boys, and mine was talking about my rock tumbler. We were so different and so similar.
My sister was so sweet and funny and smart, but she wasn't the one who would come into the room and take charge. I was the big ham. I used to love putting on a show and making people laugh in the family. I was a weird mix, because I was a really good student. I wanted to be the good girl. I never wanted to get yelled at or in trouble, but I was always doing shtick.
Fey was very involved in "Sisters" when it was in its earliest stages, but she wasn't necessarily going to star in the film, right?
Tina found out I was doing something about the journal and she called and said, "Can I produce it?" She wasn't sure, with what all she was involved with, whether she would be able to be one of the main people in it. When I was writing the first draft, I wanted her to play Kate. I thought she could nail it. We went to a meeting at Universal and afterward, she sort of leaned over and said, "I would love to play this character."
How tough was it to get the film from page to screen?
We had the director, Jason Moore, come on board a year and half before [filming began]. He and I, and also Tina and Amy, worked really hard at honing it. My biggest concern was that we were all comedy people from that "SNL" world, so we knew we could make it funny. I wanted to make sure that it was about something and actually had some heart to it.
So, I have to ask you, do you still have your old stuff in your bedroom in Orlando?
Maybe 10 years ago, I was in there digging around and I found a box that was all taped up. I opened it up and it was one of those giant cookies. What was terrifying was that it kind of looked the same. I just looked at it and said, "Oh, my God."
Twitter: @mymackie
Get our L.A. Goes Out newsletter, with the week's best events, to help you explore and experience our city.
You may occasionally receive promotional content from the Los Angeles Times.