How the 'Rocketman' team turned Elton John's life into a fantasy musical
Reporting from London —
There's a moment during "Rocketman" when Elton John literally blasts into space, launching from the stage of Dodger Stadium as he sings the titular song, a trail of flames behind him.
John, of course, never shot up to the heavens during his actual 1975 performance, just as the audience at his Troubadour debut in 1970 didn't rise up off the floor as he played. But these moments in director Dexter Fletcher's "fantasy musical" version of the pop star's life seek to find an emotional truth rather than a fact-for-fact interpretation. At its core, "Rocketman," which opens nationwide today after a world premiere at the Cannes Film Festival earlier this month, is about memory and new possibilities for retelling our personal stories.
"Because it's Elton telling his story as he remembers it, it allows it to be fallible," Fletcher says of the film's tone, which originated with an idea from John and producer David Furnish (who is also the singer's husband). "If I told you my story, I would get a lot of stuff wrong. I would get dates and places and people wrong. Some things I would embellish. Other things I would completely forget. A straightforward story would be a bit tepid and pedestrian. I need to hold your attention. I need for you to laugh and cry and be worried."
John and Furnish have been trying to get "Rocketman" off the ground for over a decade, and the film has shifted through several incarnations at various studios, including Disney. Despite that, the DNA of the script has always been about bringing in fantastical elements.
FROM THE ARCHIVES: Robert Hilburn's 1970 review of Elton John at the Troubadour — 'new rock talent' »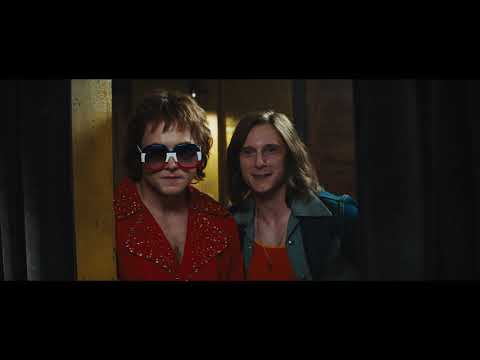 Mild-mannered English piano player Reginald Dwight transforms into rock superstar Elton John in this musical fantasy biopic starring Taron Egerton
You can watch rock biopics and know exactly where it's going all the time, without fail. You know why people don't want to do them.
— "Rocketman" producer David Reid
Written by Lee Hall ("Billy Elliot"), the screenplay was derived from John remembering the events of his life, from his childhood through the early '80s. Instead of writing it as a traditional biopic along the lines of "Ray," "Bohemian Rhapsody" or "Coal Miner's Daughter," Hall filtered these memories through John's songs, creating lavish movie musical sequences rather than montages or concert performances.
"It went through many different phases, with many people attached to it," says producer David Reid. "It was a way to tell a story. You can watch rock biopics and know exactly where it's going all the time, without fail. You know why people don't want to do them. People singing, montages of bands on the road — it wears really thin. The important thing is trying to get the character at different levels and getting what's in their head."
"I was like, 'Look, the fact that nobody wants to make this version is why I want to make it,'" adds Matthew Vaughn, who stepped in to produce and finance the film after a version with Tom Hardy and "The Greatest Showman" director Michael Gracey failed to come to fruition.
Vaughn and Reid came on board after working with John in the blockbuster sequel "Kingsman: The Golden Circle" and were urged by studios to tone down the material to receive a more broadly accessible PG-13 rating. Only Paramount was willing to make the R-rated fantasy musical that doesn't shy away from John's drug use and sex life.
"My films have always been about subverting genres and not being scared of pushing boundaries and doing things differently," Vaughn adds. "One of my favorite musicals is 'All That Jazz' and it reminded me a lot of that. I got very excited about it."
RELATED: Taron Egerton channels Elton John in 'Rocketman,' and the role is about to change his life »
The songs ... drive the narrative forward, and if you had someone who wasn't the voice of the actor telling you that narrative, it would be weird.
— "Rocketman" music director Giles Martin on the decision to have Taron Egerton sing Elton John's songs
Because "Rocketman" is not beholden to reality, the film's creative team was allowed flexibility in the visuals. Fletcher's approach was about what worked for this specific story — not what exactly happened at that moment in time. For instance, cinematographer George Richmond used lighting that didn't necessarily adhere to physics ("Where's that light source coming from?" Fletcher jokes. "I don't know! It doesn't matter!") and costume designer Julian Day took creative liberties in re-imaging John's wardrobe. It wasn't about turning star Taron Egerton into a mirror image of the singer. Instead, everyone wanted to get the essence of John in every shot.
"Creatively I could go to so many places that I wouldn't be able to normally," explains choreographer Adam Murray. "[Dexter] never wanted anybody to feel they had to recreate Elton. Obviously we've tried to embody him and his energy and his style and his look and movement as much as we possibly can, but from there elevate it to a level where emotionally it feels like you're absorbing who he is in his totality."
Even the songs have their own life in "Rocketman." Vaughn tapped producer Giles Martin — the son of Beatles producer George Martin — to join the production as music director, and Martin wanted to ensure he wasn't simply rerecording John's classic hits. It was also essential for Martin and the filmmakers that Egerton sing all his own vocals — the film wouldn't work if the lead actor had to lip-sync even once. "I was a little naïve back then because I was saying 'Nobody will buy tickets to a movie with someone lip-syncing to a legend,' " Vaughn notes. "And then we got 'Bohemian Rhapsody.' "
"Taron had to become the embodiment and the spirit Elton," Martin says. "You couldn't have another voice coming in to sing the songs. The songs are part of the narrative and drive the narrative forward, and if you had someone who wasn't the voice of the actor telling you that narrative, it would be weird to me. And if I had used Elton's voice or someone else's voice, the arrangements would have sounded weird, like they were cut and paste."
He adds, "Our ears have a huge emotional trigger, but we're so focused on what we see, so it was really important that the sound matched the visuals. It was really a question of suiting the scale to what we were trying to do. I wasn't trying to change an Elton John song or make it better. It was purely what served the movie in the best way. And if you work within those sorts of constraints, you end up doing something creative."
RELATED: 'Rocketman' star Taron Egerton: Don't compare us to 'Bohemian Rhapsody' »
One of the standout sequences in the film comes early on. In order to transition from child Elton (Kit Connor) to a teenager played by Egerton, Fletcher staged an elaborate sequence at a carnival set to John's 1973 hit "Saturday Night's Alright for Fighting." As Connor runs through the fence into the fair, Egerton emerges from the other side, taking over the vocals and joining over 30 dancers in the midst of the rides and games.
The sequence, created to appear as one take, took three nights of shooting (and weeks of rehearsals) to get right, and it serves both to compress the passage of time and to reveal John's early musical interests, which pop up in the song's new arrangement. In the span of only minutes, the character seamlessly transitions from teenager to man.
"I wanted to make it a journey through Elton's young experience, of becoming a young man and wanting to discover a wider world," Fletcher says. "It's a key moment … there's all these musical styles coming in that he's absorbing."
"It was a big challenge with so many bodies," Murray adds. "We had 180 people on set. It was 30 dancers and then coordinating the dancers with the supporting artists and making sure they all feel like one and it keeps moving. The choreography extends to all of the movement and everyone working around the dancers."
The film's vibrant musical scenes, which often act as a way to jump forward through time, will feel especially welcome to viewers tired of seeing the same sort of biopic over and over again. Fletcher took over directorial duties on "Bohemian Rhapsody," after credited director Bryan Singer was fired by 20th Century Fox, and the director says that working on the Queen film helped push his vision for "Rocketman" even further away from reality.
"There are many great biopics out there," Fletcher says. "And who doesn't love them? I wanted to be insistent that this wasn't a biopic because it's just an easy trope to fall into. I felt this deserved more. Emotionally, all of 'Rocketman' is true. Which really is the journey we're on.
"We're not on a fact-finding mission. We're not a documentary. We're just trying to get to the emotional truth of where Elton was at. You go out there on a limb, I suppose. There's safety and familiarity [in the traditional approach], but the real luxury I've been afforded is that I've been given enough rope to hang myself with. But also enough to maybe create something that's refreshing."
REVIEW: 'Rocketman' is an affecting, sprawling musical about the life of Elton John »
Get the Indie Focus newsletter, Mark Olsen's weekly guide to the world of cinema.
You may occasionally receive promotional content from the Los Angeles Times.