Does the 'Game of Thrones' Emmy win signal good chances for a genre film like 'The Martian'?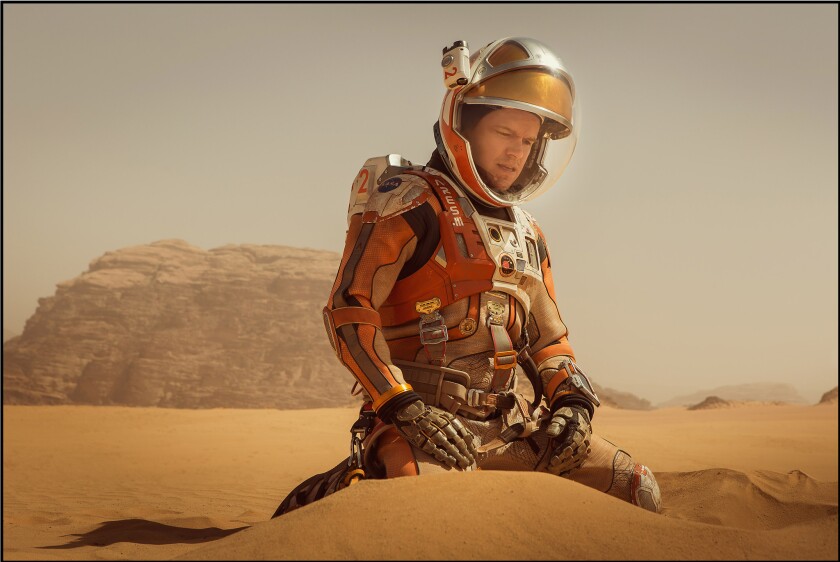 Will it change everything?
Or, at least, you know, the winner of a few Hollywood awards?
Those are some of the questions occasioned by the "Game of Thrones" triumph at the Emmys.
In case you were watching the Packers and Seahawks -- er, contemplating the McLuhanesque implications of an on-demand media landscape -- on Sunday night, here's the big take-away from the Emmys: "Game of Thrones," it of many Internet controversies and graphic love scenes, walked away with the prize for outstanding drama series after four previous nominations in the category yielded nada.
The HBO show based, in part, on George R.R. Martin's 567,214 pages of printed words is the purest genre series to take the big prize, and only the second genre series period. (The only other is "Lost," which won a decade ago; that show had its Stephen King-ish elements to be sure but was still a far cry from a land of dragons and red weddings.)
Part of why "GoT" won in its fifth season is not because the show has changed over the years -- I'll leave it to the devotees to decide whether that's to the good -- but because the Television Academy has. The group revised Emmy rules this year, among other things expanding the number of nominees, which in turn can spread the votes more thinly and reward a series with a small but intense band of followers -- i.e., genre shows. It also has added younger members of the kind more likely to watch and vote for a "GOT," which is not only a genre program but has a lot of violent and harder core elements.
FULL COVERAGE: Emmys 2015
These changes sound a lot like the changes of the Motion Picture Academy, which is now entering its seventh year with an expanded roster of best picture nominees and has made a big push of late to get younger and more diverse.
Which leads to an Oscars question: Could a movie of a certain pure genre quality -- namely science fiction, which has never boasted a winner despite many worthy and popular entries -- take the big prize there too?
It will be a salient question this year with the near-certain ascent of Ridley Scott's "The Martian." As you likely know from every billboard in the known universe, the movie stars Matt Damon ("Bring Him Home") as a botanist astronaut named Mark Watney who, stranded on Mars, has to figure out a way to survive there long enough for others to take the epic journey to rescue him. It is set several decades into the future, where manned exploration to Mars has begun and a habitat has even been created on the Red Planet.
(Though grounded in science -- NASA consultants were involved, and Andy Weir's book drew from a lot of factual principles -- it's still speculative, and it still involves outer space, so it's fair to call it science fiction.)
The movie has already won many critical plaudits and is sure to earn a lot of money when it opens in early October. And it will have plenty of virtues when it comes to Oscar voters: highly polished entertainment with a great performance at its center and a deep sense of fun. ("Too fun for the academy," a wag friend quipped.) It also has a classic academy feel -- really classic, in that its rally-around-the-flag themes are very Space Race America, only now the race is global and a lot more collaborative; even the Chinese step in to help out. There's apparently no one on Earth not rooting for Watney to come home, which is about as classic Oscar as it gets.
But the film has an obstacle in its science-fiction categorization. Acclaimed blockbusters in this vein have always come up short on Oscar night and failed to win best picture -- not "Star Wars" and not "A Clockwork Orange" and not "Avatar" could escape the black hole. Classics such as "2001: A Space Odyssey" and "Close Encounters of the Third Kind" weren't even nominated.
In fact, for all the ways the Oscars have grown more progressive -- recent winners "12 Years a Slave" and "Birdman" are a lot edgier than the stereotypical Oscar movie, usually a twee period drama, that the academy is often maligned for -- they're still very uncomfortable when it comes to a world that doesn't actually exist. Even in the 21st century, movies set in the past have won nearly half of the best picture awards. Movies set in the future or even an especially imaginative present can't get a single win.
In some ways, the Emmys are actually behind the Oscars. A fantasy world has previously had its day at the Oscars -- most notably in 2004, when "Lord of The Rings" swept through with eleven wins, including best picture and director.
So if a show like "Game of Thrones" could break through -- if the makeup of both the TV academy and the reality and popular perception of genre material has changed so that such content is now seen as sufficiently ambitious and thought provoking -- perhaps other barriers could be broken too. "Martian" may not win; it may not even nominated. But after Sunday's events, it's a little easier to reach for the stars and imagine its filmmakers up on the podium.
---
Inside the business of entertainment
The Wide Shot brings you news, analysis and insights on everything from streaming wars to production — and what it all means for the future.
You may occasionally receive promotional content from the Los Angeles Times.