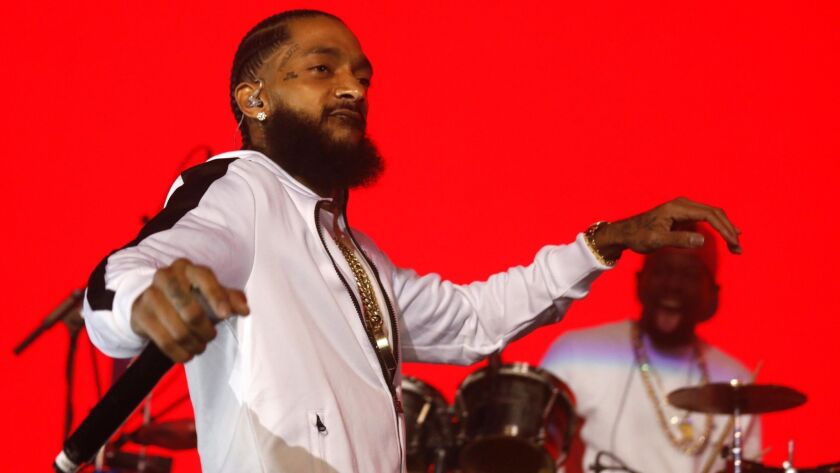 Rapper Nipsey Hussle, who helped bring back Los Angeles roller rink favorite World on Wheels and detailed to The Times in 2018 how he had developed a deep love of music and technology, was killed Sunday. The shocked reaction from the Hollywood community was swift.
Rapper Meek Mill offered some larger commentary, saying: "Broke me.... we really fighting for our lives against our own kind and really have to take risk and match the level of hatred that we are born in .. I'm tired ... prayers for my brother and his family."
Many others expressed their horror at the killing, as well as their admiration and concern for his family.
FULL COVERAGE: Nipsey Hussle gunned down in South L.A. »
heartbroken and speechless
god bless your beautiful family
just spoke about working...

a community legend. a humble king... forreal. ah this don't feel real. wow.

— Kehlani (@Kehlani) April 1, 2019
This doesn't make any sense! My spirit is shaken by this! Dear God may His spirit Rest In Peace and May You grant divine comfort to all his loved ones! 💔🙏🏿
I'm so sorry this happened to you @nipseyhussle pic.twitter.com/rKZ2agxm2a

— Rihanna (@rihanna) April 1, 2019
RIP Nipsey man. This is tragic

— Chance Owbum 📅 (@chancetherapper) April 1, 2019
You were about something..positive and for your community in every chance you had to speak..and because of that You inspired millions..millions who will uphold your legacy forever. rest amongst the stars. 🙏🏾 https://t.co/7gZ795wcQT

— Pharrell Williams (@Pharrell) April 1, 2019
REST IN PEACE NIPSEY HUSSLE

— Vince Staples (@vincestaples) April 1, 2019
The rapper's death went beyond the music community. Entertainment and sports figures like director Ava DuVernay and Lakers star LeBron James also felt the loss.
😥😥😥😥😥😥‼️‼️‼️‼️ So so SAD man!! DAMN man this hurt.

— LeBron James (@KingJames) April 1, 2019
I'll remember him this way. Bright, genuine, forward thinking.

I'll remember the beauty that he saw in our community. And the beauty that he was.

He loved us. He's left that love with us. And it cannot die.

Rest in Power, King. You mattered. #FarewellNipsey pic.twitter.com/fiSvURrz3U

— Ava DuVernay (@ava) April 1, 2019
Watching Nipsey inspired me to invest and own in our communities. He was a solid man who loved his woman, his family and his community. This hurts.

— Issa Rae (@IssaRae) April 1, 2019
Hundreds gather at site where Nipsey Hussle was fatally shot to mourn rapper »
Follow me on Twitter: @Storiz
---