An Appreciation: Vocalist Al Jarreau ventured further than his smooth reputation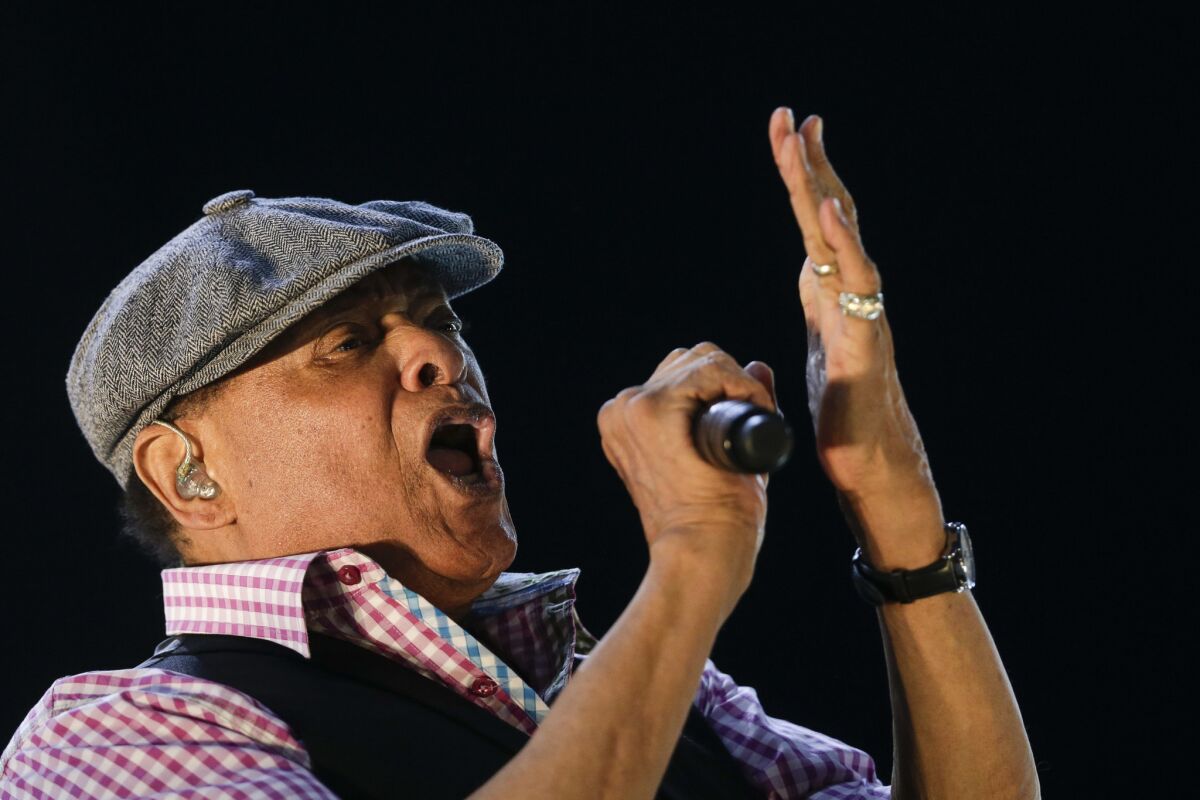 When thinking about Al Jarreau, who died in Los Angeles on Sunday at age 76, one word comes insistently to mind: Smooth.
Much like his longtime friend and kindred spirit George Duke, who died in August 2013, Jarreau owned that free-flowing and often breezy subgenre somewhat derisively known as "smooth jazz." In reality, it was a cross-pollination of jazz with funk, pop and R&B that his voice helped establish in the '70s and '80s. From the nimble, rounded style that allowed him to glide from note to note in his biggest hit "We're in This Love Together" to the feeling evoked by the sound of his name itself, Jarreau became synonymous with a bright sort of cool that soared beyond jazz's often sharp corners.
Also like Duke — who counted Frank Zappa and Miles Davis among his collaborators — Jarreau's 50-year career defied such simple categorization. A Midwestern native, Jarreau cut his teeth at Bay Area clubs like the Half Note and Gatsby's before moving to Los Angeles, where he appeared on the city's club and talk-show circuit.
In the early '70s, when his career began to take off, Jarreau earned comparisons to jazz greats such as Billy Eckstein, but his breakout 1975 album "We Got By" could evoke soul great Bill Withers, most notably on the album's bawdy and bluesy title track, in which Jarreau was backed by subtle strings and keyboards. From the same recording, "You Don't See Me" offered a showcase for Jarreau's acrobatic scat vocals playing off a spare funk backdrop.
The subsequent live double-album "Look to the Rainbow," released in 1977, offered a similarly fierce display of vocal invention. His percolating interpretation of Paul Desmond's "Take Five" — a song most commonly associated with Dave Brubeck — is a rapid-fire tour-de-force as Jarreau breathlessly emulates three or four different instruments over the course of seven and a half propulsive, improvisation-rich minutes. Jarreau eventually came to be synonymous with a seeming imperviousness to rough edges, but here, it certainly wasn't for want of stretching himself in search of them. "Look to the Rainbow" also earned Jarreau his first Grammy for jazz vocal performance.
The '80s brought Jarreau his greatest commercial success and what became his signature sound. His 1981 ballad "We're in This Love Together" was a fixture on the decade's adult contemporary radio, and the album the song was taken from, "Breakin' Away," went platinum. Though the record is the beginning of Jarreau's foray into the glossy R&B production of the time, his jazz roots remain visible in another look back toward Brubeck with a dramatic, jittery cover of "Blue Rondo a La Turk."
In subsequent years, Jarreau seemed to embrace that poppier R&B sound more fully. With its glossy keys and echo-laden production, his 1984 single "After All" is a swooning example of the pop-R&B that came to be known as "Quiet Storm," and his albums around this time mined various corners of this sound, including the quirky synth-funk of the live staple "Roof Garden." In 1985, his profile had risen to the point where he appeared as one of the many immediately recognizable voices in the all-star benefit single "We Are the World."
In 1987 he released maybe his best-known song: The theme to the hit '80s comedy series "Moonlighting," which featured his lyrics over music by Lee Holdridge. The song earned Jarreau another Grammy nomination and is a showpiece for the gentle and airy funk-pop that defined Jarreau's style.The color-saturated '80s L.A. sunset skyline featured on the opening credits looked like Jarreau's track sounded.
But for all his success on the smoother side of the spectrum, Jarreau continued to look further. He recorded a hard-to-find tribute to Bill Withers in the late '90s and even in recent years his collaborations included a single recorded with George Benson and Jill Scott, which earned Jarreau his seventh Grammy in 2007. He became a longtime favorite of the Hollywood Bowl's annual Playboy Jazz Festival, combining with bassist Stanley Clarke for a tribute to his friend George Duke in 2014.
An effervescent concert presence, Jarreau had abruptly announced his retirement just days before his death, in a statement that shared the "complete sorrow" he felt at being forced to give up performing.
Given the joy that was evident in Jarreau's voice, that sounds as if it were an understatement.
See the most-read stories in Entertainment this hour »
Follow me over here @chrisbarton.
ALSO:
Appreciation: Bobby Hutcherson connected some of the highest points in jazz
Overrated/Underrated: Don't let Adele have another Grammy sweep, and slow down on 'Fast and Furious'
From refugee camp to Hollywood: Brothers who write for CBS comedy 'The Great Indoors' on their journey and the immigration ban
Get our L.A. Goes Out newsletter, with the week's best events, to help you explore and experience our city.
You may occasionally receive promotional content from the Los Angeles Times.