Angélique Kidjo on what an old Talking Heads album still has to say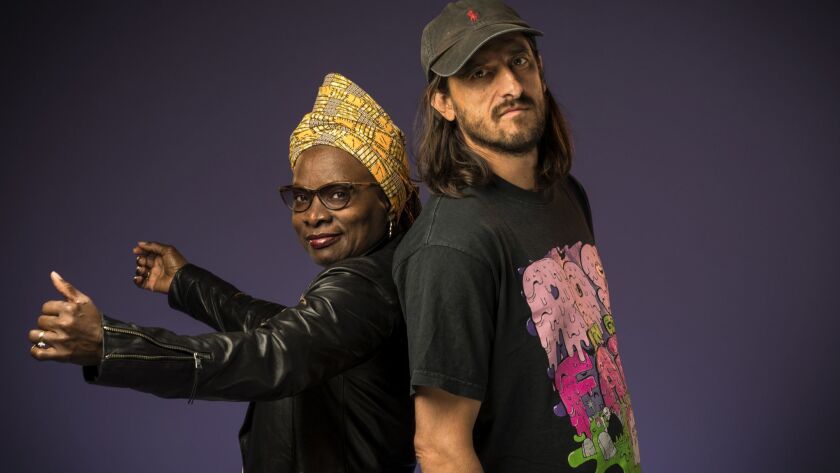 Pop Music Critic
When Angélique Kidjo moved to France from her native Benin in 1983, she developed an addiction and allowed it to run wild.
Now one of the most well-known singers in African pop, Kidjo at the time had just fled a country in which the communist regime had replaced music on the radio with propaganda.
"So in Paris I became a music junkie," she said with a raspy chuckle. "I had the feeling that I'd lost out on so much that I had to catch up with the world I was coming into.
"And that meant listening to anything — everything — that came my way."
One of the songs that caught her ear was "Once in a Lifetime," the early-'80s single by Talking Heads that showed off that post-punk group's fascination with the Afrobeat sound pioneered by Nigeria's Fela Kuti.
"I went to school and I said, 'Do you guys know this song?' and they said, 'Yeah, of course — it's a huge hit,'" Kidjo recalled. "I said, 'From Africans?' 'No, an American white band. Rock and roll.'
"I said, 'That's not rock and roll — that's African music.'"
Decades later, Kidjo is proving it with a full-album interpretation of "Remain in Light," Talking Heads' polyrhythmic 1980 masterpiece, which spun off "Once in a Lifetime" as well as other Talking Heads classics like "Crosseyed and Painless" and "Born Under Punches (The Heat Goes On)."
Kidjo's rendition, due June 8, reclaims the dense yet propulsive grooves borrowed by Talking Heads and its producer, Brian Eno; the album then expands on them with African chants and melodies culled from Kidjo's travels throughout the continent.
But like the original, this "Remain in Light" represents an act of outreach. To make it, Kidjo teamed with Jeff Bhasker, an A-list American pop producer known for his work with Beyoncé and Kanye West. And there are cameos by Ezra Koenig of Vampire Weekend and Devonté Hynes of Blood Orange — just two of the countless young art rockers indebted to Talking Heads.
The result is meant to be "a bridge" between cultures, said Kidjo, 57, who will play "Remain in Light" on Saturday at downtown's Theatre at Ace Hotel.
Bhasker, 44, added that he thinks of the project as an attempt to push back against the "groupthink" that's taken hold at a political moment when "everyone is kind of staying in their bubble."
"How do you reconcile these different sides?" asked Kidjo, who rejects the notion, held by some, that Talking Heads was guilty of cultural appropriation. "That's what music does."
Kidjo and Bhasker met in 2014 when she sang at a charity event in London that Bhasker was music directing. Impressed that night by her powerful vocals — "She just blew the doors off the place," he said — the producer resolved to work with her on something that might boost her profile among American listeners.
They traded ideas for a while before landing on "Remain in Light," which Kidjo had already been booked to perform as a one-off live event at Carnegie Hall in New York. (That gig, held in May 2017, ended up with Talking Heads' frontman, David Byrne, joining Kidjo onstage for an unannounced duet on "Once in a Lifetime.")
One reason the record appealed to them was because of how relevant its themes still feel, the two said over coffee this week in Los Angeles.
"This album was released in the era of Reagan — it's talking about the war on drugs," Kidjo said. "People were looking at the black people with contempt because they were drug addicts. And now the opioid crisis comes in and we feel pity for the white people."
Bhasker compared the vision of government oppression in "Born Under Punches" to recent instances of police violence against African Americans.
"The songs say the same things they always did," he added. "In a lot of ways we're still in the same place."
Yet the creative partners were unabashed about taking liberties with the music.
Talking Heads' "Remain in Light" is famously tense, with Byrne's signature yelp over chattering guitar and twitchy bass.
"My engineer was driving around listening to it to prepare, and he was like, 'Man, listening to that album in L.A. traffic — I had to shut it off!'" Bhasker said with a laugh.
His and Kidjo's take is looser and more celebratory, which the singer attributed to the chants she learned from women in a Maasai village she visited in Kenya a few years ago in the course of her work with UNICEF.
"This was the perfect opportunity to harvest the wisdom of those women," she said. "I let their voices guide me."
Asked how she found room for the chants in songs with their own established structures, Kidjo looked as though she'd never considered that it might not work.
"We just did it," she replied, her eyes twinkling.
Bhasker pointed to their shared background in jazz and likened the process to a player taking a solo. Then he found a better metaphor.
"It's like basketball players on a fast break," he said. "How did you know when to pass the ball? There's a sixth sense."
The ease with which they've blended these different traditions is a big part of the album's appeal; it's also what the producer hopes attracts a young pop crowd increasingly comfortable with music that pulls from all over.
Kidjo nodded her head as Bhasker, who's releasing "Remain in Light" through his Kravenworks label, described his ambition to reach listeners raised on digital streaming and social media.
But the singer also wants her new album to connect with her old audience in Africa.
"Rock and roll is not big in Africa — only in South Africa," she said. "Everywhere else, they say, 'We can't dance to this — it's boring.'" She laughed.
"I think this will start opening up people to think differently."
________________
Angélique Kidjo
When: 8 p.m. Saturday
Where: Theatre at Ace Hotel, 929 S. Broadway
Tickets: $29.50-$59.50
Info: www.acehotel.com
Twitter: @mikaelwood
---
The complete guide to home viewing
Get Screen Gab for weekly recommendations, analysis, interviews and irreverent discussion of the TV and streaming movies everyone's talking about.
You may occasionally receive promotional content from the Los Angeles Times.