Commentary: Aretha Franklin's death is a reminder to honor our legends while they're still with us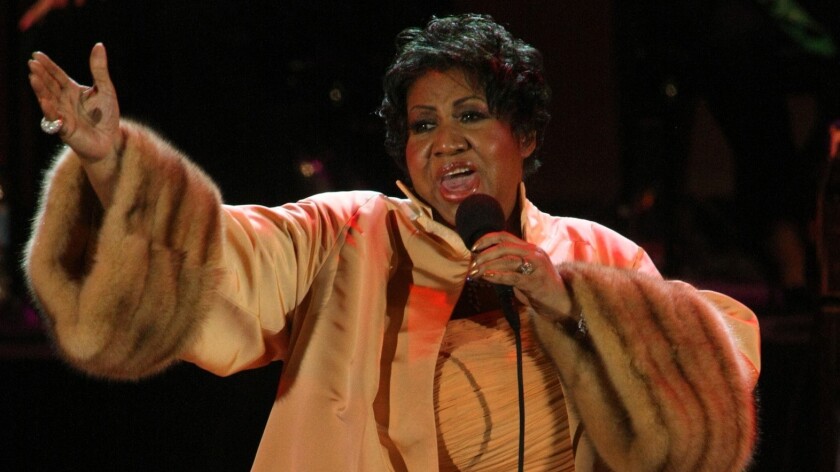 In the hours after Aretha Franklin's death Thursday, the weeklong appreciation of the Queen of Soul reached a feverish climax, with tributes pouring in from every corner of the globe — and even beyond.
At the same time fans were singing Franklin's praises, others saluted a fellow member of music royalty: Madonna, the queen of pop, was living it up for her 60th birthday.
The celebration of two of music's most influential artists was a reminder that when it comes to appreciating living legends, there's no time like the present.
At least that's what Missy Elliott has been trying to tell us. In January, the chameleonic hitmaker tweeted a similar sentiment, urging people to love their creative geniuses — be it Stevie Wonder or Tina Turner or Patti LaBelle (take that, Fox News!) — while they are still with us.
"We tend to say how great they were when they gone," Elliott said on Twitter. "Give them flowers & credits tributes now."
Franklin's years of failing health allowed us to both appreciate her achievements and revel in the power of her voice every time she blew the doors off of a venue, be it at the Kennedy Center Honors or "The Late Show With David Letterman."
Madonna, on the other hand, is a model of good health, thriving in her perpetual state of reinvention and ripe for our adoration right here and now.
That's the brilliance of her birthday festivities. The Material Girl led her own countdown to that milestone, offering a golden opportunity for fans to join in the celebration.
And they did, sharing Madonna's influence on their lives — how she inspired them to understand their own identities better, how her music touched them and how she reshaped the face of pop music.
But honoring artists doesn't have to be bound up in Facebook posts or Instagram moments: It can happen in real time.
I was shopping at Amoeba Music a few years ago when I noticed that singer-songwriter Judy Collins was arriving soon for an in-store book signing. Collins, best known for her renditions of "Both Sides Now" and "Send in the Clowns," was a staple of my childhood, my mother's personal favorite.
That day, spurred by an affection bred in utero, I stayed at Amoeba and met Collins, had my photo taken with her, got an autograph and expressed my heartfelt appreciation for all she had given me — and my mother — with her work. Collins listened intently to me and sent her best to my mother.
It's that easy to pay homage to someone whose art colors the borders of our memories and our hopes for the future. And living legends are all around us in varying phases of their twilight years.
Delve into Smokey Robinson's early catalog. Donate Beverly Cleary's books to your local children's hospital. Go see Bob Dylan in concert. Cue up "Gone With the Wind" and take in the masterful performance that Olivia de Havilland, who's still kicking at 102, gave nearly 80 years ago. Or watch Netflix's "One Day at a Time" and get two living legends for the price of one, with Norman Lear executive producing and Rita Moreno starring.
We can appreciate our artists by not forgetting them while they're alive, by continuing to seek out their latest work and remembering their contributions and expressing our admiration even if it's just in private.
In fact, don't limit yourself to voicing your love and affection only for your favorite artists. Go ahead and tell the important people in your life how you feel about them too.
Don't wait for that farewell tour that might never come.
---
Your essential guide to the arts in L.A.
Get Carolina A. Miranda's weekly newsletter for what's happening, plus openings, critics' picks and more.
You may occasionally receive promotional content from the Los Angeles Times.