Ariana Grande celebrates her No. 1 album with an intimate fan show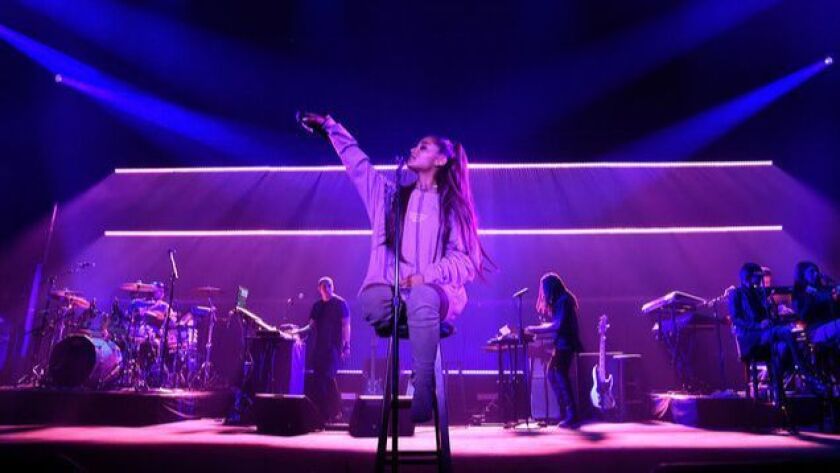 "I really don't have any plan for how this will go," Ariana Grande announced to a packed audience at the Theatre at Ace Hotel on Saturday night. "It's really spontaneous and we just hang out."
The 25-year-old pop star was capping the last of her "Sweetener Sessions" series of intimate shows with a stop in L.A. (she previously performed in New York and Chicago), and she wanted to make it clear that the night was about the 1,600 fans who scored a ticket to the concert — which is why the fans would dictate how the night went.
Saturday's show was the third she's done to introduce her latest album, "Sweetener," her first release since the terrorist bombing that killed 22 people last year as they left her concert at England's Manchester Arena.
Released earlier this month, the collection of left-field R&B-pop largely overseen by hit-makers Pharrell Williams and Max Martin notched the singer her third No. 1 album. Grande also broke a record for the largest streaming week for a pop album by a woman with the release.
Security was tighter than one would expect at a small venue, understandably so, and folks moved through the meticulous screening and placed their items in clear backpacks with a quiet compliance you almost never see in a city where everybody is "someone."
Inside, the atmosphere was relaxed as fans hung out at the bar, purchased limited edition merchandise or clamored to take selfies with Grande's mother.
After a sweet introduction by fiancé Pete Davidson, the singer, dressed in the same oversized sweatshirt that many of her fans had likely ordered online, held her microphone toward the audience and asked her fans what they wanted to hear first.
And she took fan requests for the rest of the night, performing every track from "Sweetener" except for her Nicki Minaj-assisted single "The Light Is Coming," along with a couple of fan favorites. She was backed by a small band.
While the "Sweetener Sessions" harken to a string of small shows she performed around her 2013 debut, "Yours Truly," Grande's commitment to making the evening entirely fan-driven continues a trend of superstars searching for new ways to engage their biggest fans and rethinking the traditional album listening party.
Over the last year, artists have pulled off exclusive experiences that run the gamut from low-key to fanatical.
Taylor Swift had people over to her house to play them "Reputation." Kanye West flew people to a ranch in Wyoming to hear his comeback record. Chris Brown and Teyana Taylor both threw parties on Universal Studios' backlot, and Nicki Minaj invited some of her biggest supporters to New York to hear her latest release, "Queen" (she even paid college tuition for some them).
At her show Saturday, Grande was so dedicated to being in tune with her fans that more than once she left the stool she was perched on to move closer to hear their requests.
When she spotted a fan hoisting a sign reminding her of the four-year anniversary of her breakout album "My Everything," which was the same day, Grande revealed she was one step ahead and performed the album's bonus track "Only 1" for the first time.
During one point in the show the singer got a request for another song from her 2014 album and she happily obliged with an a cappella take. Later she even stopped her performance abruptly when a fan shouted they didn't have their phone pointed toward her.
"Someone said, 'Start again, I wasn't recording,'" she said with a laugh.
After confirming the fan had hit record, she began again.
For more music news follow me on Twitter:@GerrickKennedy
---
Your essential guide to the arts in L.A.
Get Carolina A. Miranda's weekly newsletter for what's happening, plus openings, critics' picks and more.
You may occasionally receive promotional content from the Los Angeles Times.