Grammys 2014: Haim producer Ariel Rechtshaid oversees cutting edge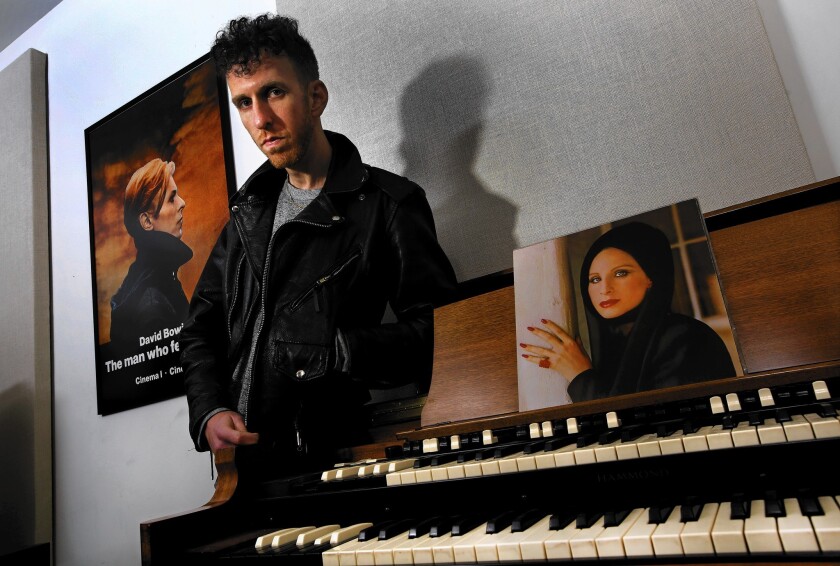 Ariel Rechtshaid works out of a squat, nondescript building on a quiet street corner in the San Fernando Valley. A gun shop does business a few doors down; across the way sits a martial arts academy. But step into the record producer's studio and you're within shouting distance of pop music's cutting edge.
Packed with computer gear and vintage synthesizers, the walls papered over by fliers advertising long-ago punk shows, this is where Rechtshaid has helped acts including Vampire Weekend and Sky Ferreira create some of the most exciting albums of the last few years — records that point toward new sonic territory even as they draw cleverly from the past.
"I like manipulating things so they sound subtly different from anything you've ever heard before," he said on a recent morning at the studio. The day before, Rechtshaid had returned from London, where he'd been collaborating with Kylie Minogue, and his eyes were still travel-bleary beneath a tangle of curly brown hair. "But the idea is always to find a unique performance and build a song around that."
FULL COVERAGE: Grammys 2014 | Complete list of nominees
It's an approach that makes Rechtshaid's work, which balances slickness with an identifiably human touch, grab your ears and hold on. And his clients aren't the only ones who benefit. At Sunday's Grammy Awards, Rechtshaid, 34, is up for the producer of the year prize, a tastemakers' long shot against more established hitmakers such as Pharrell Williams and Dr. Luke.
The nomination follows a prolific 2013 in which Rechtshaid oversaw albums by not only Ferreira and Vampire Weekend (whose "Modern Vampires of the City" also earned a Grammy nod) but Haim, the L.A.-based sister trio that dazzled critics with its retro-futuristic pop-rock debut, "Days Are Gone."
"Our record ended up exactly what we wanted but even better," Alana Haim said. "We had so many weird things in our brain we couldn't communicate to other producers. But by the end of recording, it was like Ariel could read our minds."
Perhaps that's because Rechtshaid, the son of Israeli immigrants whose passions included classical music as well as rock 'n' roll, knew what it was like to be in their place. Before he began helping other artists realize their creative visions — doing everything from suggesting drum tones to hammering out song structures — the producer, who grew up in Van Nuys, was a musician himself, first in the Hippos, a high school ska group that attained minor success, then in the more indie rock-inclined Foreign Born.
PHOTOS: Celebrities by The Times
His interest in playing shows and touring eventually gave way to a growing fascination with recording. "Being in bands just became an excuse to get into the studio," he said. "And then I realized that 10 songs every year and a half was not enough output for me. I needed to be doing this constantly."
As he honed his ability to sculpt sound using digital technology, Rechtshaid preserved his dedication to capturing a compelling performance: that lightning-in-a-bottle vocal take, for instance, or the guitar part that started as an accident.
"His thing is just being in the room and taking his time in the session," said Vampire Weekend's Rostam Batmanglij, who recruited Rechtshaid to co-produce "Modern Vampires of the City." "And then he has strong opinions about what's the best version of something."
That focus on the unpredictable (and perhaps the unrepeatable) distinguishes Rechtshaid from producers such as Williams and Dr. Luke, both recording industry name brands trusted to deliver a recognizable sound. It's also made his work difficult to define. Though he's drawn praise for the meticulous arrangements on Haim's "Days Are Gone," one of his earliest successes was "Hey There Delilah," the stripped-down pop-punk ballad by Plain White T's that went to No. 1 in 2007.
INTERACTIVE: Discover songs of L.A.
Since then his palette has expanded to collaborations with mainstream stars such as Justin Bieber and Usher, whose smoldering 2012 single "Climax" (which Rechtshaid co-wrote) won the Grammy for R&B performance last year. He even went to Jamaica to assist in Snoop Dogg's much-discussed reinvention as a reggae singer.
At a moment when listeners' tastes have widened thanks to the instant-access promise of online music, Rechtshaid's strategy feels exceptionally current; he's in tune with the genre-hopping, anything-goes vibe that flourishes on Spotify and iTunes.
"Ariel is so universal, but at the same time he pushes boundaries," said David Wolter, an A&R executive at RCA Records who recently paired Rechtshaid with the up-and-coming singer Mikky Ekko. "What he does, it's fresh. I'd put him in the studio with anyone."
Which doesn't mean Rechtshaid is eager to accept every gig. Looking forward to 2014 and beyond, the producer insisted he's determined to resist streamlining his ideas or his habits even as his Grammy buzz amplifies demand for his services.
"I still don't know what my next record is gonna be — or what it's gonna sound like," he said at his studio, sitting beneath a poster of David Bowie, the veteran shape-shifter whom Rechtshaid called one of his primary inspirations. "That excitement about the unknown is what keeps me going. I feed off it."
---
Inside the business of entertainment
The Wide Shot brings you news, analysis and insights on everything from streaming wars to production — and what it all means for the future.
You may occasionally receive promotional content from the Los Angeles Times.