Christine & The Queens will bring a Broadway-like feel to Coachella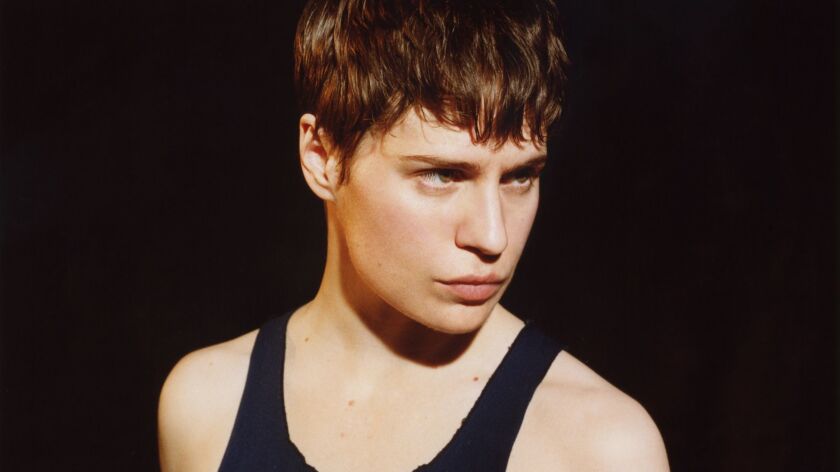 It's been six months since rising French pop artist Heloise Letissier, who records as Christine & the Queens, put out her second album, "Chris," and she's currently FaceTime-ing from her basement in her Parisian home.
"We saw each other before, non?" she says.
In August 2018, the 30-year-old was wrangling with an intensive press campaign in New York ahead of the album's release. She was fatigued but nevertheless still ravishing conversation, sharing in how grueling it had been to repeatedly explain her concepts to a confused press, particularly in France.
"I have more perspective on the aggression now," she says. "I know why maybe they didn't like it. The more abrasive character was too defined."
"Chris" – the '80s-inflected, bass-heavy pop album – saw an evolution of the character of Christine, and one that challenged the gender binary. She wanted to subvert the male gaze, embody both feminine and masculine traits and ask what happens to concepts of desire in rock stardom when a woman is dominant. Some circles lauded her — The Guardian named "Chris" album of the year, Time picked "Girlfriend" as song of 2018 — but in France some undermined her, even for a matter as insignificant as her cropped hair.
"As a feminist, I was horrified," she says. "Sometimes I have a fantasy of releasing a work of art without having to talk about it. I don't know if I will do it one day. I could write a blog."
Letissier is at home for two weeks in between tours. She's in the midst of reimagining her stage production for Coachella. The "Chris" tour is a fully realized, fluid show. It's exquisitely romantic and contains lavish set pieces, including full painted backdrops and a diverse troupe of dancers, feeling more in common with a musical than contemporary pop.
"The tour is really physical," she says. "It's so intense for two hours. I can't feel the fatigue because I'm so thrilled to do it. Someone said to me – 'You're doing really weird Broadway.' Thank you so much!"
She headlined the Wiltern in October. The chemistry between Letissier and her dancers made for intriguing viewing. You may have left tempted to follow them all on Instagram and continue to watch the soap opera unfold.
"I chose dancers during the auditions that resonated with me deeply," she says. "It was like casting for a movie but the movie is the tour and it lasts for months. We are a weird family. I sound like an insane French person."
It's a deeply sensual show but one that doesn't feel heteronormative. It's sexual arousal at its more intellectualized. "Let's call it Intellectualized Horniness: The World Tour," she says.
The tour takes her ideas of defying male and female stereotypes even further than the album. During the performance of "Doesn't Matter," Letissier is on a platform performing a duet with a male dancer below. It's been misinterpreted as a Romeo & Juliet moment, which didn't cross her mind until now. "The Romeo & Juliet balcony thing to me was always something I wasn't for. Her waiting at the balcony? Him going towards it? I would be the one climbing. Maybe my whole record is about me climbing."
Now half a year removed from the release of "Chris," she's relaxed and back in the creative zone, goofing in front of the iPhone. "I'm writing new tracks," she says. "I want to release some this year – have a weird addendum to "Chris.'"
Her sights are more on the trajectory of David Bowie than that of, say, an Ariana Grande, who will be just the fourth solo female artist to headline Coachella when she closes the fest on Sunday. "I want to go to different territories every time, to change constantly. I may lose people along the way but I'm not capitalizing on something solid. I'm like a shattered mirror," she says.
The themes she's exploring now are heavy and fragile. "I can't tell you more because I think I'm going to do it and the pleasure is to unfold it like a novelist. I sound like I'm doing drugs," she says.
FULL COVERAGE: Coachella 2019 »
Recently she tweeted that 2019 is about "collaborations." With whom? Her new friend Matthew Healy from The 1975? "Bah! I don't think so but we've been talking." Charli XCX? "We met and I felt a vibe." She smirks. "I wish I could say lots of things but I can't. I will mess it up."
Letissier recognizes the opportunity Coachella holds, especially with a planned evening slot. "It's a tough festival," she says. "You get dissolved in the palm trees and the desert. If you can achieve something there it's a good sign."
She admits to having struggled with "reality checks," trying to work out how to make practical sense of her theatrical desires on the festival stages. "My technicians tell me: it's not possible! I'm like, 'Damn, can you try?'"
Coachella has informed how the rest of her summer's festival sets will look. "I had to let go of the paintings," she says of the backdrops. "How can I do something pictorial without anything solid? So I'm thinking about fireworks. Pyro! Oui. I'm working on it right now. I don't know if it's going to be successful. I'm probably going to die live at Coachella. Wah!"
The thought of more touring excites her. She cut the debut album cycle – "Chaleur Humaine" – short and admits that she's settled into being a touring artist now. It used to feel more masochistic. "Who's gonna love me?!" she says. "I used to be reclusive, burdened by lots of frights. I was alive but I was in limbo. Now I'm more present in myself."
With Michael Jackson's hit song "Man in the Mirror" referenced in show, conversation inevitably turns to the artist and the documentary "Finding Neverland." Jackson was a heavy influence on her whole career, especially "Chris."
"It's such a vast subject," she says. "I took some time to decide to watch the documentary. Then I did because I couldn't not. What struck me most was how famous people have impunity. Horrifying. So how do we separate the art from the artist? Now you can't watch 'Manhattan' not knowing what we know. I have bursts of anger. When Louis CK fell down? Man, you ruined it for me. It was something I loved and now I'm going to cringe. I'll be moved every time Michael dances still but I'll have an ache that I didn't have before."
Onto more positive subjects, though.
"The end of the patriarchy, yes?" she says. This summer will actually see her share a festival bill with another Jackson – Janet at Glastonbury in the UK. During one scene of the tour, Letissier and her posse dance to Jackson's "Nasty."
Will she attempt to get her hero involved on that day? "A good question. Can we? Can you help me?" she says. "Can we start something on Twitter? I have no idea how to contact Janet Jackson but if she's doing 'Nasty' I'll be like one of those people in the football matches running naked on the pitch. The police will grab me."
Don't put it past her.
---
The complete guide to home viewing
Get Screen Gab for weekly recommendations, analysis, interviews and irreverent discussion of the TV and streaming movies everyone's talking about.
You may occasionally receive promotional content from the Los Angeles Times.