L.A.'s love-drunk Cuco made Valentine's Day his own at the El Rey
Pop Music Critic
"Girl, don't make me fall in love with you," Cuco sang as he stood onstage Wednesday night before a full house at the El Rey Theatre.
But it's not what you think.
Cuco, the deeply charming musical persona of 19-year-old Omar Banos from Hawthorne, lives to fall in love.
It's the subject of nearly every one of his sweet and catchy electronic pop songs, which he records on cheap gear in his bedroom and posts to streaming sites like SoundCloud, where "Dontmakemefallinlove," as Cuco calls it, has been played more than 1 million times in the past 11 months.
So when he warns a would-be lover not to start a relationship with him, he's not doing it to keep his options open — he's just afraid he'll end up disappointing her.
"I don't wanna make you sad," he sings over an endearingly clunky beat, "All the time just feeling bad."
Awwww.
Cuco's boyish appeal — which he flexes in tunes that blend Spanish and English as naturally as they do guitars and synths — was on full display in this sold-out concert timed to Valentine's Day.
Shiny heart-shaped balloons decorated the venue, while Cuco's microphone stand was wrapped in metallic red garland. There was even a photographer taking senior-prom-style pictures of couples posing against a hand-drawn backdrop.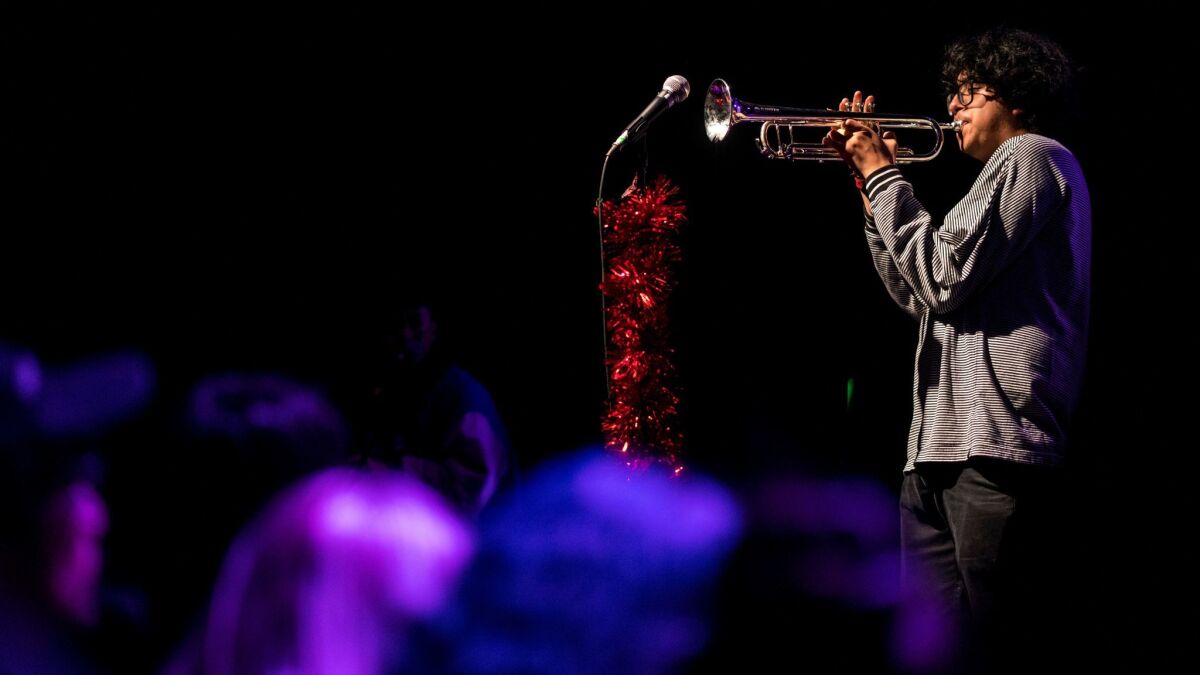 After Cuco sang "Lo Que Siento," about someone who makes him feel like he's flying, he brought out a woman he referred to as his girlfriend, and the two shared a kiss that was promptly documented by hundreds of flashing camera phones.
"I never had a Valentine's Day in my life where I had a valentine," he said, which inspired the young crowd to cheer as though he'd just completed some wild figure skating stunt.
What keeps Cuco's teen-romantic act from coming across as corny or sentimental is his deceptively sturdy songcraft — the shapely melodies in "Sunnyside" and "Cupid's Quiver" and the low-key vernacular that peppers lyrics like those in "One and Only," where he rhymes the title phrase with "more than just a homie."
At times, Cuco's music can feel like a male response to SZA's similarly slangy R&B; both artists are skillfully remaking the love song for an era of text messages and Instagram captions.
Cuco is also a convincing instrumentalist: Several times at the El Rey he picked up a trumpet and played bright but understated solos that contrasted winningly with his drummer's drowsy hip-hop grooves. (The singer introduced another of his band members, a guy playing guitar, by recounting the first time they met in high-school band class.)
Cuco's onstage attitude — think friendly but unimpressed — helped too in providing a bit of welcome swagger.
Which isn't to say he didn't deliver on the earnestness his Harry Potter look seemed to promise.
About halfway through the show, after he'd sung in "Lover Is a Day" about "the Falcon from the original 'Star Wars' trilogy," Cuco took a minute to thank his fans for coming out, then slid into a rambling monologue about how honored he feels as a Mexican American person to help diversify pop music.
And later, as he said goodnight, he said he "genuinely — genuinely" hoped everyone liked the concert.
"If you didn't," he added, "it's still Valentine's Day."
Twitter: @mikaelwood
---
Get our L.A. Goes Out newsletter, with the week's best events, to help you explore and experience our city.
You may occasionally receive promotional content from the Los Angeles Times.