Dave Grohl and Josh Homme on Cal Jam, rock 'n' roll and their decades-long bromance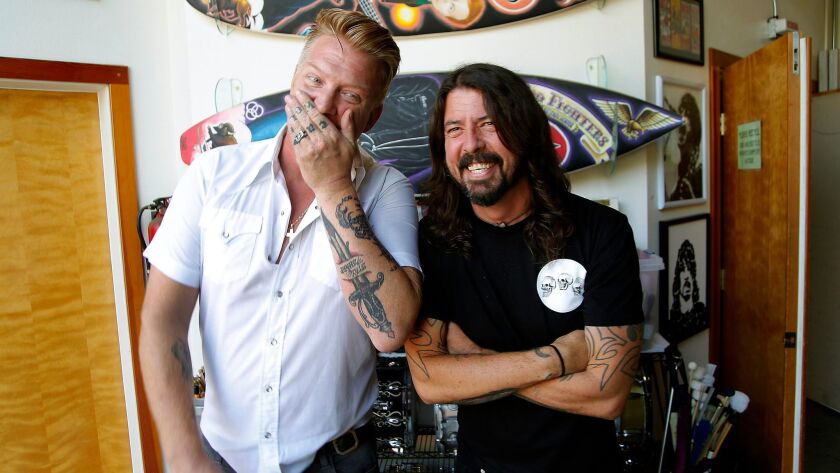 Pop Music Critic
In a nearly empty recording room at his sprawling Studio 606 complex deep in the San Fernando Valley, Dave Grohl sat down behind a drum kit and bashed out a heavy funk groove, each snare crack reverberating off the walls of the hollowed-out space.
"You know what's good physical therapy?" asked the Foo Fighters frontman, who broke his leg in 2015 after falling offstage during a gig in Sweden.
Standing nearby, Grohl's pal Josh Homme, the Queens of the Stone Age leader with a knee injury of his own, lifted his head to hear the answer.
"Playing drums," Grohl said.
"Oh?" Homme shot back. "I was gonna say exotic dancing."
It was the rare disagreement between these like-minded rock veterans whose easygoing bromance dates to the early 1990s, when Grohl — then the drummer of Nirvana — had his mind blown at a show by Homme's ragtag Palm Desert stoner-metal band, Kyuss.
"They looked terrible but sounded great," Grohl recalled on a recent afternoon. "I was so into it."
Since then, the two have toured and recorded together, and in 2009 they even formed a short-lived supergroup, Them Crooked Vultures, with John Paul Jones of Led Zeppelin.
Now the musicians are connecting again for Cal Jam, a one-day music festival scheduled for Oct. 7 at Glen Helen Regional Park in San Bernardino. Named after a 1974 blowout that brought Deep Purple and Black Sabbath to the Ontario Motor Speedway, the new Cal Jam will feature performances by rock acts including Foo Fighters, Queens of the Stone Age, Cage the Elephant, Liam Gallagher, the Kills, Babes in Toyland, Wolf Alice and Bob Mould.
MORE: Foo Fighters unveil a new album and Cal Jam 17 music festival »
The event, which Grohl, 48, spearheaded with support from the concert-promotion behemoth Live Nation, is also set to offer carnival rides, outdoor movies, a mobile recording studio and an elaborate-sounding big-top situation called the Foo Fighters Rock 'n' Roll Museum.
"Dave is known for his small ideas," Homme, 44, said with a laugh as he and Grohl smoked cigarettes in the studio's cluttered control room.
Behind Homme, a giant sword leaned against a wall, a souvenir from Grohl's 40th-birthday party at Medieval Times (where Homme remembered first meeting Jones and babbling nervously about life in "jolly old England"). Outside in the parking lot, several roadie types were preparing to dismantle a log cabin the Foo Fighters had built for a television appearance — at least until Grohl announced he might haul the thing out to San Bernardino and set up a whiskey bar hidden in the woods surrounding Cal Jam.
Yet Grohl's craziest notion might be that a rock band should be worth all the trouble he routinely goes to. Back in Nirvana's time, guys with guitars were on top; these days they can look like archivists of a lost age compared with the DJs and SoundCloud rappers who rule youth culture.
Except Foo Fighters and Queens of the Stone Age are thriving, and not by refusing to evolve. Homme famously named his band as a way to combat the overly macho vibe he felt was ruining hard rock. And this past summer both groups released albums that each made with a different high-profile pop producer.
Homme's taste for adventure led him to hire Mark Ronson, known for his collaborations with Bruno Mars and Lady Gaga, to oversee the well-received "Villains."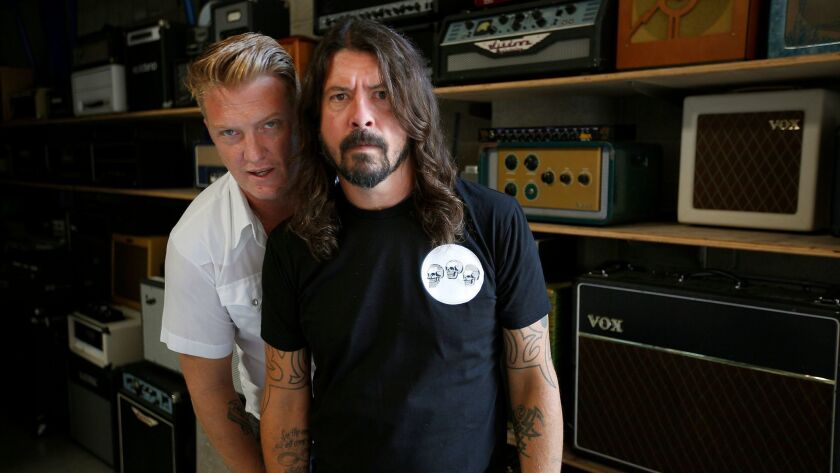 "I have a chip on my shoulder, and when I lift it up, it says, 'Have an open mind,' " said Homme, who got to know Ronson when he played guitar on Lady Gaga's "Joanne" album. "We play music — we don't work at a jail. I want to reserve the right to be surprised."
With its mordant lyrics and slashing guitars, "Villains" is hardly a bid for Top 40 radio stardom; "Life is hard / That's why no one survives," Homme sings near the beginning of the album's first song, "Feet Don't Fail Me."
As that title suggests, though, Ronson put new emphasis on the band's thrusting rhythmic drive for a record more danceable than any of its previous ones.
That's similar to the degree of change Grohl was looking for by teaming with Greg Kurstin to record Foo Fighters' "Concrete and Gold," which entered the Billboard 200 this week at No. 1. In February, Kurstin was named producer of the year at the Grammy Awards in recognition of his work with Adele and Sia, among others.
Yet Grohl insists he recruited Kurstin not necessarily to make hits but to boost the harmonic complexity of his music — a job he figured Kurstin would be up to thanks to the producer's quirky electro-pop side project, the Bird and the Bee.
He was right: Songs like "Run" and "The Sky Is a Neighborhood" deliver Foo Fighters' expected guitar-rock wallop but come with densely layered vocals that echo the Beatles and the Beach Boys.
Homme and Grohl said they each decided on an unlikely collaborator without knowing the other had done the same thing. But the two bands ended up working within a few hundred feet of each other in Hollywood: Foo Fighters at EastWest Studios, Queens of the Stone Age at United Recording, both on Sunset Boulevard near Gower Street.
"I was excited to go down to the studio every day to make my record," said Grohl. "But I was also excited to go down and steal Josh's doughnuts and hang for the first three hours of every day. It was like 'Hill Street Blues.' "
"'Let me know your opinion on this cold case file,'" Homme added in an exaggerated detective's voice.
"Rock bands making vital records, trying to push boundaries — these days it's few and far between," Grohl continued. "Having Josh so close made me feel like we weren't alone."
Every once in a while the men would go out for lunch; afterward, they'd sit in one of their cars and play each other songs they were working on.
"That's not something I'd normally do with anybody else," Grohl said.
"Maybe it'd be embarrassing," Homme agreed. "But with him I don't feel that way at all."
As Homme's children played old-school arcade games in the lobby at Studio 606 — the family was headed to the beach after our talk — he and Grohl described their relationship as a special one both for its longevity ("These things, they're not supposed to last," Homme said) and for its creative alignment.
"Honestly, as a drummer, he's the only person I want to play with," said Grohl, who played drums in Them Crooked Vultures and on Queens of the Stone Age's "Songs for the Deaf" album in 2002. "I go and I play with other people. But Josh makes me feel like I can be the drummer I want to be."
Homme said he's continually inspired by Grohl's ambition, which the latter referred to laughingly as "this ridiculous Goodyear blimp."
After Foo Fighters' previous album, "Sonic Highways" — which the band recorded in eight different cities while being followed by an HBO film crew — Grohl said he had an idea to make the next record "in an even more impossible way": He wanted to build a studio on the stage of the Hollywood Bowl and invite an audience to watch as the band laid down tracks.
Cooler heads eventually prevailed. But Grohl still had a date on hold at the Bowl, which led someone on his team to suggest throwing a record-release party there. When the frontman decided the venue wasn't big enough, Cal Jam was born.
Grohl recognizes he's entering an exceedingly crowded festival scene — and doing so at the tail end of a season in which many fans have already spent loads to attend the Coachella music festival or FYF Fest or the Classic West. (A general-admission ticket to Cal Jam costs $99, beer and funnel cakes not included.)
Still, he's confident his show will provide a memorable experience, with "jean shorts and Michelob and sunburn and mustaches," as he put it. And a hand-picked roster of bands that he said constitutes a kind of "extended family tree."
"It's the first time we've been able to curate our own day of music with our friends," Grohl said.
"Think of it as the Etsy of music festivals," Homme chimed in, referring to the custom-made crafts website. "A lot of things will be macraméd to your chest hair at this place."
Twitter: @mikaelwood
ALSO:
Why I felt betrayed by Fleetwood Mac at Classic West
Eric Clapton at the Forum: Was it dullness or was it bliss?
Misunderstood upon its release, 'Josie and the Pussycats' was ahead of its time
Fall Arts Preview 2017: Your guide to this season's theater, exhibits, music and more
---
Inside the business of entertainment
The Wide Shot brings you news, analysis and insights on everything from streaming wars to production — and what it all means for the future.
You may occasionally receive promotional content from the Los Angeles Times.