Abdullah missed Metallica by two days when he left for Amman, Jordan, to get his student visa renewed.
My nephew, or at least that's what I call the 19-year-old son of my cousin, debated before he left California in December about whether to stay the extra couple days in Los Angeles to see his favorite metal band.
Go, I told him. Take care of the visa and we'd figure out a way to see Metallica when he returned for the new semester in February.
That promise became far more complicated after President Trump signed an executive order on Friday that bars citizens of seven Muslim-majority countries from entering the U.S. — even if they've already been vetted and have a valid visa, as Abdullah has. For how long is anyone's guess as the details of this order seem to change by the hour and source. Is it 30 days? Ninety? Is it 120? Indefinitely?
If the Cheesecake Factory-loving, Converse-wearing, Marvel-movie aficionado Abdullah is a fanatic of anything, it's American pop culture.
"I have all my papers in order, and I got the visa, so I should be fine," Abdullah first texted from Amman on Saturday, where his parents and siblings live. But that was before he started seeing news stories surfacing online of green card and visa holders from the countries on Trump's list — Iraq, Iran, Somalia, Syria, Yemen, Libya and Sudan — being detained and possibly deported from airports across the U.S.
Abdullah may have an Iraqi passport, but he barely remembers the place where he was born, where his parents, grandparents and extended family had always called home up until the U.S. invaded Baghdad in 2003 and it became so dangerously destabilized they had to flee. They've lived in Jordan ever since, where Abdullah became a classic rock buff, took up the drums, studied some engineering, learned English complete with American slang ("Dude!"), and got hooked on "Game of Thrones."
"We did everything we were supposed to do," Abdullah's mom, my cousin Zaniab, texted me on Saturday morning. He didn't overstay his visa. "We should be OK, shouldn't we?"
One of the last things Abdullah did with my family before he left for Jordan was attend "A Christmas Carol" production at the Glendale Centre Theatre. When my mom leaned over to explain it was based on the book by Charles Dickens, Abdullah nodded in recognition and said, "Yeah, I love the Ghost of Christmas Present, but Jacob Marley kinda freaks me out."
The executive order likely blocking Abdullah's return is, according to Trump, about protecting the U.S. from foreign threats — despite the fact that none of the terror attacks on U.S. soil has been perpetrated by nationals from those countries, let alone anyone who came here as a refugee.
And if the Cheesecake Factory-loving, Converse-wearing, Marvel-movie aficionado Abdullah is a fanatic of anything, it's American pop culture.
We went to Coachella together last year. It was the first music festival, and one of the first concerts, he'd ever attended. He sang every lyric to every Guns N Roses song, though almost all were written before he was born. He danced to Major Lazer. He bought a vinyl LP because it's "old school."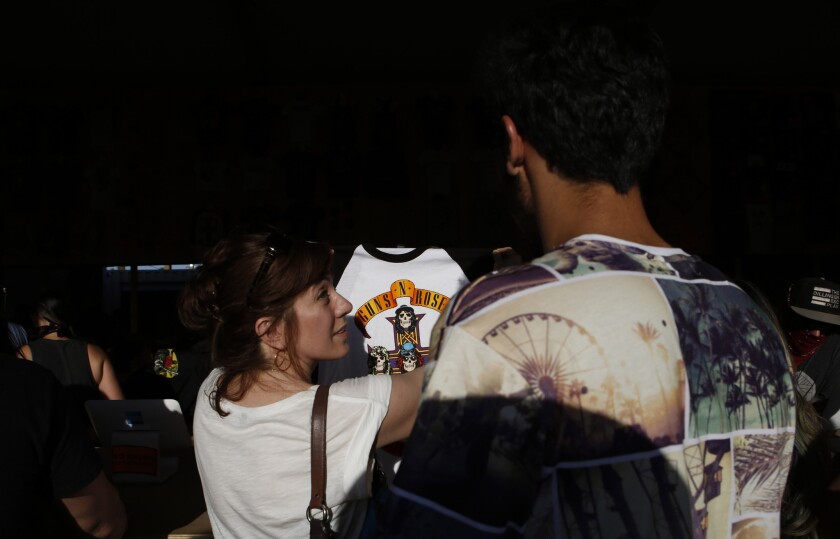 Trump, who played "You Can't Always Get What You Want" before his victory speech on election night and at his Lincoln Memorial inauguration concert, would surely find common ground with Abdullah there. He's perhaps one of the only millennials around who finds the Rolling Stone's lyrics subversive.
Call it a Muslim ban or an executive order — either way Trump's travel restrictions have at least temporarily severed a kid's dream of studying in the U.S. and seeing Metallica or the Rolling Stones.
White House Press Secretary Sean Spicer said in a news conference Monday that he "didn't see the big problem" with the ban, and that immigrants detained at U.S. airports since the order were "only inconvenienced for a few hours." What he left out were the refugees they've barred indefinitely, future immigrants who were in the process of obtaining a visa after years of vetting and those who already live here — legally — who are waiting outside the U.S. to see when they can return to their families, homes, work, schools, life.
He was an American because America was made up of people like him — the most ambitious or persecuted or hopeful from their respective countries.
In Abdullah's Los Angeles apartment, which he shares with other foreign students from countries that aren't banned, his room is full of his college-dude stuff: rickety IKEA furniture, too many pairs of sneakers, ramen packets, a lumpy futon and a way-too-big flat-screen TV propped against the floor and the wall.
It all seems suspended in a state of limbo now. But as an Iraqi, he should be used to this. When millions fled following the U.S. invasion and the chaos that followed, they went to places like Syria and Jordan to wait out the war. When it became clear that Iraq was increasingly unlivable, they applied for asylum or immigrant visas to the U.S. and Europe. And they waited some more...
Out of my 35 first cousins and their kids, only two — including Abdullah — made it to the U.S. over the last decade. The other relative, a cousin who was a geologist in Iraq, returned to Jordan after waiting in the U.S. for over a year, away from her family, because the resident visa process dragged on so long she ran out of funds and patience.
Abdullah was really our first U.S. success story since the war. He applied for the student visa, waited it out, then worked hard when he got here to maintain a high grade-point average.
He belongs here, just like my dad before him.
My father was the only other Ali to arrive in this country on a student visa, and make a life here. He left Baghdad University for USC in the 1950s, met my mom at a college hangout near downtown, built a business up from the ground and raised three American kids. He had a dune buggy. He drank Tab. He loved Roberta Flack.
He was an American because America was made up of people like him — the most ambitious or persecuted or hopeful (maybe all three) from their respective countries.
I spoke to Abdullah on Monday, after he'd watched and read about a weekend of protests at airports across America: "I can't believe people are sticking up for us like this," he said. "It's really, really awesome."
We agreed there was nothing to be done for his situation until the confusion cleared. Maybe he'd get back in, maybe he'd have to apply to Canadian or British schools to finish his studies.
But hell or high water or pointless Muslim ban, I told him that we'd make it to Coachella 2017 together. After all, it wouldn't be the same without him there, arguing with me about who performed the best set (it was not Guns N' Roses, Abdullah!).
"I pray to god we make it there!!," he emailed back. "But P.S. Nothing beats the GnR reunion — except maybe Metallica."
Twitter: @lorraineali
ALSO
The true start of the Trump presidential reality show: The presidency and television ratings collide
Aziz Ansari took to the 'SNL' stage and delivered some stand-up logic to Trump
'I had a couple of bad moments': How Mel Gibson went from most hated man in Hollywood to 2017 Oscar nominee
---