Fleetwood Mac was the only act worth seeing at its grim Grammy weekend MusiCares tribute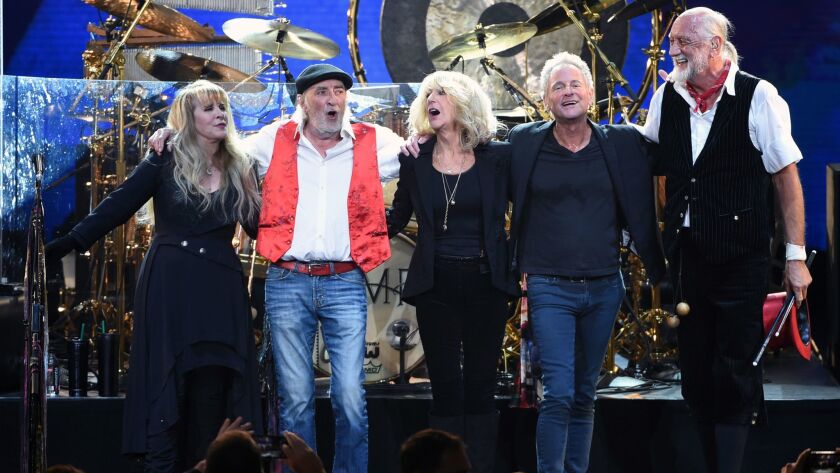 Pop Music Critic
Reporting from New York —
Leave it to Fleetwood Mac to steal the show at its own tribute concert.
Performing last to close Friday night's MusiCares Person of the Year benefit, the annual Grammy-weekend event meant to recognize an artist's work and philanthropy, the veteran band long associated with Los Angeles played a thrilling five-song set that made clear how good — and weird — it can still be when the group's members decide to care.
And thank heavens they cared Friday, because until they came onstage, this thing was grim.
Very, very grim.
The problem wasn't a lack of talent. Held at New York's Radio City Music Hall, the concert featured plenty of the stylish young pop acts whose admiration of Fleetwood Mac has helped bring the band back into vogue over the last few years.
Haim covered "Gypsy." Miley Cyrus sang "Landslide." And Lorde turned up to do "Silver Springs," the ghostly "Rumours" B-side that's like a secret handshake among Fleetwood Mac's faithful.
Instead, it was the setting that killed MusiCares' usual buzz.
The show typically takes place in a large hall at the Los Angeles Convention Center, where attendees are seated at cozy dinner tables with food and wine. In L.A., the night feels like a big party; it often ends (as in recent years honoring Lionel Richie and Bruce Springsteen) with a seemingly impromptu jam session.
Sure, folks pay thousands of bucks to get in. And nobody's ever gone home wishing he or she had heard just a bit more show-biz self-congratulation.
But the event has — dare I say it — a vibe.
Not here, though.
Because the Grammys ceremony moved to New York this year, MusiCares moved along with it. And Radio City, with its plush carpeting and neat concert-hall seating, is simply the wrong place to do this, especially when the act being feted is one of the most iconic bands of the last half-century.
Between songs, the room was as quiet as a funeral. And the bar stopped serving booze by 9 p.m., for heaven's sake — hardly an effective way to get anyone to enjoy Imagine Dragons, which slogged through "Big Love," or Jared Leto, who wore a messianic white suit to sing "Never Going Back Again."
Alison Krauss, the fastidious bluegrass doyenne, made use of the hushed environment in a pretty (if airless) "Songbird." But then came the unbearable Zac Brown Band with a corny "Don't Stop" that had you longing for the distraction of industry people schmoozing.
The temperature was so low that there seemed little reason to expect the guests of honor to work up much of a sweat.
After all, it was only six months ago that Fleetwood Mac put on one of the laziest, least inspired performances I've ever seen as part of July's Classic West festival at Dodger Stadium.
But something happened between then and Friday to revive Fleetwood Mac, which played here with joyful purpose and barbed intensity.
Maybe it was the warm, funny introduction by former President Bill Clinton, who told the story of how "Don't Stop" came to soundtrack his run for the Oval Office. (Turns out the song was the suggestion of a young kid tasked with driving Clinton around on an early campaign visit to L.A.)
Or perhaps the band was spurred back into action by the death last year of Tom Petty. In an endearing acceptance speech, Stevie Nicks said her close friend's passing had "just about broken" her heart.
Petty wasn't well near the end of his life, according to Nicks, who said he ought to have canceled the tour that ended in September at the Hollywood Bowl, just days before he died of an accidental prescription drug overdose.
"He should've just gone home and gone to the hospital," Nicks said of the man who himself was recognized in 2017 as MusiCares' Person of the Year. "But not Tom. He was going to go down that river."
Whatever the case, Fleetwood Mac blazed through "The Chain," with help on backing vocals from Harry Styles, as though the band had rediscovered its passion. It set "Little Lies" to a propulsive gallop and filled "Tusk" with jagged shards of noise.
For "Gold Dust Woman," Nicks put real menace in her voice. Yet the group's closer, "Go Your Own Way," was ragged and blissed-out — not the sound of obligation but of abandon.
If only the room had been similarly geared to celebrate.
Twitter: @mikaelwood
---
The complete guide to home viewing
Get Screen Gab for weekly recommendations, analysis, interviews and irreverent discussion of the TV and streaming movies everyone's talking about.
You may occasionally receive promotional content from the Los Angeles Times.