Grammy Awards increase nominees in top four fields to eight in a bid to diversify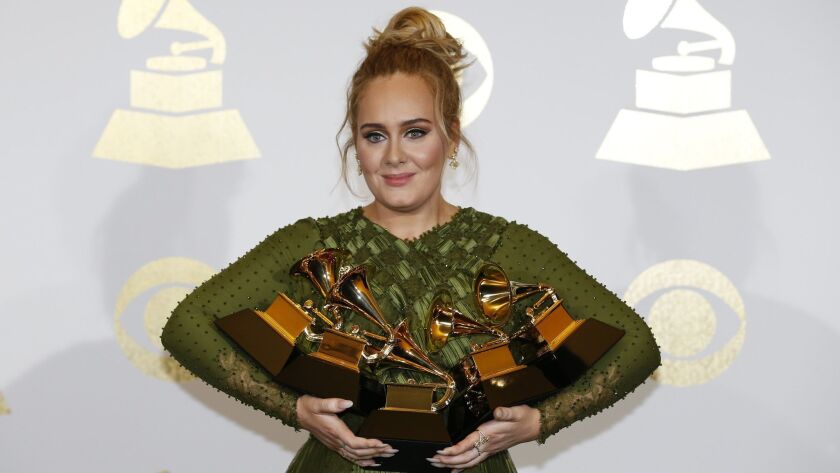 "The more the merrier" — and, presumably, the greater the diversity — is the guiding principle behind one of the biggest changes to the Grammy Awards process in recent years. The Recording Academy will up the number of nominees from five to eight for its 2019 Grammy ceremony in each of the general categories of record, album, song and best new artist.
The changes are detailed in a letter going out this week to all 24,000 academy members advising them of several modifications that are part of the ongoing process of fine-tuning the awards from year to year.
They arrive as the Grammy Awards are facing increased scrutiny over diversity, a conversation that accelerated after Recording Academy President and Chief Executive Neil Portnow stated that women in the music industry needed to "step up" after this year's male-dominated Grammy Awards results.
In a statement on the changes, Portnow said, "Throughout the year, we team up with music people across all genres and disciplines to consider revisions and subsequently make amendments to our rules and entry guidelines to ensure we're keeping up with our ever-changing industry and meeting the needs of music creators."
Through a spokeswoman, Portnow declined to comment beyond the prepared statement. Other academy officials directly involved with the awards process also were unavailable to comment, the spokeswoman said.
"This creates more opportunities for a wider range of recognition in these important categories and gives more flexibility to our voters when having to make the often challenging decisions about representing excellence and the best in music for the year," Portnow's statement continued.
The Recording Academy and Portnow individually came in for considerable criticism from various corners following the 2018 award show in January.
Musicians including Pink and Sheryl Crow tweeted harsh reactions to the dominance of males among Grammy nominees, and some music executives also publicly criticized Portnow's post-awards show comment that the time had come for women to "step up" to be better represented in the annual awards process.
Crow on Twitter argued that the Grammys should reinstate separate male and female categories. In a large restructuring and trimming of categories, the Grammys in 2011 essentially did away with divisions by gender. "Who will young girls be inspired by to pick up a guitar and rock when most every category is filled with men?" asked Crow.
The blowback was such that several weeks after the ceremony the academy announced the formation of a task force to study conscious and unconscious biases behind the disparity between male and female nominees.
Former First Lady Michelle Obama's chief of staff Tina Chen was hired to assemble and oversee the task force, which includes 12 other women and four men. It comprises songwriters, performers, producers, entertainment executives and academics. Artists such as Crow, Common, Andra Day, Jimmy Jam and Cam are among those on the committee.
It's unknown if the task force had any impact on the upcoming rule changes.
While Portnow quickly apologized for his comments, saying, "I regret that I wasn't as articulate as I should have been" and that "I remain committed to doing everything I can to make our music community a better, safer, and more representative place for everyone," many ultimately called for him to step down.
Last month, Portnow announced he would not seek an extension of his current contract, which expires in July 2019.
Shortly before this year's Grammy Awards, a USC Annenberg study of nominations in five top awards categories over the previous five years showed that 90.7% of nominees were male and just 9.3% were female.
That was at least in part because record and album of the year nominations include producers and engineers, fields that historically have been male-dominated. Women, according to the USC study, represent just 12% of the music community.
The academy subsequently conducted its own tally across all 84 of last year's categories and found the male-female split to be 83% male to 17% female. Additionally, the Recording Academy stated that women constitute 21% of its membership.
Academy officials concluded that "the gender composition of our membership and nominations reflect that of the music community, according to the study."
Nevertheless, the organization's letter to members in February concluded that "it's not enough to reflect the community. "We must be leaders in moving our industry toward greater inclusion and representation," academy officials wrote in announcing the task force. "Women are 50% of our world. We need their voice and presence at every level."
Other newly announced Grammy Award changes being rolled out are less dramatic, though possibly not to those directly affected.
In the compilation soundtrack album field, for instance, music supervisors will become eligible to be recognized as nominees, but they will no longer be eligible to be nominated as album producers unless they produced at least 51% of albums being considered.
The "surround sound album" category is being renamed as "immersive audio album" to reflect technological changes. The academy also is modifying criteria and definition for the "alternative album" category to help clarify that field.
A full rundown on this year's changes is posted at grammy101.com.
Follow @RandyLewis2 on Twitter.com
For Classic Rock coverage, join us on Facebook
---
The complete guide to home viewing
Get Screen Gab for weekly recommendations, analysis, interviews and irreverent discussion of the TV and streaming movies everyone's talking about.
You may occasionally receive promotional content from the Los Angeles Times.