With 'Black Panther' and 'A Star Is Born,' this might be the best Grammys ever for movie-related music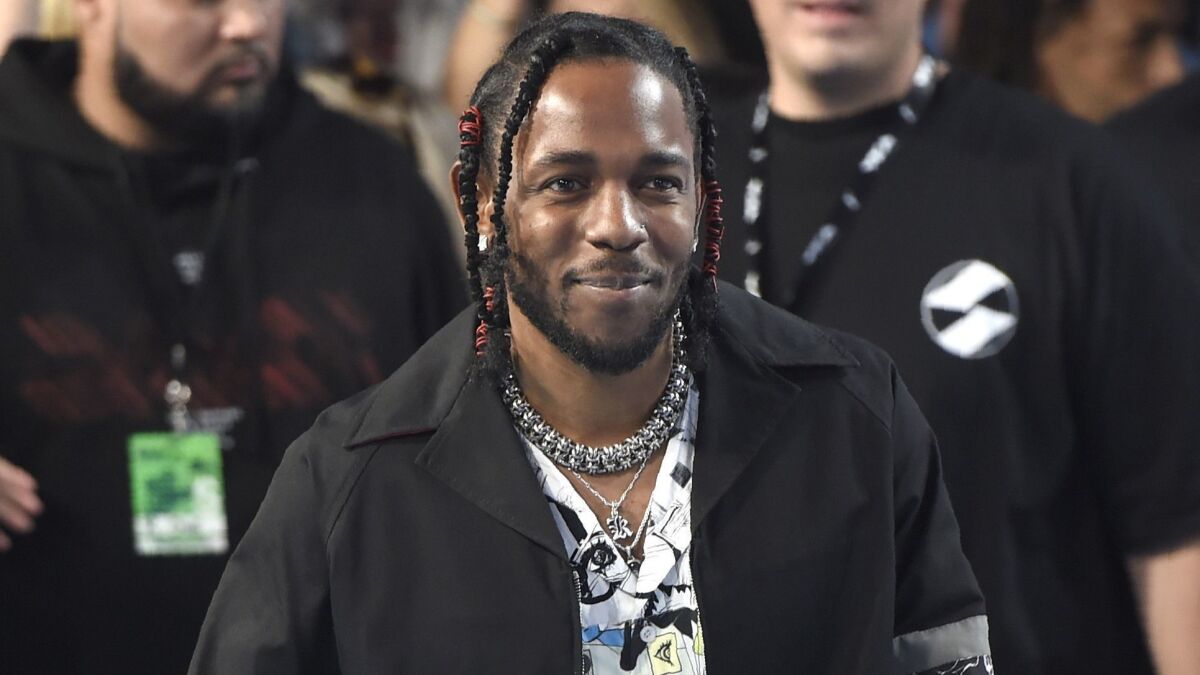 In terms of sheer breadth and impact, there's likely never been a better year for movie music at the Grammys than the upcoming 2019 awards.
Two films, "A Star Is Born" and "Black Panther," have soundtracks or singles contending in several top categories. A third, "The Greatest Showman," got a pair of nods (it was the first million-selling album in the U.S. in 2018, and currently clocks 51 weeks on the Billboard album charts).
The three are very different films — a big-tent, big-message Marvel franchise movie with a Kendrick Lamar-driven soundtrack, a classic Hollywood tale updated for contemporary crowds which revitalized Lady Gaga's pop career and gave Bradley Cooper one of his own, and a traditional musical-spectacle from a nimble movie star and a lauded songwriting team.
In the case of "A Star Is Born," the full soundtrack isn't even in contention until next year as it was released days after the Sept. 30 cut-off for February's gala. And with some music-heavy films released late this year, including "Vox Lux" and "Mary Poppins Returns," we'll be feeling the impact of this year's movie-music bounty for some time yet.
FULL COVERAGE: 2019 Grammy nominations »
Film soundtracks have certainly had their Grammy-dominating years — a relationship that extends to practically the inception of the Grammys.
The first album of the year, was, in fact, Henry Mancini's soundtrack for the "Peter Gunn" TV series. The most recent ceremony dominated by a film soundtrack was 2002, when the Coen brothers' hit "O Brother, Where Art Thou?" took the top prize.
That was a compilation album though, and the other film-soundtrack album of the year winners have generally come from a single artist: See 1994's "The Bodyguard" soundtrack (with its chart-smashing work from Whitney Houston) and the Bee Gees' era-defining disco cuts from the 1977 film "Saturday Night Fever."
"Black Panther," easily one of the year's most profitable and culturally significant films, has a wide range of soundtrack contributors. But there is one artist connecting all of them.
Lamar, the unrivaled king of L.A. hip-hop for a generation and counting, performed, produced and curated the soundtrack, which pops up in album, record and song of the year (for his SZA collaboration "All the Stars"), along with rap song (for "King's Dead," with Jay Rock, Future and James Blake) and song written for visual media.
The soundtrack is a coronation for Lamar and Top Dawg Entertainment as not just a dominant force in hip-hop, but as a cultural institution capable of driving the biggest-ticket events in entertainment.
"A Star Is Born," meanwhile, is coming into the 2019 Grammys with almost all of its tear-jerker soundtrack out of contention. But that didn't slow its Grammy reach, with the lead song "Shallow" up for record and song of the year, pop duo/group performance and song written for visual media.
The tune (written by Anthony Rossomando of Dirty Pretty Things and Andrew Wyatt of Miike Snow) is one of the film's showstoppers. Being up against "All the Stars" may dilute its chances this year, but even though it barely snuck into Grammy eligibility, it will likely be far from the last we hear of it, what with it also nominated for a Golden Globe, Oscar nods still to come and the album getting recognition at the 2020 Grammys.
2019 Grammy nominations: The full list »
"The Greatest Showman" didn't get the same critical accolades as either of those films, but the starring turn from the eternally likable Hugh Jackman proved ultra-resilient on the charts.
The songs came from one of Hollywood's favorite writing teams, Benj Pasek and Justin Paul (they wrote the Oscar-winning "City of Stars" from "La La Land," along with a deep haul of award-winning musical theater productions). If anyone has the music-biz résumé to go up against the soundtracks for a groundbreaking superhero cultural event and a gripping film about the trials of the music business starring one of America's biggest pop stars, it's them.
Grammy has been dominated by film soundtracks before, but never have three made credible cases to take home significant hardware all at once. It would be pretty rich if Lamar gets his first album of the year win for a Marvel movie soundtrack. But then, perhaps he's due for a Grammy surprise that goes his way.
For breaking music news, follow @augustbrown on Twitter.
---
Get our L.A. Goes Out newsletter, with the week's best events, to help you explore and experience our city.
You may occasionally receive promotional content from the Los Angeles Times.