Why the fight for a Grammy is tougher, and more expensive, than ever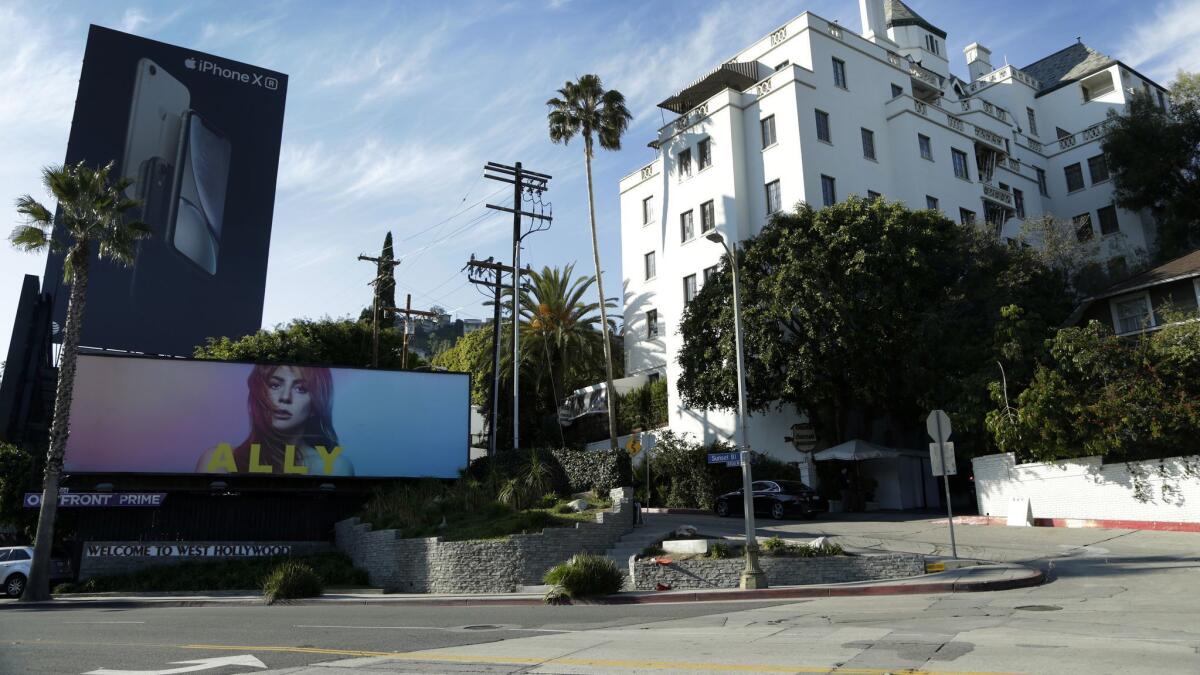 Ally Maine is a fictional singer. But she's pushing for some very real awards above Sunset Boulevard.
The singer from "A Star Is Born," as played by Lady Gaga, is on a massive billboard in front of the Chateau Marmont. It's the exact spot where a similar advertisement appeared in the film.
Those who know the movie's breakthrough soundtrack single, "Shallow," will have the song stuck in their heads when they round Crescent Heights Boulevard. And if you're a voter for the Grammy Awards, which air live from the Staples Center at 5 pm. on Sunday on CBS, you may also remember "Shallow's" nominations for song and record of the year, which could be the first tune from a soundtrack to win one of the top Grammy prizes in two decades.
But "Shallow" is not all that the Grammys and the Oscars have in common this year.
Increasingly, those in the music industry are opting for Oscar-inspired marketing campaigns — those award season advertisements championing a work "for your consideration" — in the hopes of snaring a nomination and bringing home a trophy.
Though Grammy campaigning is nowhere yet near the level of the Academy Awards — having a few Oscar-screener DVDs on your coffee table is a status symbol in L.A. — at a time when a big social media event can lead to a serious uptick in streaming numbers, a Grammy can be more important than ever.
"It's a crazy time right now, with heavy concentration in so few places, so anything that moves the dial of something to talk about is so important," said Gigi Johnson, director of the Center for Music Innovation at UCLA's Herb Alpert School of Music.
"With the scattering of content, the battle for awareness has gotten so rugged. How do you make human connections and take advantage of big things? The Grammys are one of the big things," Johnson said.
With the scattering of content, the battle for awareness has gotten so rugged.
— Gigi Johnson, director of UCLA's Center for Music Innovation
For most of its existence, Grammy lobbying was a cryptic process. That was by design, as the Recording Academy keeps its voters and process under tight wraps.
Enter the world of specialty firms, which claim to have a marketing secret sauce with the vast databases of suspected Recording Academy voters. By and large, compared with the Oscars and the Emmys, lobbying for artists was long done in private, often through Grammy-sponsored charitable and social events or more cloak-and-dagger campaigns personally aimed at industry executives.
"A lot of it has to do with spreading the word and individual relationships that we have with voters," said Lawrence Lui, partner at Bampire, a New York marketing, project management and artist services company. "Just educating and raising awareness for certain artists in some of these more specialized genres among the Grammy voters committed to that community, which is distinct from their regular fans."
The Recording Academy does not publicize its membership or detail its process for defining and selecting genres and nominees. For years, it discouraged the most blatant public-facing, "for your consideration"-style Grammy campaign ads.
But the academy, say artist managers and those in the industry, has been loosening those restrictions. A Grammy spokesperson declined to say when and how, exactly, it opted to tweak its policies, but academy executives also admitted that its rules around marketing had long been too conservative.
"That's a big turn because the academy used to be opposed to that," said Neil Portnow, the outgoing president of the Recording Academy. "But then you see all the stuff going for these other institutions, the motion picture and television academies. We took a view that we had just been a little too restrictive and really not in step with the way things were now."
There are still boundaries around what campaigns can say.
The academy's rules state that ads must avoid listing the specific ballot numbers attached to a given category or field, but are free to list the category name.
Yet the Grammy logo and statue are off-limits too, and solicitation at academy events is prohibited during the September-January balloting season.
That means it's still relatively difficult to micro-target Grammy voters. Portnow said that a "for your consideration"-style ad "doesn't involve any direct approach to any individual voters, and there really is no way to get to our voting population directly, and that's by design."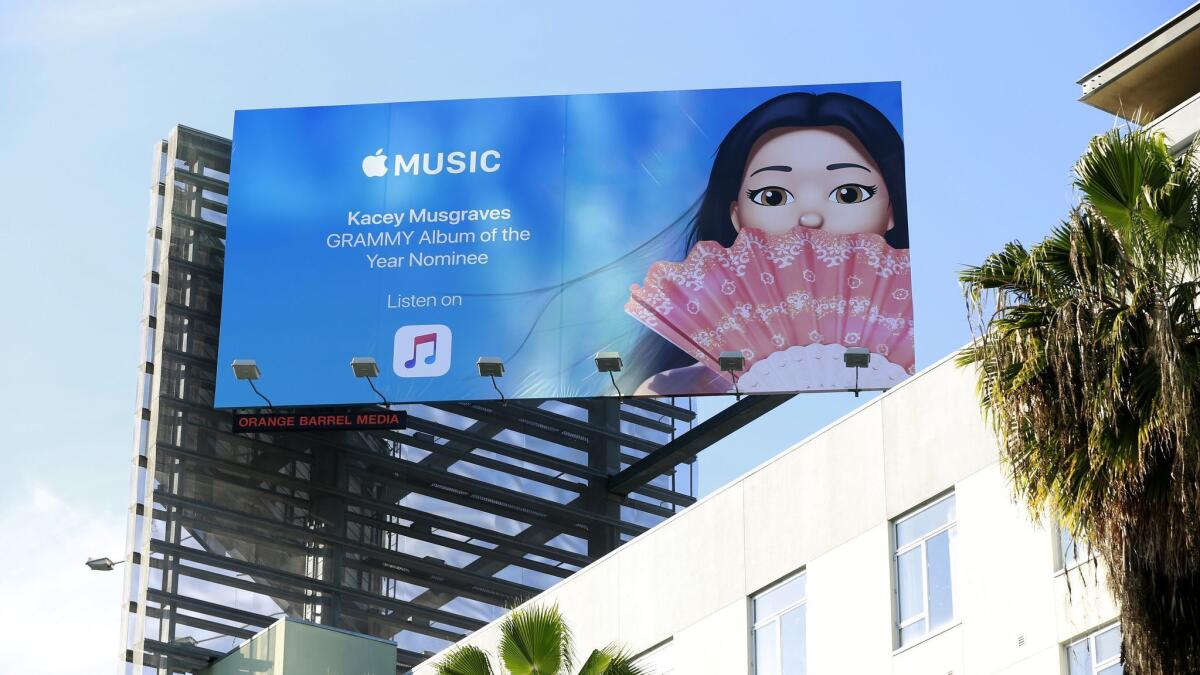 But if you've driven Sunset Boulevard at any time in the last few weeks, it's hard to escape the deluge of billboards keeping artists in voters' minds. Nipsey Hussle, Shawn Mendes, H.E.R., Travis Scott and Ariana Grande all have prominent advertisements at some of the biggest intersections for creative types in the city.
For veteran music execs reared on the old ways of influencing voters, the Grammys relaxing on awards advertising is an overdue change.
"What you often hear about the Grammys is complaints about injustices of who didn't win," said music mogul Clive Davis, 86. "A lot of people in the past have expressed the idea that the Grammys are out of touch, steeped in the past, not current enough. So if the effect [of 'for your consideration' campaigns] is that these ads highlight the number of nominees, if it helps restore the value of the Grammys, then I have no problem with it."
A Grammy-season stint on a digital billboard adjacent to the Sunset Strip can run up to $15,000 (companies such as Apple also take out Grammy-themed ad pushes for artists, which also promote their streaming services). Music trade publications like Billboard are booked solid for ad space this time of year, so much so that Portnow said the academy demanded a special ad rate for indie acts.
A sign of the changing times that illustrates the increased spending around the Grammys: The most recent Grammy nominations-timed issue of Billboard, which was sent to all members of the Recording Academy, is said to have brought in the highest ad revenue of any issue in the magazine's 125-year history.
Some of those pricey public options are beyond the means of indie acts.
"A lot of them are working on much smaller budgets so they can't afford the ads in the trades, they can't afford the big billboards on Sunset Boulevard," Lui said. The digital sphere brims with video and social campaigns that, while not able to specifically target Grammy voters, can get awfully close to their general locations and demographics.
But the industry is still figuring out what works in the new world of Grammy lobbying. "It's so new, in a way, that it hasn't been codified," Lui added.
The public campaigns can be helpful for artists in contention for marquee categories, such as Grande and Gaga. But lobbying voters can still be valuable for emerging artists or those in niche genres, for whom a Grammy win gives publicity and opportunities they could never buy otherwise.
The expectation, said Andy Hsueh, the U.S. label manager for Partisan Records, whose artist Bombino is up for world music album this year, is not to reap immediate financial returns. The label is working with Liu's Bampire, in the hopes of elevating "people's perceptions and optics of an artist."
"There's still significance and weight and importance in being a Grammy-nominated or -winning artist that can have a positive effect on an artist's career as it develops and moves forward. It opens doors," Hsueh said.
Or borders.
"There's a tangible value for foreign artists," said Neil Harris, owner of Punkafunk and manager of duo Sofi Tukker, nominated in the dance/electronic album field. "If you have a Grammy nomination or win, basically the immigration service will let you in a lot faster and easier than somebody who has not."
Times staff writers Randy Lewis and Randall Roberts contributed to this report.
For breaking music news, follow @augustbrown on Twitter.
Get our L.A. Goes Out newsletter, with the week's best events, to help you explore and experience our city.
You may occasionally receive promotional content from the Los Angeles Times.