Joy amid violence: Choreographing Childish Gambino's Grammy-winning video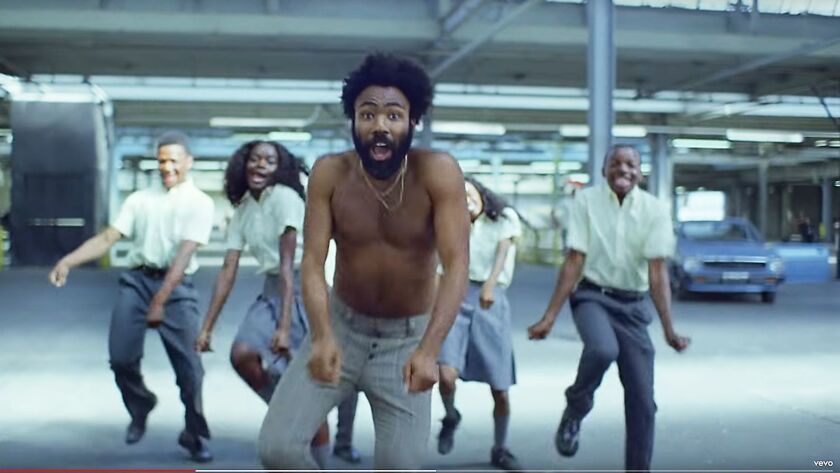 Donald Glover, aka Childish Gambino, and his collaborators took home Grammys for song of the year, record of the year and music video for "This Is America," a sing-songy rap tune that now boasts over 480 million views on YouTube. Long before Sunday's wins, the project was one of the most heavily debated music videos in 2018 due to the images shown and messages presented about violence in America and the conditioned response to that violence.
The video, as much as the song, was the spark for much of that conversation. Directed by Hiro Murai, the video depicts large numbers of kids dancing with Glover as violence plays out in the background. The moves, explained by choreographer Sherrie Silver, were meant to be joyful movements — a stark contrast to the images presented.
The imagery was a product of Glover's imagination, but she infused his vision with dances based on her African choreography. With names like the gwara gwara and the nezza, the moves quickly became popular enough that the choreographer launched two videos meant to introduce them to the world and plans to launch a U.S. dance tour in the near future.
It's just one small part of Silver's mission "to take African dance to world," she told The Times last year in the middle of a busy travel schedule.
But that tour may just be the beginning. Silver says she's seen her popularity grow exponentially in the wake of the video premiere for "This Is America." She was the subject of a Vogue dance profile and numerous commercials. She was also named 2018's choreographer of the year at the MTV Video Music Awards.
Below, Silver talks with The Times about how she first met Glover, their collaborative process, how she came up with the names for some of the video's key dance moves, and more.
How did you join up with Donald Glover, or how did he find you?
One of his management team members, or a niece of one, saw one of my videos or a few of my videos, and was a fan of them. She showed them to her uncle and he loved it. Then he showed them to Donald and Donald was like "Yeah!"
What's the collaborative process with Donald Glover? And how did you come up with dances to convey the video's concept?
It was very collaborative because Donald knows exactly what he wants and was very much in charge. He'd offer one particular move, and then the rest was for me to build around it. He'd come up with suggestions, was very easy to teach and eager to learn. Honestly, it was amazing to work with him because a lot of artists don't push themselves to get better moves, but I can tell you, he got it very quickly -- and he rehearsed hard.
Donald Glover wins song of the year but skips Grammys and does Google ad instead »
How much of Donald's dancing was freestyled?
There was a lot of freestyle, because Donald's an actor, you know? I don't think this video was purely about music. It took a lot of acting. Sometimes I just call it a movie because there was so much going on -- just felt like I was watching a movie.
Where are the kids/dancers from?
All the kids just came from casting, so they all auditioned and I went to their second audition and taught them some stuff to see who can get into that groove. It's not just about picking dancers that can dance, it's also about picking dancers that can express the message that I was trying to put out. For the "Saturday Night Live" performance, two of them I had basically brought myself from previous things. You can't just have any dancers do these.
In YouTube videos of yours, it seems like kids are drawn to you in your native Rwanda.
Yes. We hold big parties, and the government lets us shut down the streets. Despite what may be going on, there is so much dancing and fun and laughter there.
Grammys make strides with hip-hop representation — but is it too late? »
You just dropped a couple of videos showing off some of the moves in the music video, including some interesting dance names.
Yeah. The first that just dropped is just kind of move-based, then the second [is] the choreography. Yeah, [the dances] have names. There's the gwara gwara. Another is the nezza. And there's American dances like the shoot. There's the shaku shaku from Nigeria. There's the shocky. I didn't just want to put dances from one nationality in there so I picked from around the continent to represent Africa.
You had to choreograph in the midst of violence going on around you (on-screen). For example, you choreographed the choir as they fell from Glover's mock gunfire. How was the mood on set?
The choir members were great. They were funny people and there was a lot of laughing. It wasn't as sad as people may have thought it was. It wasn't depressing choreographing that. It's acting. I'm an actor, they are actors.
Have you ever had this much of a reaction to something you've done?
Not this much. This one is a lot. People trying to decode and all of that. Trying to explain the dances, which is great -- it means we're doing something right.
Follow me on Twitter: @Storiz
---
From the Emmys to the Oscars.
Get our revamped Envelope newsletter, sent twice a week, for exclusive awards season coverage, behind-the-scenes insights and columnist Glenn Whipp's commentary.
You may occasionally receive promotional content from the Los Angeles Times.