Review: At the Rose Bowl, Green Day turns to the personal over the political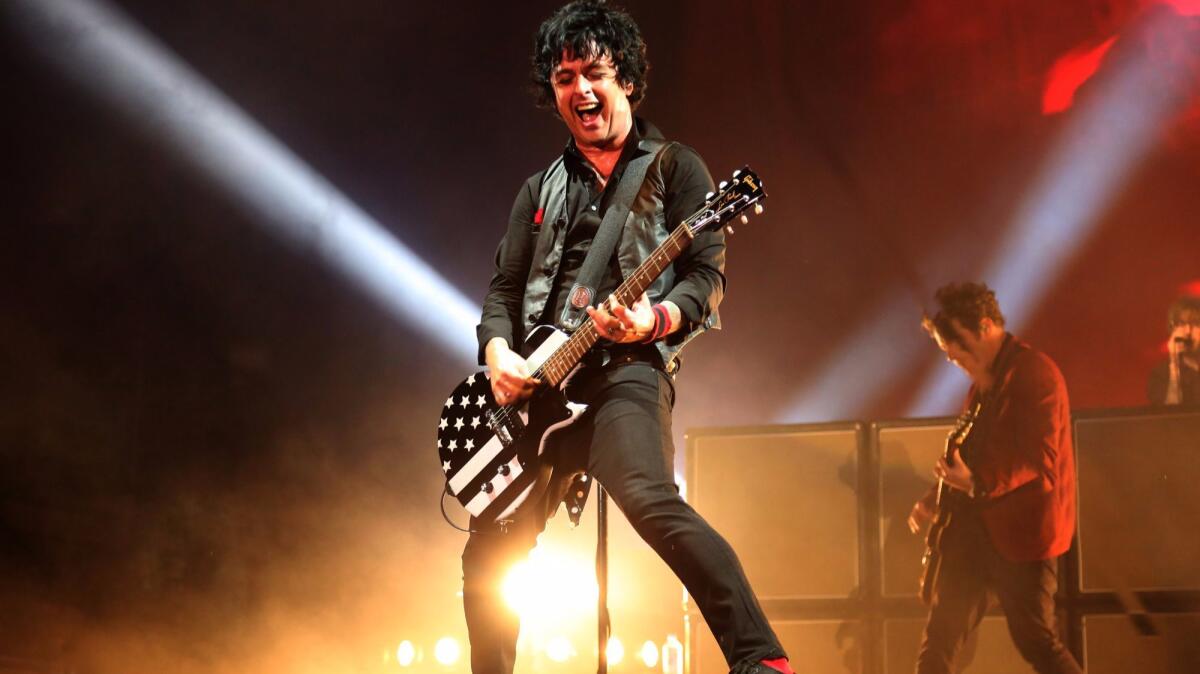 For more than a decade, Green Day has been perhaps the most explicitly political American stadium rock band.
Ever since 2004's "American Idiot" — Green Day's multi-platinum, Broadway-adapted album that skewered the George W. Bush era — the pop-punk group has grafted more or less leftist rhetoric into some of the defining rock songs of the decade.
The group's latest, 2016's "Revolution Radio," continues in that vein, with the band leading a chant of "No Trump, no KKK, no fascist USA" at last year's American Music Awards.
So it was a little startling when singer Billie Joe Armstrong told the Rose Bowl crowd Saturday that the night's show would mostly avoid the increasingly divisive politics of the day.
"We're sick of the negativity and the lies and corruption," he told the assembled faithful in Pasadena. "Tonight is about compassion and love and truth. No more politicians are coming between us tonight."
Was he giving up? Moving on? Or just admitting that rock 'n' roll isn't much of a force to combat what's happening in our nation's capital these days?
Whatever the intention, Green Day's set list reaffirmed why the band pretty much stands alone in America. This is a band with roots in the radical Berkeley underground — the site of some of the most volatile alt-right and antifa clashes in America — but also one with the ability to fill the Rose Bowl.
For all the revolutionary rhetoric, Green Day is actually among the more stubborn rock bands to keep its stadium status today. The act never incorporated electronics or beatmaking into its biggest albums; Armstrong's lyrics are narratively ambitious, but usually locked into the sneery-defiant-burnout stance that made the band stars in the '90s.
For more than two hours Saturday, the set reaffirmed why Green Day's cultural relevance appears to refresh roughly every 10 years periods. After a troubled three-album cycle around 2012 (where Armstrong entered rehab after an onstage freakout), the band may finally be due for another spotlight.
The "American Idiot" tracks were so overtly on the nose for the current moment that they almost felt overwhelmed by the ongoing presidential tweet-storms that Armstrong couldn't have possibly imagined 13 years ago.
Armstrong is still one of the most engaging frontmen in contemporary rock, using just enough old punk tricks (like bringing awestruck fans up to play guitar in his stead) to juice up the act's seasoned-veteran stadium skills. From digging deep into "2000 Light Years Away," off its 1991 album "Kerplunk," to "Revolution Radio's" acidic, double-time guitar churn, the band didn't need to rely on Trump barbs to stir up a little insurrection.
There were moments of old-guy punk fun (a jazzy cover of "Knowledge" from fellow East Bay legends Operation Ivy) and some choice stabs at the new wave of neo-Nazis. But by and large, for a band whose biggest album is rooted in political criticism, the rallying cries were more personal.
But for an old-fashioned stadium rock show, Green Day delivered everything one could ask for — dozens of hits from the Clinton era to now, big emotional moments from simple guitar, bass and drums, the gentle encore that reminded everyone why Armstrong became the generational rock star so many of his '90s punk peers aspired to be.
Green Day and its members, Armstrong, bassist Mike Dirnt and drummer Tré Cool, tried their hands at revolution. But today, they're pretty stellar at just being one of the last huge rock bands left standing in America.
Get our L.A. Goes Out newsletter, with the week's best events, to help you explore and experience our city.
You may occasionally receive promotional content from the Los Angeles Times.