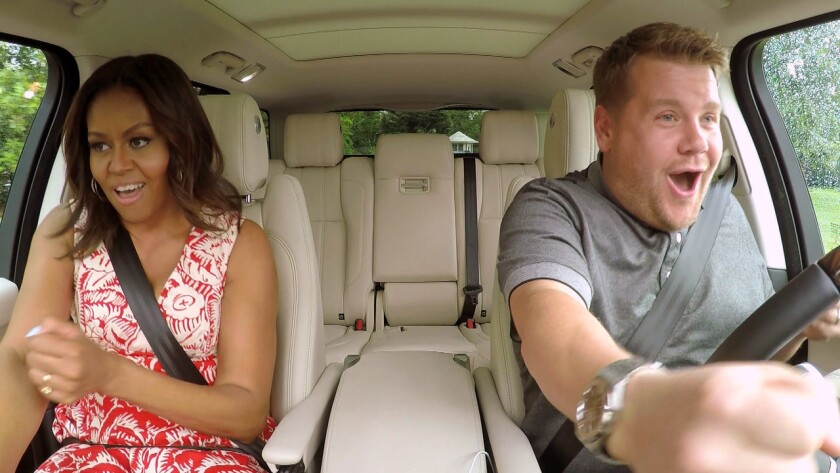 CBS has announced its host for the 59th Grammy Awards, and for the first time in five years it's not LL Cool J.
Instead, James Corden, "The Late, Late Show" host and star of the wildly successful "Carpool Karaoke" videos, will lead music's biggest award ceremony when it airs on Feb. 12, 2017.
The British comedic actor, who took over his late-night slot from Craig Ferguson in 2015, has become a breakout success, and part of the reason is his unabashed enthusiasm for pop music.
"I am truly honored to be hosting the Grammys next year," Corden said in a statement. "It's the biggest, most prestigious award show in music and I feel incredibly lucky to be part of such an incredible night."
Corden replaces the rapper and actor LL Cool J, whose work on CBS' hit series "NCIS: Los Angeles," combined with his success as a Grammy-winning hitmaker who charted with "Mama Said Knock You Out" and "Going Back to Cali," secured his position. The rapper, however, was hardly the most charismatic presence. Ratings for last year's show, which were even with 2015 but down in the crucial young-adults demographic, proved it.
With Corden, the Grammys get a confident entertainer who can inject joy into the proceedings, as seen in those viral "Carpool Karaoke" clips. In them, Corden loads into a car with famous singers, cruises Los Angeles and sings the artists' songs with them.
Notables including Adele, Mariah Carey, Elton John, Justin Bieber and others have ridden with Corden, as has First Lady Michelle Obama. The videos have received hundreds of millions of YouTube views.
Which is to say, expect "Carpool Karaoke" to feature into the Grammy Awards. A better idea? Ditch the ceremony altogether and load the nominees into cars with Corden.
There's a lot of terrible music out there. For tips on the stuff that's not, follow Randall Roberts on Twitter: @liledit
ALSO
Kanye West's doctor called 911 during breakdown, report says; Kim Kardashian skips public return
'#Ham4Bey' is the 'Hamilton' and Beyoncé mashup you didn't know you wanted
Look for respectable choices in the Golden Globe nominations
---