Americana artists salute John Prine at annual pre-Grammy Awards gathering at the Troubadour
Veteran singer-songwriter John Prine, center, is flanked by his son, Jody, left, and roots country star Dwight Yoakam and soul singer Bettye LaVette during the finale of an all-star Americana tribute to his music Saturday at the Troubadour in West Hollywood.
(Patrick T. Fallon / For The Times)
John Prine performs live during a tribute to his musical contributions at the Troubadour on Saturday, Feb. 9, 2019 in West Hollywood.
(Patrick T. Fallon / For The Times)
Dwight Yoakam performs.
(Patrick T. Fallon / For The Times)
Milk Carton Kids, Joey Ryan and Kenneth Pattengale, perform.
(Patrick T. Fallon / For The Times)
Bettye LaVette performs.
(Patrick T. Fallon / For The Times)
Margo Price, left, and Bob Weir, right, perform.
(Patrick T. Fallon / For The Times)
Dom Flemons performs.
(Patrick T. Fallon / For The Times)
Caitlin Cainty performs.
(Patrick T. Fallon / For The Times)
Logan Ledger performs.
(Patrick T. Fallon / For The Times)
Maria Muldaur performs.
(Patrick T. Fallon / For The Times)
Billy Raffoul performs.
(Patrick T. Fallon / For The Times)
Dwight Yoakam added more than just extra star power to Saturday's multi-artist salute to veteran singer-songwriter John Prine. Arriving onstage at the Troubadour in West Hollywood following two dozen other acts invited by the event's organizer, the Americana Music Assn., Yoakam also brought insight into artistry and the long view of cultural history for which he's long been known.
"The wit and wisdom of John Prine are overshadowed by no one in American literary history," Yoakam said after striding onstage in his signature shin-length duster and crème-colored cowboy hat. "He reminds us that we are all more alike than we are different."

For the record:
2:50 PM, Feb. 13, 2019An earlier edition of this post misspelled singer-songwriter Jaimee Harris' name as Jaime.
Prine's skilled use of humor, inventive turns of phrase and unsentimental poignancy while examining the human condition have earned him praise over the years as a modern-day musical Mark Twain.
Yoakam chose Prine's humor-laced song "Spanish Pipedream" because he said it often perplexed regulars at a western bar called the Corral in the northern San Fernando Valley he played upon moving to Los Angeles from his home in Kentucky. Like many of the others who preceded him, Yoakam said Prine's songwriting provided him both with a template and goal to aim for in his own development as a songwriter.
"When I'd sing that second verse, people would be going, 'Whaaaaat?'" he said of Prine's tale of a Vietnam-era soldier heading to Canada to escape the war and the topless dancer he meets in a bar along the way: "Well, I sat there at the table and I acted real naïve/For I knew that topless lady had something up her sleeve."
The occasion was the Americana group's annual gathering on Grammy Awards eve to recognize many of its nominated members. Prine himself is vying for three this year, including Americana album for his latest, "The Tree of Forgiveness," from which the songs "Knockin' On Your Screen Door" and "Summer's End" are both competing in the American roots song category.
It's part of a remarkable late-career run for the man who traded his job delivering mail in Chicago for a career in music 50 years ago. In addition to the latest Grammy nominations, he's being inducted into the Songwriters Hall of Fame, he was named artist of the year in September at the Americana Music Assn. awards, and made the final ballot for induction into the Rock and Roll Hall of Fame.
Best new artist nominee Margo Price teamed with veteran Grateful Dead guitarist and songwriter Bob Weir among the evening's other Grammy nominees. They included Mary Gauthier, the Milk Carton Kids, Ashley McBryde, the Wood Brothers, Anderson East, Bettye LaVette, Cedric Burnside, Maria Muldaur, the Punch Brothers, Iron & Wine and Boz Scaggs. At least one more Grammy nominee, Oakland-based Fantastic Negrito, looked on from the audience.
And that was just the half of it. The lineup also featured Joe Henry, John Paul White, Ian Noe, Billy Raffoul, Logan Ledger, Caitlin Cainty and Willie Watson, several of whom are previous nominees or winners.
Yet there was little discussion of awards of any kind, except for the occasional remark like the one offered by Oliver Wood, lead singer of the sibling trio that's also nominated for the Americana album Grammy.
"We're up against John, and we'd be so honored to lose to him this year," he said, before singing "That's the Way That the World Goes 'Round."
Others now being singled out for music considered among the best of 2018 praised him as a fundamental influence. "I have no idea where my career would be if it weren't for John Prine," said Louisiana-reared singer-songwriter Gauthier, whose album "Rifles & Rosary Beads" is nominated in the folk album category.
She and singer-songwriter Jaimee Harris chose "The Speed of the Sound of Loneliness," a moving meditation on a relationship that has inexplicably withered: "How can a love that'll last forever/Get left so far behind?"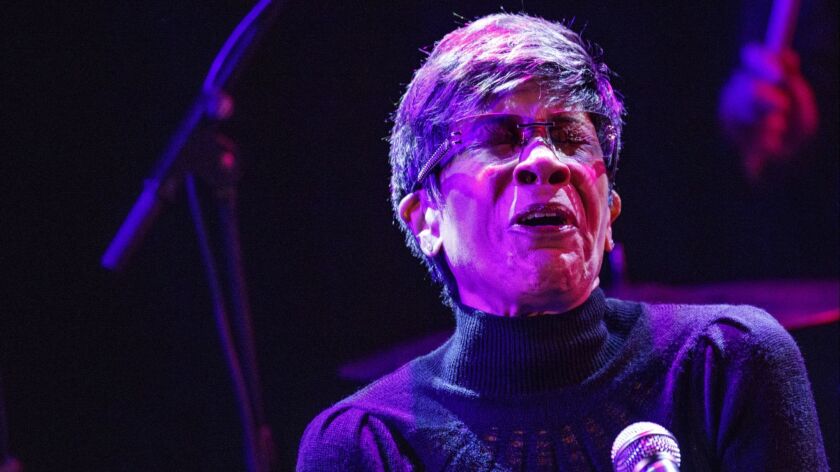 Among those gathered Saturday, LaVette was the first to have recorded one of Prine's songs, having included her interpretation of "Souvenirs" in 1972. At age 73, making her Prine's senior by a year, she delivered it as a deeply introspective blues scorcher.
Others brought out Prine's humor, notably Muldaur's bawdy version of "Let's Talk Dirty in Hawaiian" and Flemons' energetic reading of "Please Don't Bury Me."
The always articulate Henry quoted another Americana world musician-producer in his song introduction, "T Bone Burnett has said the hallmark of a great artist is generosity. John Prine is a great artist, and I love him," before he sang one of Prine's best known songs, "Hello In There," a rarity in pop music when Prine first recorded it at age 22 for its empathetic portrait of old age: "Me and Loretta we don't talk much more/She sits and stares through the back door screen/And all the news just repeats itself/Like some forgotten dream/That we've both seen."
Prine descended from his seat on a bench in the Troubadour's balcony overlooking the stage for the finale, in which he sang "The Late John Garfield Blues" as a duet with singer-fiddler Sara Watkins, who was part of the ace house band "Summer's End" and then the finale on "Paradise," another song from his 1970 debut album often cited among the most auspicious debut albums ever.
Most of the evening's acts crammed on stage for the crowded climax on the song lamenting a vanishing landscape and way of life Prine experienced as a child in rural Kentucky. Saturday's tribute suggested the art and craft he's practiced and inspired in others during his 72 years is, by contrast, alive and well.
Follow @RandyLewis2 on Twitter.com
For Classic Rock coverage, join us on Facebook
---
From the Emmys to the Oscars.
Get our revamped Envelope newsletter, sent twice a week, for exclusive awards season coverage, behind-the-scenes insights and columnist Glenn Whipp's commentary.
You may occasionally receive promotional content from the Los Angeles Times.