Our 3 instant reactions to Kendrick Lamar's startling new album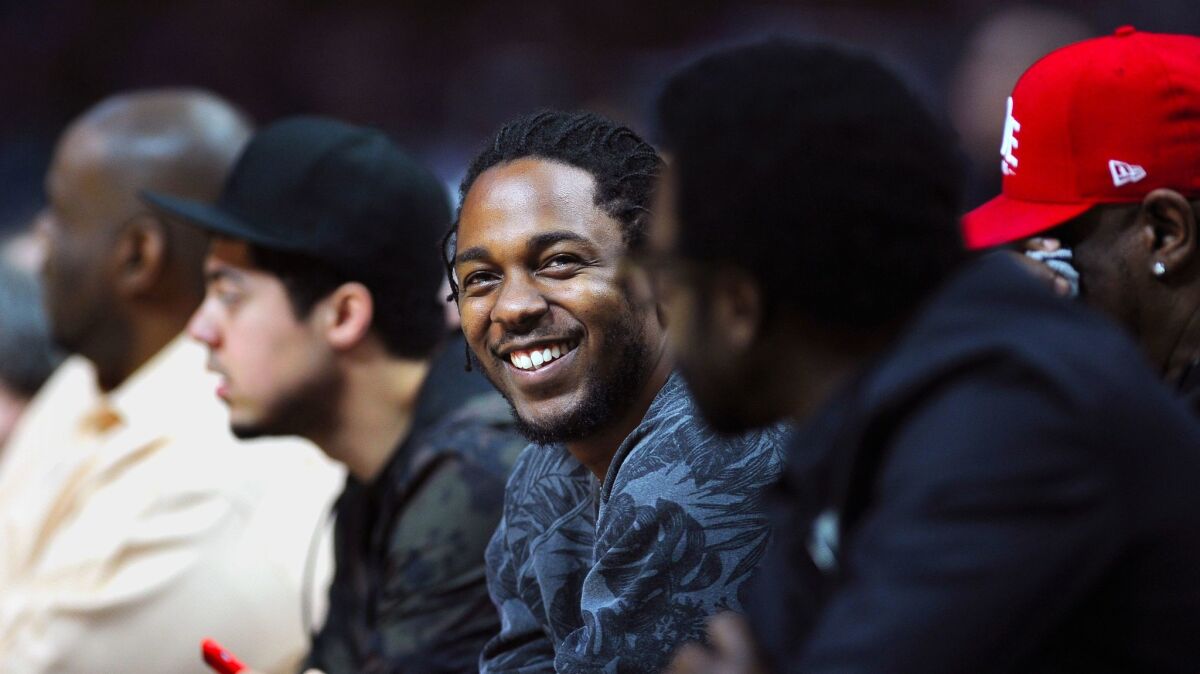 Pop Music Critic
After weeks of feverish anticipation — and just days ahead of his headlining performance at this weekend's Coachella festival — Kendrick Lamar released his new album, "Damn," on Thursday night.
The record is the acclaimed Compton rapper's official follow-up to 2015's "To Pimp a Butterfly," a searing exploration of race in America that earned multiple Grammy nominations (including for album of the year) and led many to call Lamar the most important rapper alive.
"Damn" was preceded by the release last month of "The Heart Part 4," a fiery diss track in which he boasted, "My fans can't wait for me to son your punk ass," and the album's equally swaggering lead single, "Humble."
And there's plenty more of that on "Damn": "At 29, I've done so well, hit cartwheel in my estate," he raps in the hard-knocking "DNA," "And I'm gon' shine like I'm supposed to."
Yet "Damn" is rich with other moods, themes and textures. We'll have more to say on the album (and Lamar's Coachella performance) in the coming days. But, for now, here are three instant reactions to the new music.
1. Lamar has made love songs before. And he's made songs that seem geared to Top 40 radio before. But never has the rapper combined those ideas the way that he does in two of the new album's standouts.
"Loyalty" is a gorgeous R&B jam in which he and Rihanna trade thoughts on the depth of their devotion: "Is it unconditional when the 'rari don't start?" Lamar asks over the song's woozy groove.
Then there's "Love," with Lamar describing his connection to a "homie for life" as his guest singer, Zacari, delivers a pretty melodic hook in his breathy falsetto.
2. Among the producers credited on "Love" is Greg Kurstin, the pop wizard known for his work with Adele and Katy Perry. And he's not the only newcomer to Lamar's world on "Damn," which also features contributions from James Blake, Steve Lacy (of the Internet), the Canadian group BadBadNotGood and U2 frontman Bono, who turns up on "XXX" to belt some lines about how America isn't a place but "a sound of drum and bass."
Those folks join a crew of Lamar regulars that includes Sounwave, Terrace Martin, Thundercat, DJ Dahi and Anthony Tiffith, the self-described "Top Dawg" of Lamar's label, Top Dawg Entertainment.
3. Meeting the breadth of sounds provided by those varied collaborators, Lamar shows off a startling range of vocal approaches on "Damn," moving easily between the dazed philosopher's tone of "Blood," the dreamy sing-song of "Yah" and the clipped bark of "Humble."
In the trippy "Pride," the rapper's voice keeps shifting pitch, as though he's embodying each of the points of view Lacy invokes when he sings, "Love's gonna get you killed / But pride's gonna be the death of you and you and me and you and you and you and me and you and you and you and me and you and you and you and me."
Twitter: @mikaelwood
ALSO:
Vince Staples wants you to look with him, not at him
Why Hans Zimmer is bringing his Oscar-winning film music to Coachella
How hip-hop's D.R.A.M. went from working at Best Buy to performing at Coachella
---
Your essential guide to the arts in L.A.
Get Carolina A. Miranda's weekly newsletter for what's happening, plus openings, critics' picks and more.
You may occasionally receive promotional content from the Los Angeles Times.