A low-key Latin Grammys generally avoids politics — but provides an impassioned J.Lo-Marc Anthony reunion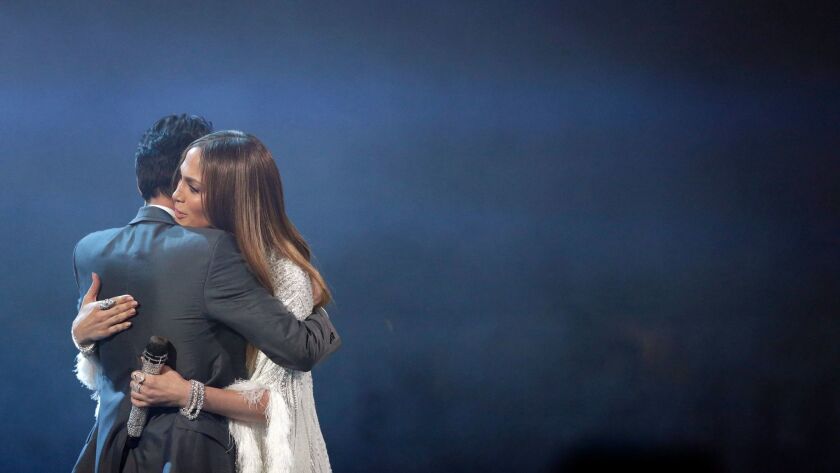 For two years running, the Latin Grammy Awards has offered high moments of political drama.
In 2014, the telecast was delayed by 20 minutes to show President Obama delivering a speech on immigration. Once the show got rolling, the politically minded Puerto Rican band Calle 13 sang a rousing political anthem that ended with a show of support for the 43 disappeared Mexican students from Ayotzinapa.
Last year, the gala featured a lively performance of "Somos Más Americanos" (We Are More American) — a defiant song about immigrant life — by the Mexican bands Los Tigres del Norte and Maná. At the end of the tune, the two bands held up a sign that read "Latinos Unidos No Voten Por Racistas" — or, "Latinos United, Don't Vote for Racists," a reference to Donald Trump's declarations about Mexican immigrants being criminals and "rapists."
So expectations were high that this year's awards, held Thursday night at the T-Mobile Arena in Las Vegas, would offer an impassioned outcry over Trump's election to the presidency — which has already spurred talk of mass deportations and the construction of a border wall.
Not so much.
While the show kicked off with an anthem to tolerance — Pablo Lopez and Juanes' hit duet "Tu Enemigo" ("Your Enemy") — politics were acknowledged on only a few occasions, with some generic statements about walls.
It was actor Diego Luna, presenting the award for song of the year, who made the most pointed remarks of the show: "I have a message for all of the Latinos on this side of the border: Together we can fight hate and discrimination."
The 17th Latin Grammys are more likely to be remembered for the dramatic laser-light-filled duet between former couple Marc Anthony and Jennifer Lopez.
In honor of Marc Anthony's selection as the Latin Recording Academy's Person of the Year, the pair teamed up to sing the Abba-esque breakup song "Olvídame y Pega la Vuelta" ("Forget Me and Get Out of Here"), originally made famous by the Argentine duo Pimpinela in the early 1980s. (It's worth watching the original.)
From across the Latin Grammy stage, Lopez and Marc Anthony lobbed lines such as "Forget my eyes, my hands, my lips / because they do not desire you" and "Forget everything, because in that area, you have a lot of experience." The performance was full of intensity, humor and passion — and every second of it was absolutely irresistible.
Lopez, who was decked out in a spangly asymmetrical white number that showed off plenty of leg, then presented Marc Anthony with his Person of the Year award, describing him as a "living legend."
"He has given us classics that will stay with us forever," she continued. "In our personal and artistic journeys, we have learned so much, we have grown so much. And he will be so many things in my life: My mentor, my twin soul."
She then gave him a small kiss on the lips — to the roaring delight of the crowd.
The rest of the show offered the standard-issue Latin Grammy combo of pop power ballads sprinkled with Caribbean-inflected jams — with a dash of folk and Mexican regional thrown in for flavor.
Among the evening's more notable performances was the rendition of the deliciously languid, hip-grinding reggaeton single "Safari" by J Balvin with Pharrell Williams, BIA and Sky. (BIA's raspy vocals and strong stage presence left me hoping I might see her on her own at some point soon.)
Chilean alterna-crooner Mon Laferte brought energy to the plodding pace with her country-infused rockabilly tune, "Si Tu Me Quisieras" ("If You Loved Me"), while Norteño singer Gerardo Ortiz and Dominican star Prince Royce teamed up for a charming bachata called "Moneda" — an engaging piece of musical cross-pollination.
And toward the end of the telecast, providing a welcome respite from all the love ballads, was a raise-the-roof medley by Argentine ska rockers Los Fabulosos Cadillacs, with lead singer Vicentico climbing atop his grand piano to deliver his lyrics.
But the 17th Latin Grammys didn't offer a particularly compelling drama when it came to the awards. This year, the main pop and rock categories were generally lacking in star power. And there were no sweeps. In fact, the most any artist won was two awards.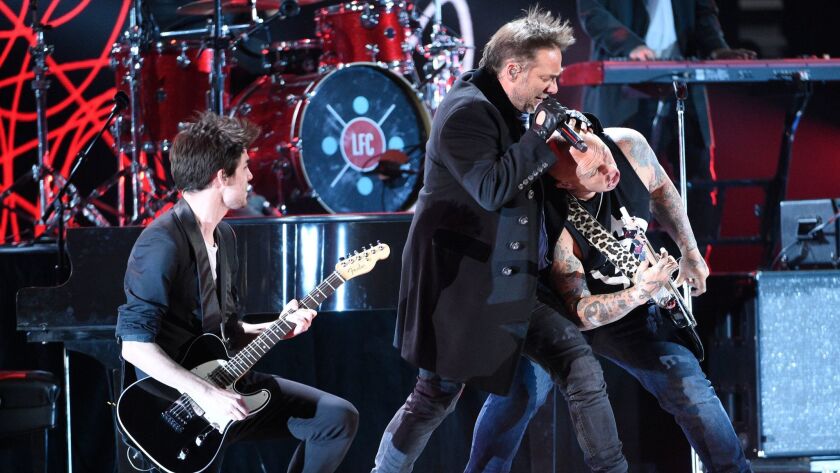 Colombian singer Carlos Vives took home two trophies — including record of the year and song of the year — for his vallenato-tinged (and somewhat formulaic) duet with Shakira, "La Bicicleta." Reggaeton star Yandel also won two awards — for urban fusion/performance and urban song. And Los Fabulosos Cadillacs, from Argentina, were honored with rock album and rock song.
Jesse and Joy, the brother-sister contemporary pop duo who came into the show with four nominations, received the award for contemporary pop vocal album — resulting in a teary thank you speech from Joy, who dedicated it to her father and "all the minority communities."
Perhaps most notable were singer-songwriter Manuel Medrano's two wins — for best new artist and singer songwriter album. The Colombian newcomer, who also performed on the telecast, has a profound, moody voice that goes beyond the pretty-boy pop that is often a favorite of the Latin Grammys.
Also a winner was the late, beloved Mexican balladeer Juan Gabriel, who won album of the year for his album of duets, "Los Dúo 2." He was the subject of a video montage in honor of his life, but curiously, no musical tributes. This was a missed opportunity, since Marc Anthony, who has beautifully interpreted some of Juan Gabriel's work in the past, was in attendance.
Overall, the awards show was a decent party — with some groove-worthy performances and the unforgettable theater of Lopez and Marc Anthony on stage.
But, given the intensifying political climate, it also felt a bit like a missed opportunity. A little defiance was in order. What we got was platitudes instead.
Jennifer Lopez arrives, and is photographed on the red carpet, for the 17th Latin Grammy Awards in Las Vegas, Nevada.
(Tommaso Boddi / AFP/Getty Images)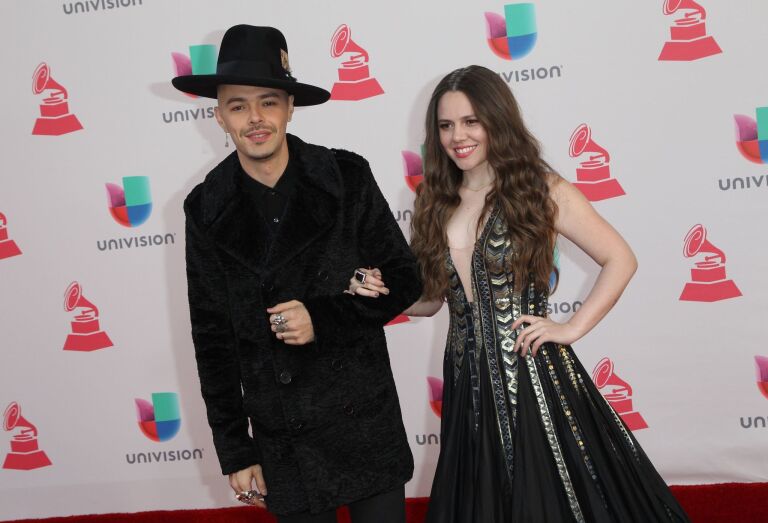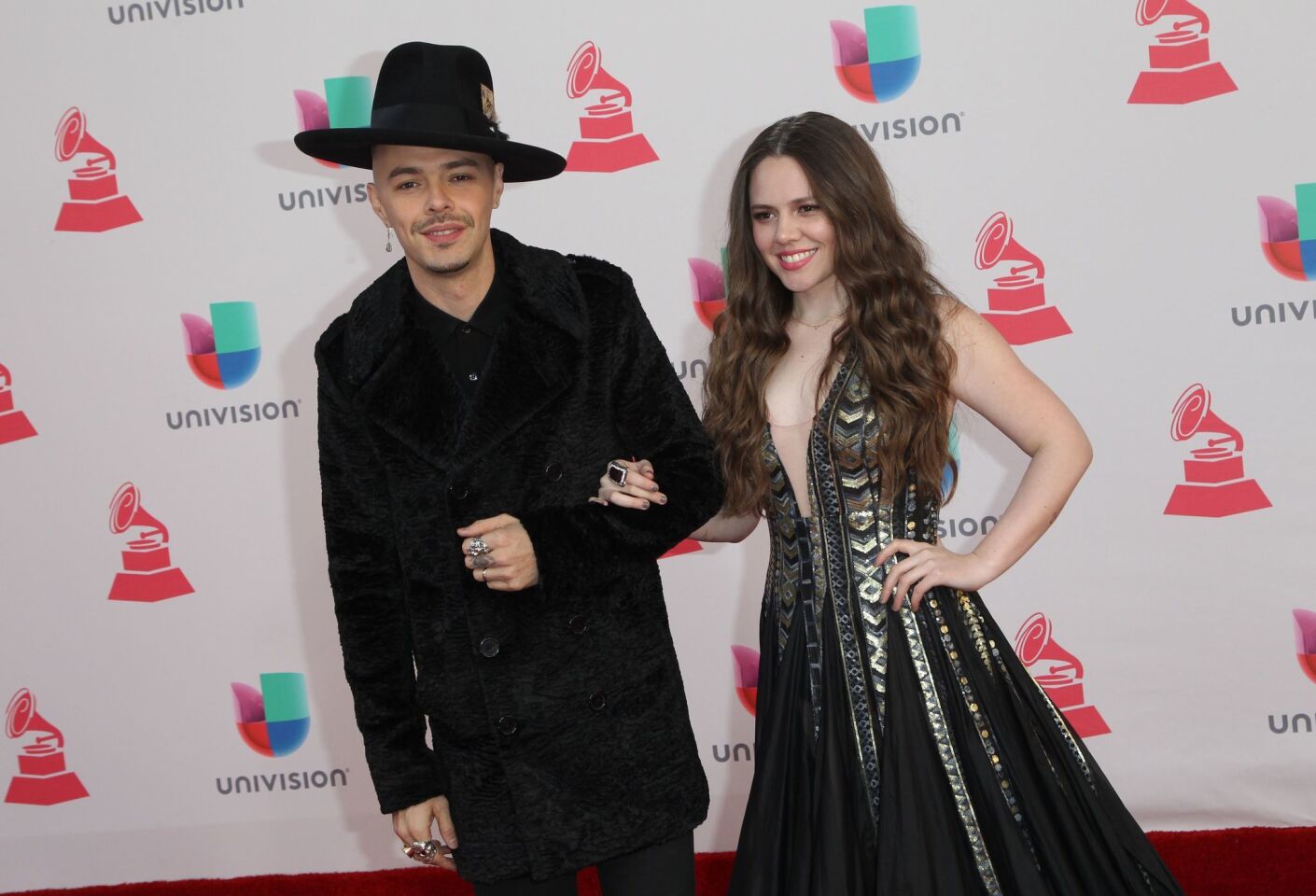 Musicians Jesse & Joy arrive for the 17th Latin Grammy Awards in Las Vegas on Nov. 17.
(Tommaso Boddi / AFP/Getty Images)
Former Miss Colombia Ariadna Gutierrez, left, Carlos Vives, recording artist Rachel Platten
(Christopher Polk/Getty Images | Richard Shotwell/Invision/AP | Ethan Miller/Getty Images)
Mon Laferte
(Richard Shotwell / Invision/Associated Press)
Actress Erika Bruni, left, Jessica Negro Monte, Cuban singer Diana Fuentes
(Tommaso Boddi / AFP/Getty Images)
Pharrell Williams, left, BiA, J Balvin, and Sky attend the 17th Latin Grammy Awards at T-Mobile Arena.
(Ethan Miller / Getty Images)
Juanes.
(Tommaso Boddi / AFP/Getty Images)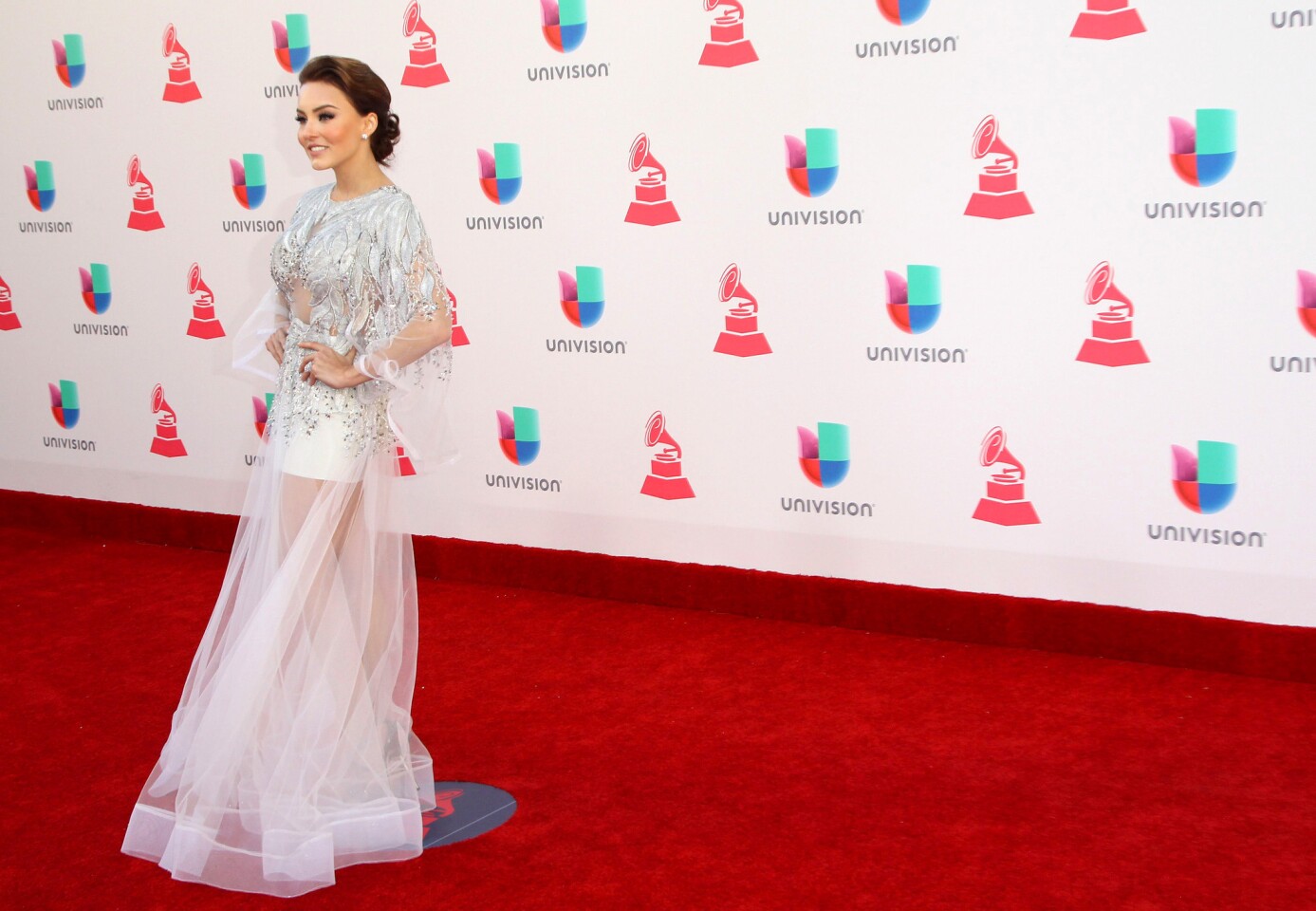 Singer Angelique Boyer.
(Tommaso Boddi / AFP/Getty Images)
Recording artist Melizza Samaniego, left, Daniela Di Giacomo and Laura Pausini.
(Left and right: Ethan Miller/Getty Images | center: Paul Buck/EPA)
The band High Dive Heart.
(Tommaso Boddi / AFP/Getty Images)
Sofia Reyes.
(Tommaso Boddi / AFP/Getty Images)
Alexander Delgado of the musical group Gente de Zona takes a selfie with a fan.
(Christopher Polk / Getty Images for LARAS)
Performers from Cirque du Soleil's show "Mystère."
(Tommaso Boddi / AFP/Getty Images)
Becky G, left, the band High Dive Heart and Amalia Mondragón.
(From left: Ethan Miller/Getty Images / Tommaso Boddi/AFP/Getty Images / Paul Buck/EPA)
Actress Roselyn Sánchez.
(Tommaso Boddi / AFP/Getty Images)
Jackie Hernandez, left, Dencia and Blanca Blanco.
(Paul Buck / EPA)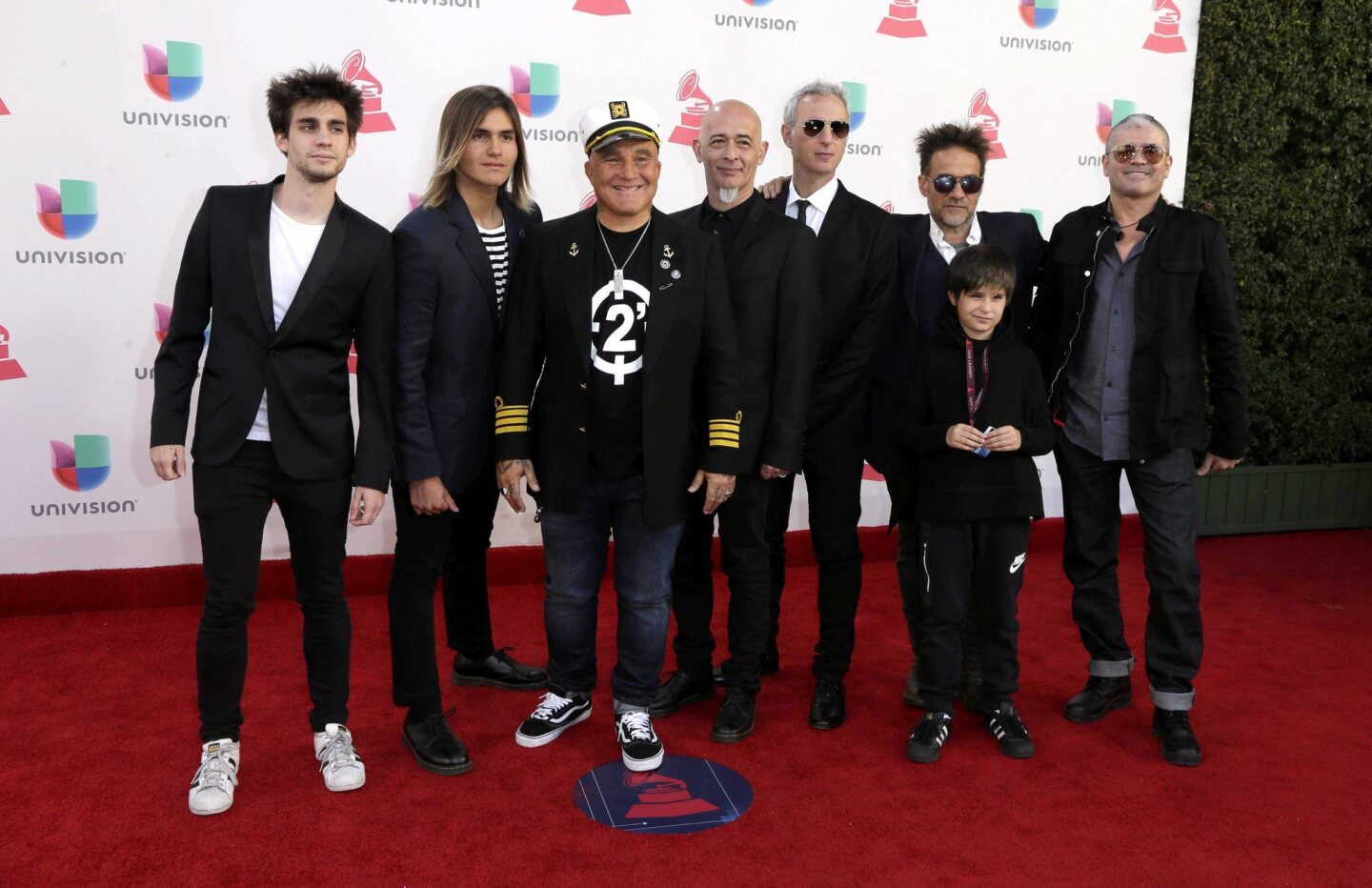 Los Fabulosos Cadillacs.
(Paul Buck / EPA)
Manuel Medrano.
(Richard Shotwell / Invision / Associated Press)
The Chamanas.
(Paul Buck / EPA)
Latin Recording Academy President Gabriel Abaroa, left, with Recording Academy and Grammy Foundation President and Chief Executive Neil Portnow, Paulina Reza and Tony Dandrades.
(Left and center: Ethan Miller/Getty Images | right: Tommaso Boddi/AFP/Getty Images)
Find me on Twitter @cmonstah
ALSO
On '57th & 9th,' Sting urgently shares what's on his mind
Prince's estate sues Tidal over the streaming rights to his music
'I feel good for speaking up': YG on his 2016 protest anthem that goes after Donald Trump
---
UPDATES:
11:50 a.m.: This article was updated with additional details on major Latin Grammy Awards.
The article was originally published at 1 a.m.
---
The complete guide to home viewing
Get Screen Gab for weekly recommendations, analysis, interviews and irreverent discussion of the TV and streaming movies everyone's talking about.
You may occasionally receive promotional content from the Los Angeles Times.