Eat, sleep, make music, repeat: Musical polyglot Masego invites you into his world
The best way to understand the blend of music that multi-instrumentalist, singer, rapper and producer Masego calls "TrapHouseJazz" is to see him create it in action.
In a 2017 one-take YouTube video made in collaboration with French producer FKJ, Masego deftly navigates a narrow studio cluttered with instruments to make the eight-minute song "Tadow." Wearing dark aviators, Masego moves from a microphone to a drum machine, a saxophone slung around his neck. After a brief sax duet with FKJ, Masego maneuvers over to the drum set, adding more layers to the song.
Four minutes in, Masego begins to use his voice, scatting, then manipulating the sounds with a looper pedal. The instrumental — smooth jazz with a modern, electronic feel — drifts into a song with lyrics, Masego's buttery voice rapping: She was so sublime / super fine / she was never lying / strutting in her heels / or her slides either way.
Sitting in the Santa Ana Observatory's artist lounge before a recent show, Masego reveals that the recording — which has racked up more than 70 million views and made the cut for his debut album, "Lady Lady" — was made up on the spot.
"If you're really chosen for music, it just comes to you and you just let it pass through. That's how I create," he says. "The moment we got in there, [FKJ] was warming up his guitar and I was like, 'you should press record.' "
At 25, Masego's hybrid genre is gaining traction — he counts Cotton Club jazz performer Cab Calloway, hip-hop artist André 3000, New Zealand pop/jazz fusion singer Kimbra and entertainer Jamie Foxx, among his influences. After releasing "Lady Lady" in September, Masego is on a headlining tour across the U.S. and abroad, including a recent stop at L.A.'s Fonda Theatre. .
During his Santa Ana sound check, Masego's warmup feels like just another jam session. Under the hazy lights, he tests out his looper pedal on stage, creating a song in the moment.
As the musician's lanky frame paces the length of the stage, his TrapHouseJazz band warms up on their own, but suddenly a song clicks into place. It's a sample of gospel singer Kirk Franklin's 2002 hit, "Brighter Day." Moments later, the song morphs into the sensual refrain from "Prone," an R&B jam that Masego calls his favorite song on the album.
At each stop on his tour, fans can expect a customized show. "We print out a set list, but I don't know why, it's a waste of paper," the musician says. "It's whatever song I feel like performing, that's what makes it something cool to me."
Born Micah Davis in Jamaica to two pastor parents and raised in Newport News, Va., Masego spent most of his childhood in church. As a kid, he found himself glued to the rhythm section while sitting in on choir rehearsals. With his knack for "beating on books," he began playing the drums at age 8.
"Gospel influences your soul," he says. "If you've had church in your background … it's just a part of your musical DNA. You have a little more passion with what you do."
In middle school, an attempt to impress a substitute teacher who came to class carrying a binder with a picture of saxophonist Najee led him to his next instrument. "My friends convinced me that playing saxophone would get to her heart," he says. "I rented the saxophone and practiced religiously, every Sunday. I joined the swim team so I could get my lungs stronger.… By the time I got nice, she was gone."
Masego says there's a woman attached to each instrument he plays. Asked to name them, he begins by referencing three small tattoos on his right knuckles — drums, sax and piano. He counts the bass, cello, marimba and harp among the 16 he plays total.
But as a self-taught musician who learned to play from YouTube tutorials, Masego was denied a music scholarship to Old Dominion University because of his lack of classical training. It was in college though, that he began making his own music and crafting his sound. (For that, he credited another woman who introduced him to beat makers Pharrell and Ryan Leslie).
He gained traction by posting his spontaneous songs, with titles like "73 degrees," "I hate school (wish me luck on my exam)" and "I don't really care" on SoundCloud. His breakout project was 2015's "The Pink Polo," an EP made in collaboration with producer Medasin. In 2016, he released "Loose Thoughts," a compilation of songs from performances and social media. That year, he also participated in a mentorship program created by hip-hop legend DJ Jazzy Jeff to support rising artists.
"Jazzy Jeff is somebody who taught me what I really wanted to do for other people," he says. "He has the big ol' housewhere musicians can come there stay for a while, create music, eat, reset."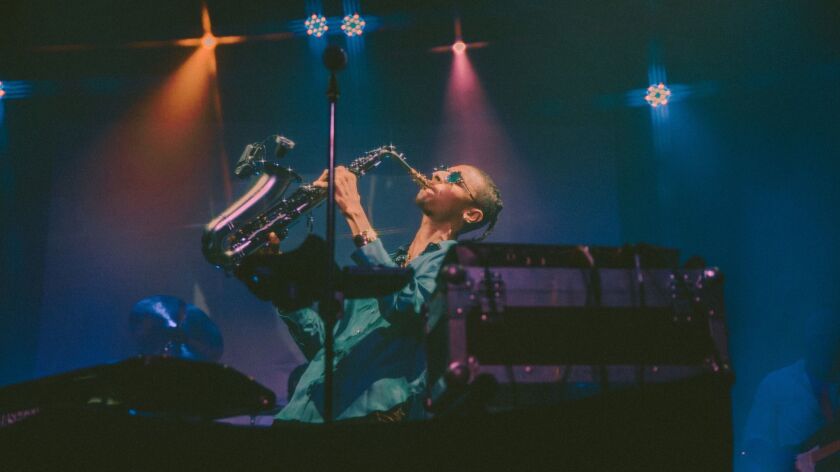 After feeling like he'd peaked in Virginia, Masego headed to L.A., eventually settling in North Hollywood to begin working on his album.
"I was about to leave L.A. because I didn't find enough soul in the musicians," he says. "Back in Virginia, it was just leaking soul everywhere."
Then he found his tribe. He connected with producer Kojoa Asamoah, who introduced him to other like-minded musicians. Together, they made six or seven songs a day in a Glendale studio. Masego also decided to hone in on the lyrics for the album and spent time talking to band members and exes about love. The result is an ode to women and exploration of modern-day relationships.
"[The album] is really a way to praise women and thank them for the growth they incited in me," he says. Thinking back to that substitute teacher who inspired him to play saxophone: "This woman made me want to be better."
Ultimately, "Lady Lady" is part of Masego's vision to create a world and up his brand as he continues on his journey to mainstream success.
"In your career you go from headlining to opening. I'm the man right now, but I'm probably not headlining Coachella, so it starts at the bottom again," he says. "You constantly humble yourself and keep building."
ALSO
Why Keith A. Wallace's police violence play 'Bitter Game' is relevant today more than ever
The black hair revolution is happening now on a screen near you
Black hair in Hollywood: five women share their stories
'black-ish' showrunners on moving the series forward without creator Kenya Barris
---
From the Emmys to the Oscars.
Get our revamped Envelope newsletter, sent twice a week, for exclusive awards season coverage, behind-the-scenes insights and columnist Glenn Whipp's commentary.
You may occasionally receive promotional content from the Los Angeles Times.