Review: At Playboy Jazz Fest, a 17-year-old wonder, an 83-year-old master and tributes to Hef and Miles Davis
Shortly before playing a re-harmonized, solo version of "Happy Birthday" five hours into the 40th annual Playboy Jazz Festival at the Hollywood Bowl, pianist Dave Grusin announced, "This is either a jazz concert or a political rally."
But political rallies have impassioned speeches and reflect upon the times in which their audiences live. Day One 1 of Playboy Jazz did not seem particularly concerned with the world beyond Highland Avenue on Saturday. There was an extended tribute to jazz icon Miles Davis and a brief salute to festival founder Hugh Hefner, but Playboy Jazz today is comfortable in its role as crowd-pleaser rather than crowd challenger.
The two standouts of Saturday's performances were born 66 years apart. Keyboardist Matthew Whitaker is likely the first bandleader born in the 21st century to play the festival. Whitaker is only 17 and blind, but his consciousness of the crowd was stronger than the average jazz bandleader.
He sat center stage between two very large pieces of furniture: a Hammond B3 and a grand piano. His drummer, Sipho Kunene, was 20 feet behind him and his guitarist-bassist, Edward Morcaldi III, at least stayed within shouting distance.
Alternating between the two keyboards, Whitaker summoned the ghosts of Larry Young and Oscar Peterson. A two-fisted sermon on the Spiral Starecase hit "More Today Than Yesterday" conjured gospel visions, while his original tune "Got a Match" was a straight-swinging burner.
He tackled both keyboards simultaneously with his left hand on the piano and his right on the organ for a Coltrane riff that slowly revealed itself as Earth Wind & Fire's "September," an unapologetic dip into disco that was perfect for 4 p.m. Whitaker's instrumental trio inspired spontaneous dancing and a standing ovation. As a student of great piano masters, he has quickly identified the buttons that resonate with a crowd looking for a good time.
Fronting a big band of tuxedoed instrumentalists, 83-year-old Roy Gaines opened his set with an ode to Southern women that was a master class in simmering guitar swagger. When the orchestra finally joined him, Gaines hit the soundboard with guns blazing, taking nearly every solo of the set and singing front and center.
He busted a string and kept right on rocking, an unflappable force of soul and experience.
The tribute to Davis was as eclectic as the trumpeter but had less than 50 minutes to cover what he did in 50 years. Trumpeter Jeremy Pelt took the lead role, finding moments to shine amid the hesitating grooves being built behind him.
Davis' nephew Vince Wilburn held down the drum chair while saxophonist Antoine Roney dug into both tenor and soprano saxophones. Only bassist MonoNeon seemed to recognize the importance of visibility, bedazzling his bass with an orange-and-yellow sock while the rest of his Day-Glo ensemble served as a point of fascination for the Hollywood Bowl's camera operators.
The band touched on the electrified "In a Silent Way"-era, while a video tribute to Playboy founder Hefner was backed by an unexplored take on Wayne Shorter's "Footprints." Hefner's son Cooper, appearing in a sweater knitted with two prominent Playboy Bunny logos, spoke briefly about his father, who died in September. Then, he toasted his dad and walked off.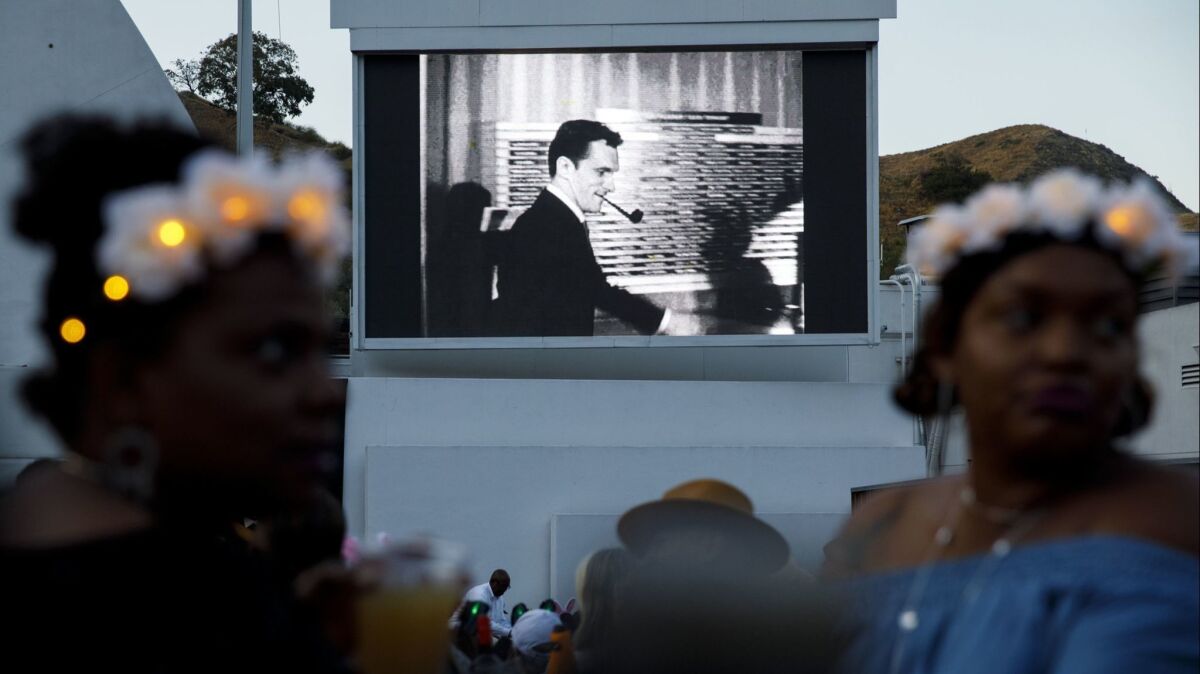 Two titans of the smooth, Grusin and guitarist Lee Ritenour, ushered in the nighttime sets with a tight quartet that was loud and funky thanks largely to electric bassist Melvin Davis. The veteran performers — the youthful Grusin turns 84 later this month, which likely inspired that Happy Birthday interlude to June birthdays — hit their stride with a take on Oliver Nelson's "Stolen Moments."
The next set took a different turn. Snarky Puppy is jazz for guys who don't own any collared shirts. Their scruffy casualness feels more like a room full of teachers jamming on a day off than the penultimate performers on a 10-band bill. But Snarky Puppy is also very good at what they do.
They are a relentlessly precise, nine-piece funk powerhouse with every beat in service of the riff. The result is fast, funky and impersonal. Guitarist Mark Lettieri got an extended moment in the spotlight that highlighted the impeccable musicianship of the entire ensemble as he built from a duo with drummer Jason Thomas to a band-wide freak-out. His funky, fleet-fingered lines gave way to Prince-like jabs, and those few spidery guitar riffs are what drew the biggest applause from the crowd.
Singer Anthony Hamilton closed the festival. With just four musicians, his band filled the Bowl with slithering soul while his backup singers, the Hamiltones, embodied a sort-of Temptations 2000 vibe. The three backup vocalists, clad in all black, worked a long series of semi-synchronized choreography that occasionally conversed in a universal sign language that drew laughs from the canoodling crowd.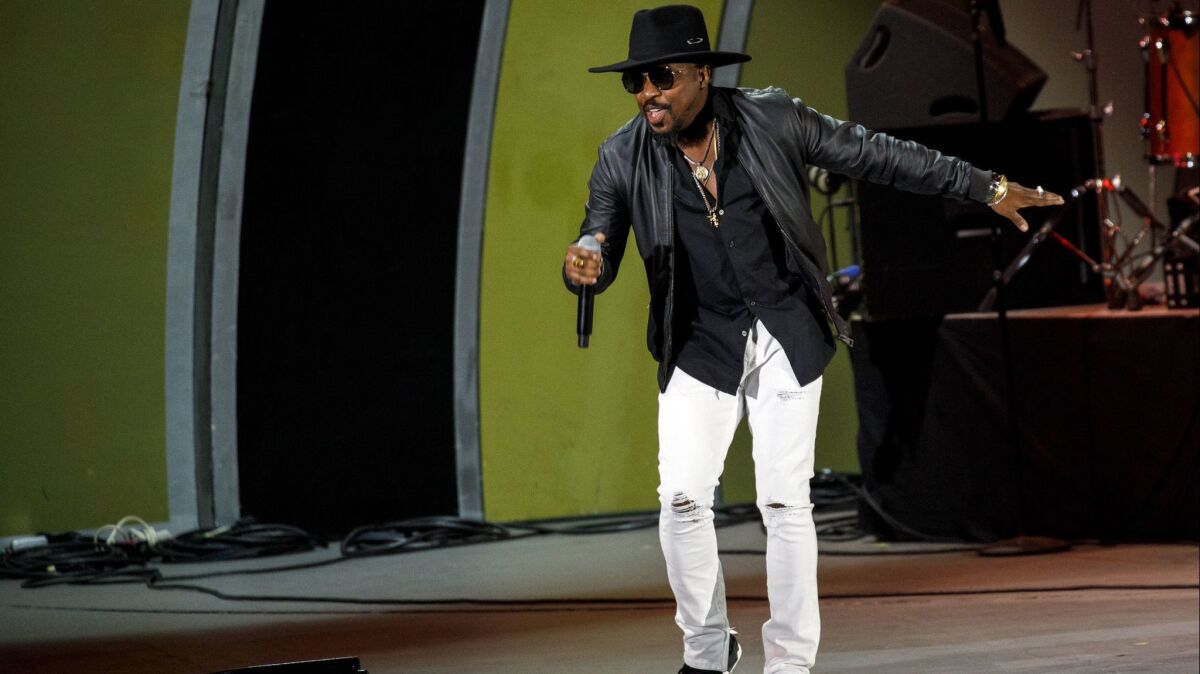 The Playboy Jazz Festival is an always reliable weekend of diverse entertainment, and the sheer volume of talent presented in two days is unrivaled in this town, but this time out, the risk and whimsy needed to encourage more of those 21st century jazz entertainers along the lines of Whitaker was not often on display.
READ MORE on Playboy Jazz Festival acts not to miss on Sunday's final day.
---
UPDATES:
2:54 p.m.: This review was updated with commentary on additional festival sets.
This review was originally published at 1:10 p.m.
Get our L.A. Goes Out newsletter, with the week's best events, to help you explore and experience our city.
You may occasionally receive promotional content from the Los Angeles Times.