From the Archives: Maverick Prince jumps to early Grammy lead
Prince performs at the Forum in Inglewood on Feb. 18, 1985.
(Liu Heung Shing / Associated Press )
People get emotional while talking about Prince at a memorial for the artist in Leimert Park.
(Barbara Davidson / Los Angeles Times)
A rainbow appears over Paisley Park near a memorial for Prince in Chanhassen, Minn. Prince, widely acclaimed as one of the most inventive and influential musicians of his era with hits including "Little Red Corvette," ''Let's Go Crazy" and "When Doves Cry," was found dead at his home at Paisley Park on Thursday.
(Carlos Gonzalez / Star Tribune via AP)
Prince performs at the St. Paul Civic Center in St. Paul, Minn. on Dec. 25, 1984.
(David Brewster / AP)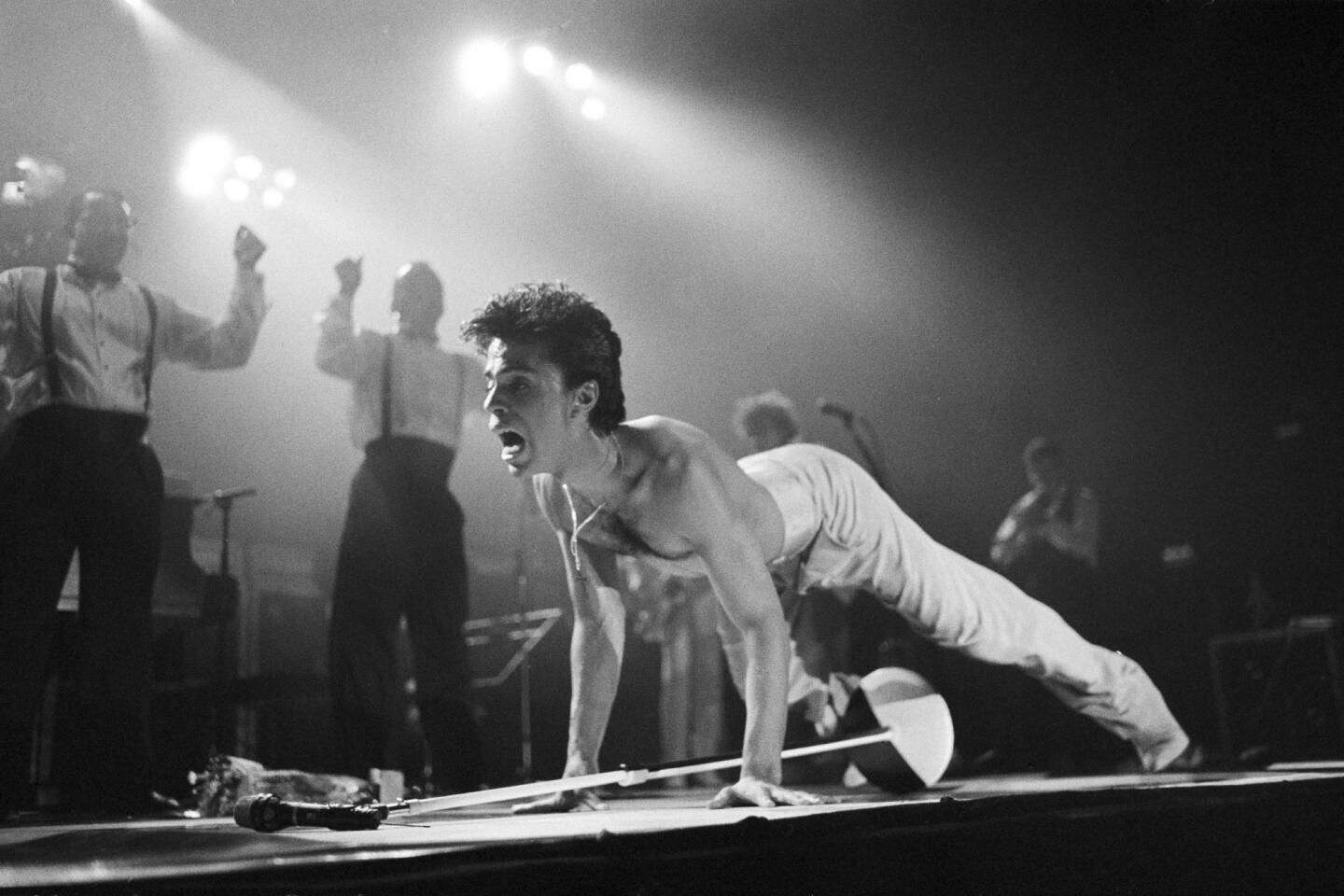 Prince performs on stage on the Hit N Run-Parade Tour at Wembley Arena in London in August 1986.
(Michael Putland / Getty Images)
Prince performs at the Sziget Festival in Budapest, Hungary, on Aug. 9, 2011.
(Balazs Mohai / EPA)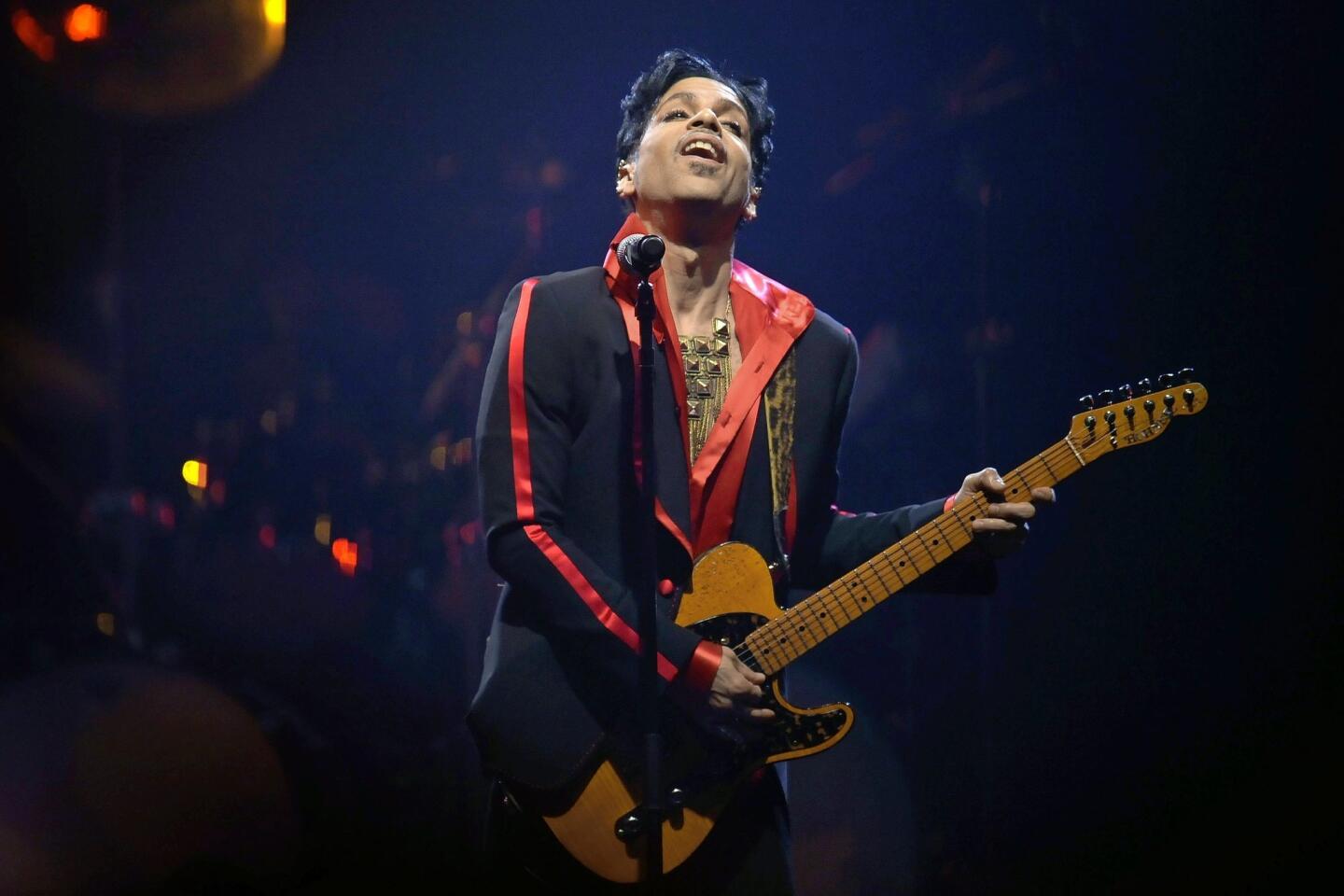 Prince at the Sportpaleis in Antwerp, Belgium, on Nov. 8, 2010.
(Dirk Waem / EPA)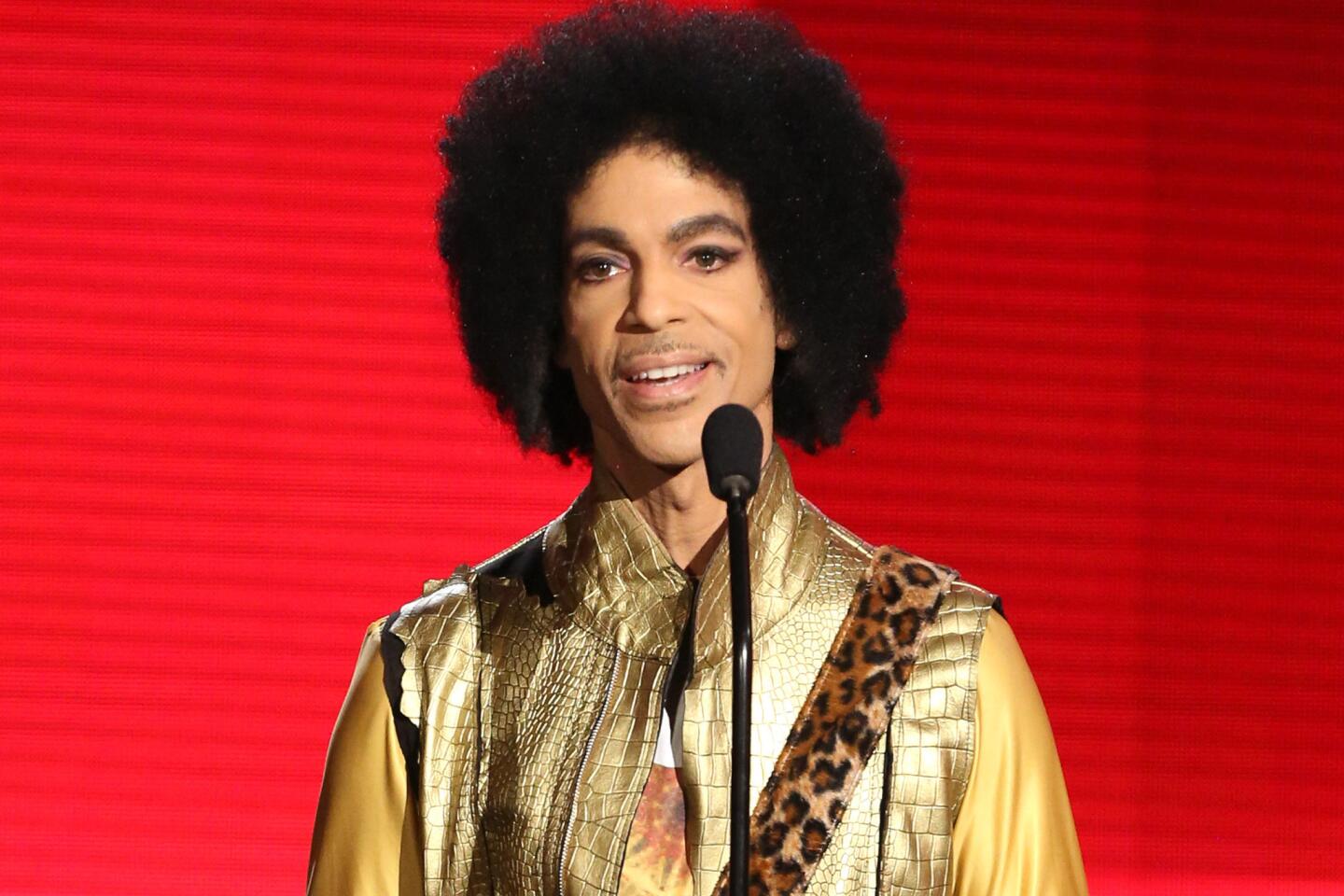 Prince presents an award at the American Music Awards in Los Angeles on Nov. 22, 2015.
(Matt Sayles / Invision / Associated Press)
Prince performs at Coachella Valley Music & Arts Festival in 2008.
(Spencer Weiner / Los Angeles Times)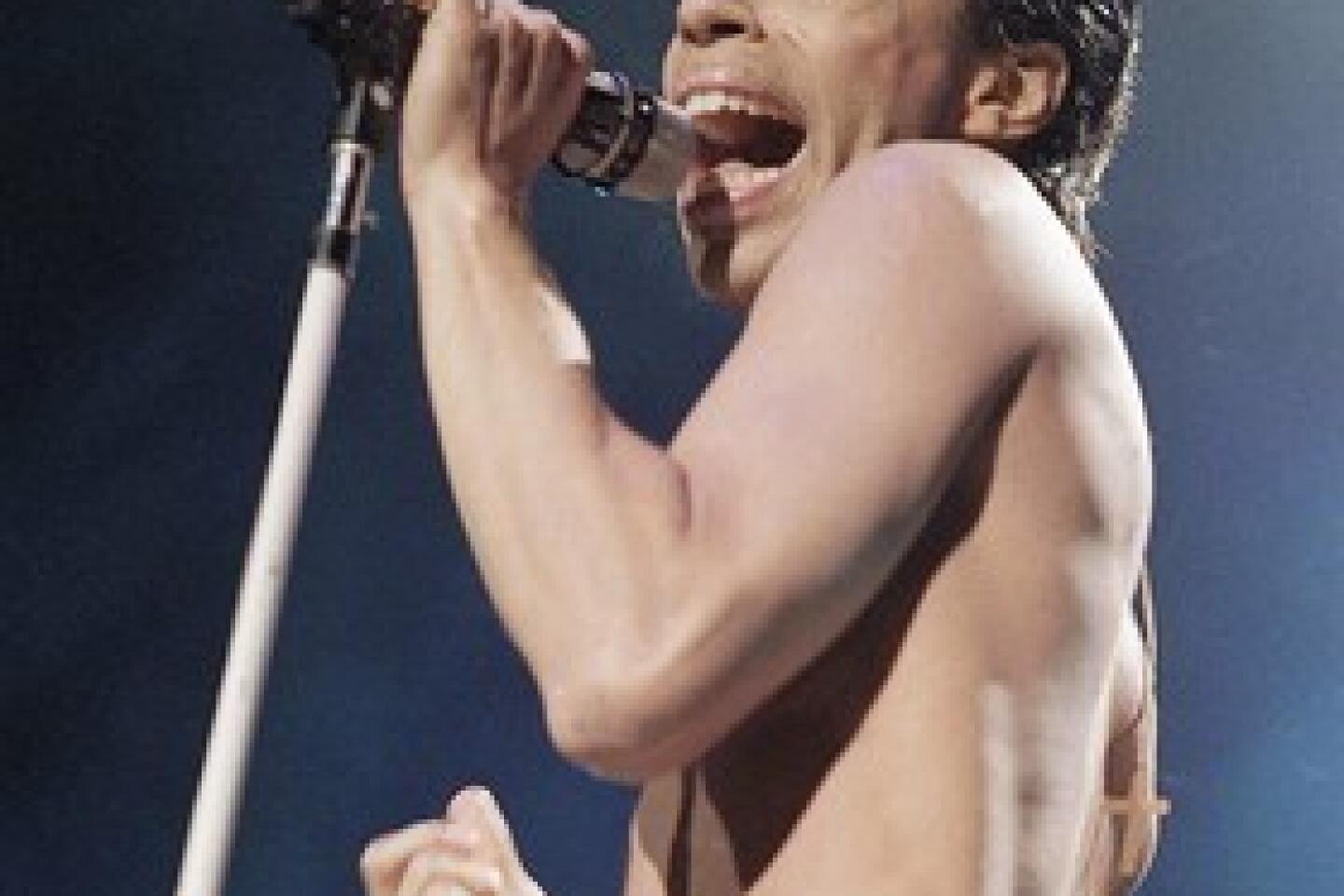 A shirtless Prince performs in 1986.
(Mario Suriani / Associated Press)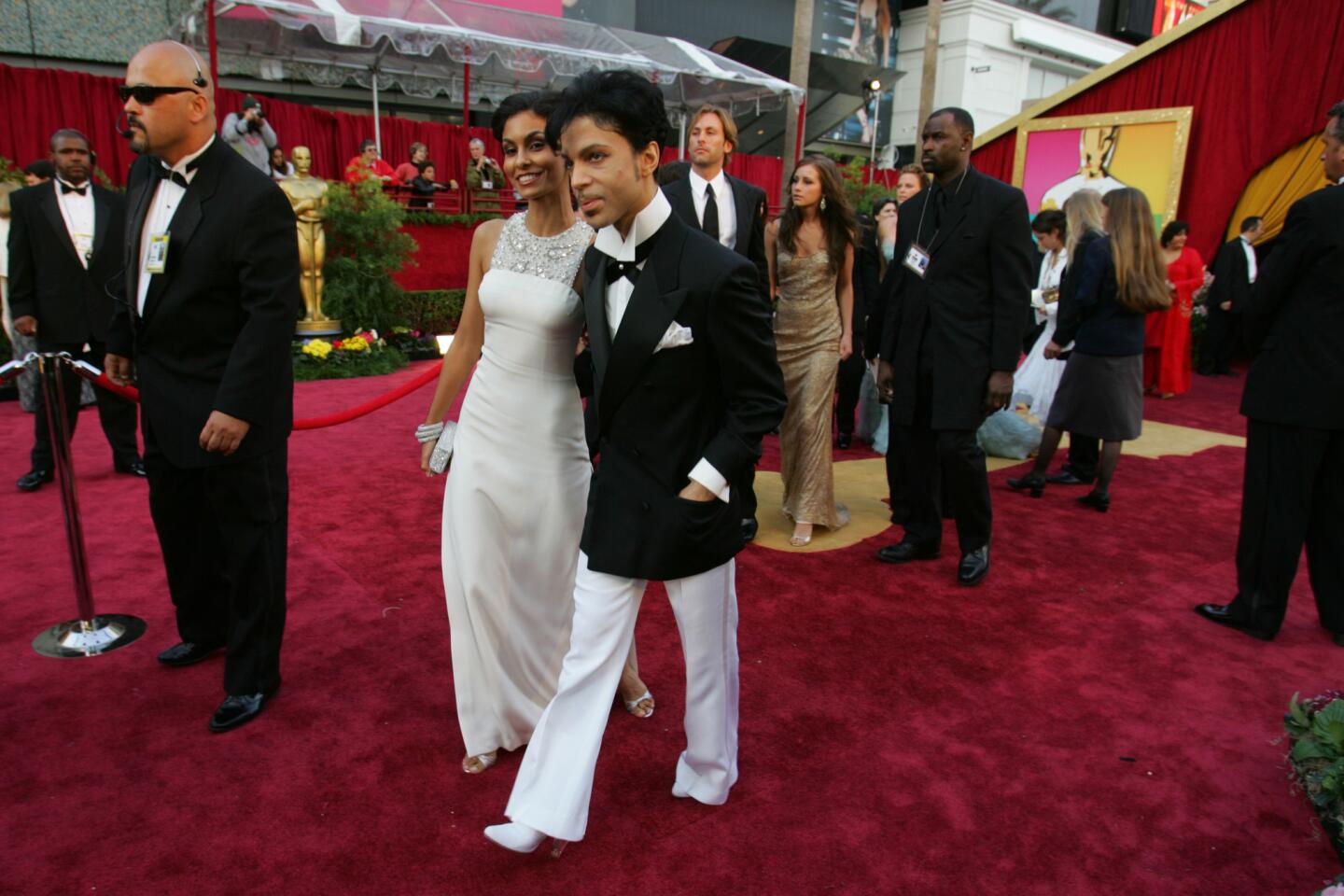 Prince and Manuela Testolini arrive at the 2005 Academy Awards.
(Robert Gauthier / Los Angeles Times)
Prince and Manuela Testolini arrive at the 2005 Annual Academy Awards.
(Al Seib / Los Angeles Times)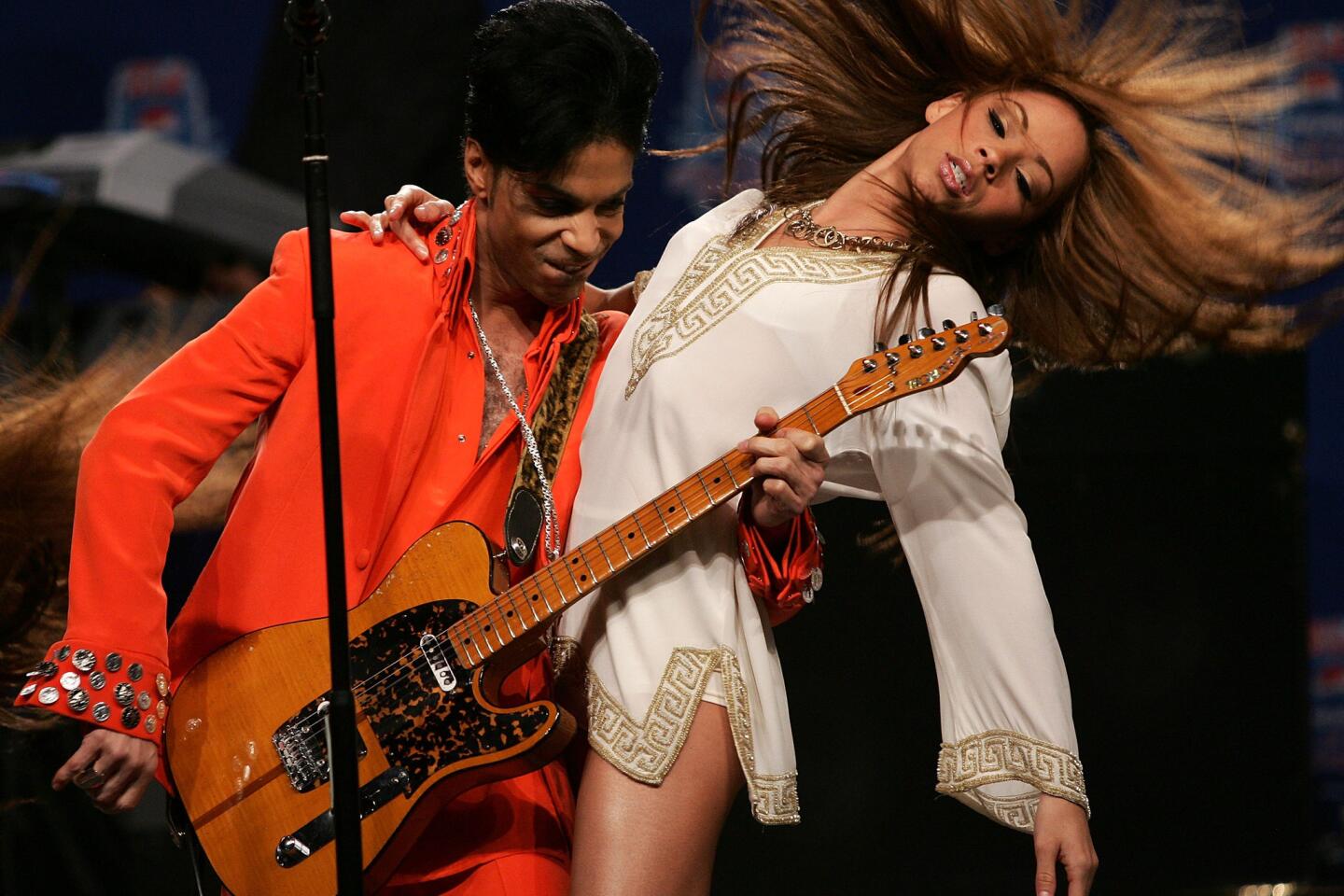 Prince performs at the Super Bowl in 2007.
(Evan Agostini / Getty Images)
Prince in 2008.
(Spencer Weiner / Los Angeles Times)
Prince performs "Purple Rain" at the 46th Annual Grammy Awards in 2004.
(Richard Hartog / Los Angeles Times)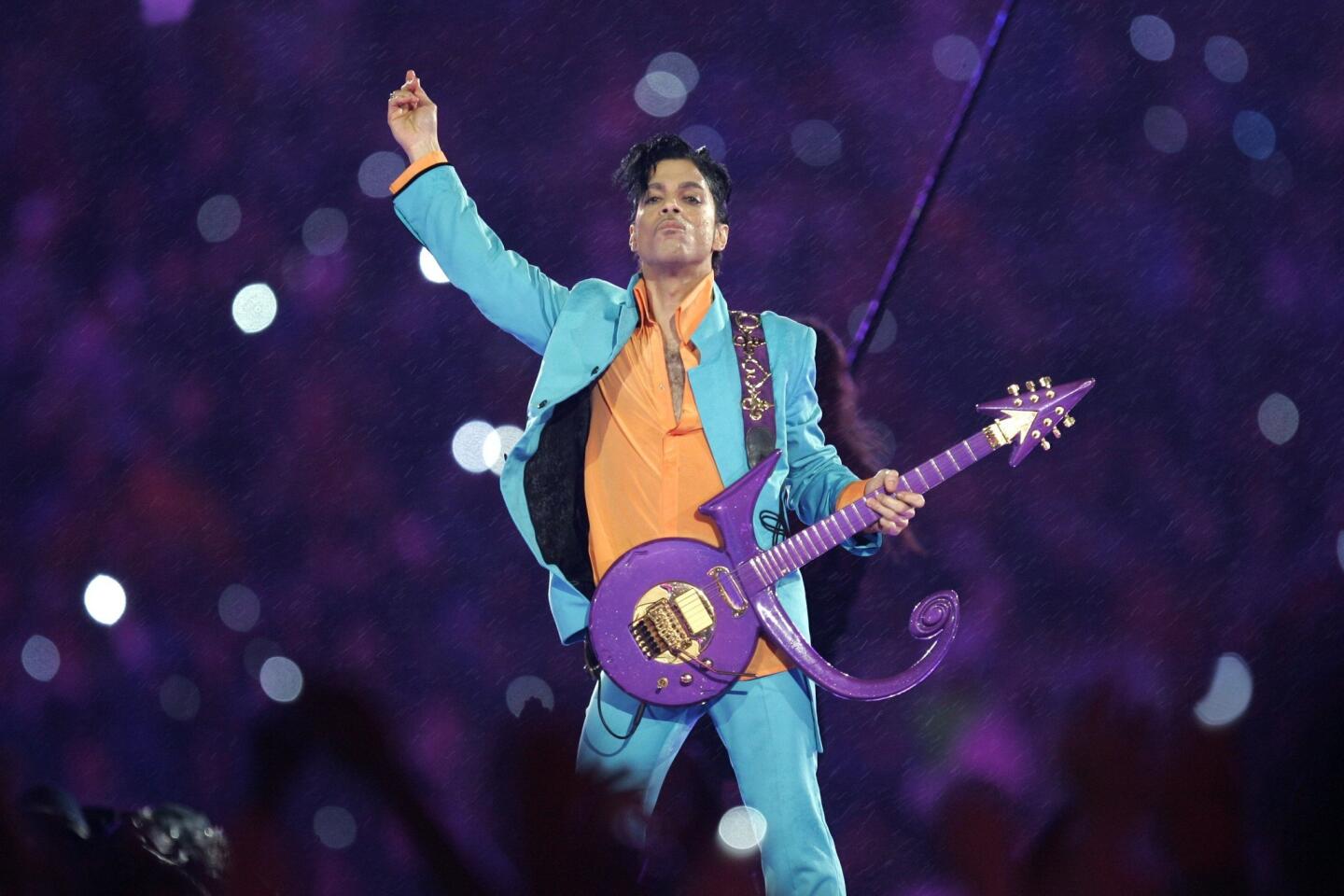 Prince performs at the Super Bowl in 2007.
(Chris O'Meara / Associated Press)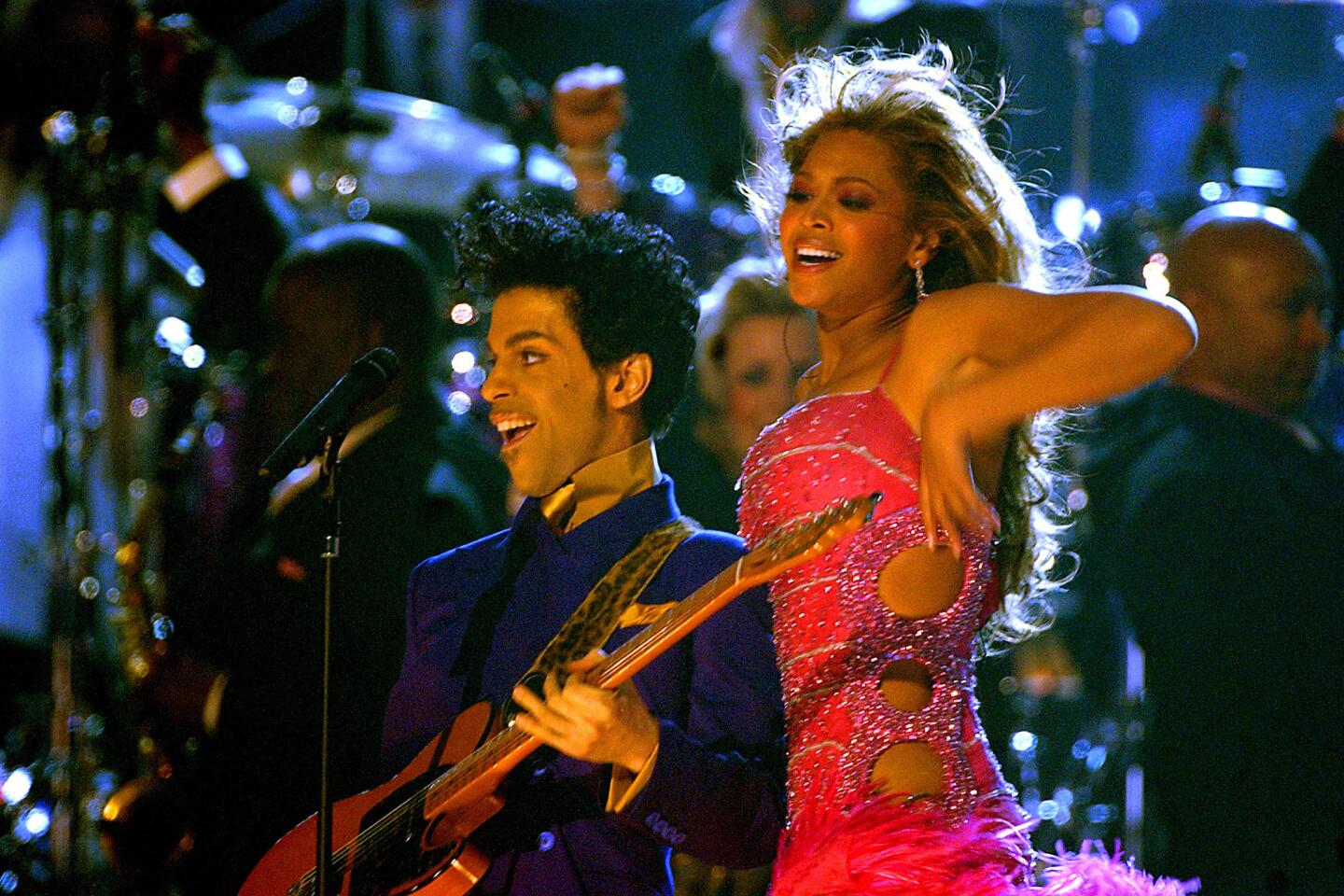 Prince with Beyonce at the 2004 Grammy Awards.
(Richard Hartog / Los Angeles Times)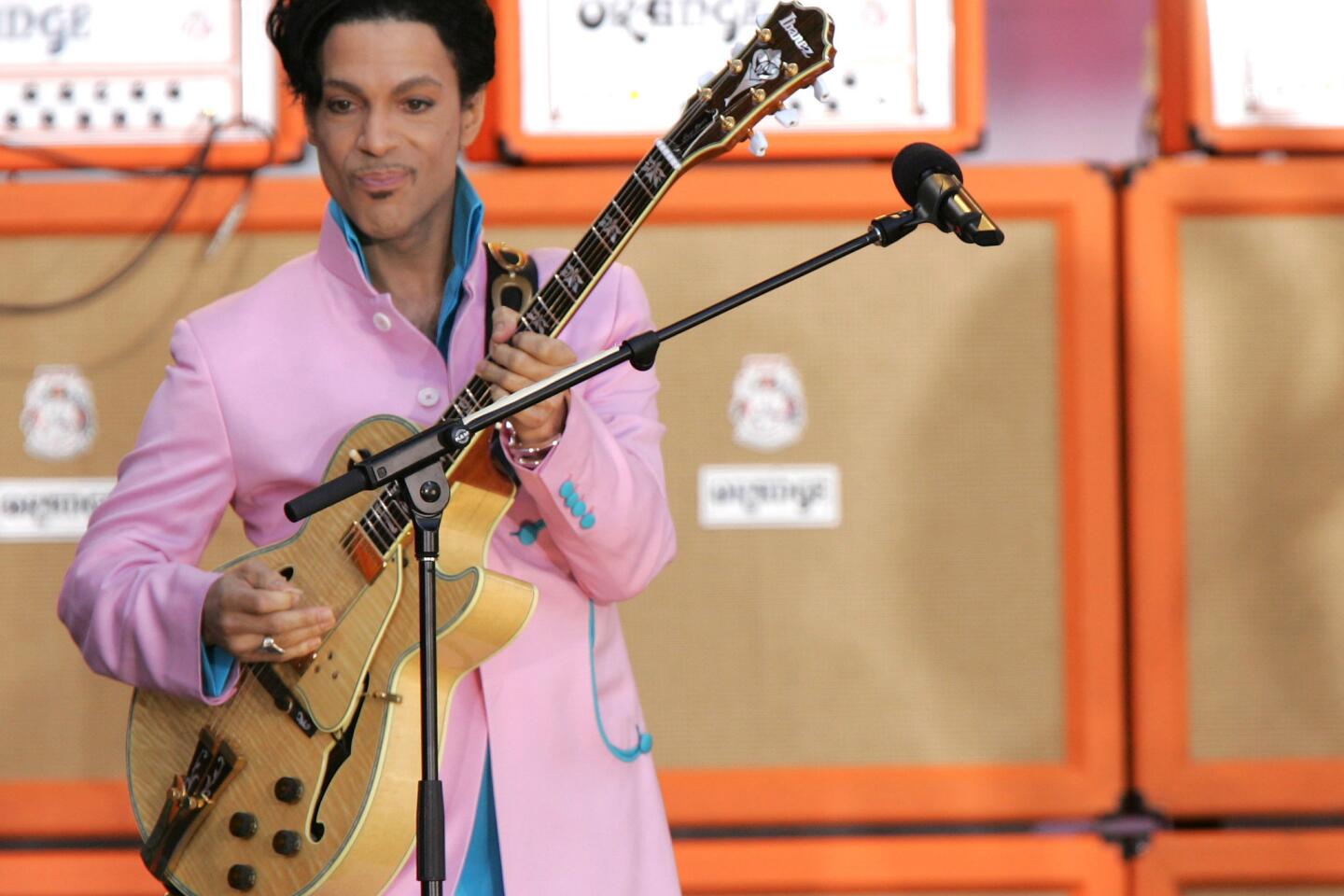 Prince performs on ABC's "Good Morning America" in 2006.
(Peter Kramer / Getty Images)
The crowd at the Roosevelt Hotel in Hollywood before a Prince concert in 2007.
(Lori Shepler / Los Angeles Times)
Prince performs in France in 2011.
(Bertrand Guay / AFP/Getty Images)
Times Pop Music Critic
Editor's note: Prince, one of the bestselling pop artists of all time, died April 21, 2016, in his recording studio in Chanhassen, Minn., the Associated Press reported.
Prince must have relished the drama backstage Tuesday afternoon at the Shrine Auditorium as the 27th annual Grammy Awards ceremony began.
Here's a pop-rock maverick who was booed off the stage four years ago when he opened for the Rolling Stones in a concert at the Los Angeles Memorial Coliseum, which is just across the USC campus from the Shrine.
Though rock's roots are in black music, rock radio programmers resisted playing black music in the '70s, leaving most young fans to assume that anyone black must be part of what was to them the dreaded disco movement. So, fans near the front of the Coliseum stage hurled paper cups and shouted insults at Prince, who was largely unknown to rock fans at the time.
But the diminutive Minneapolis native began attracting a rock following with his early 1983 hit "Little Red Corvette," and he broke through to superstar status last year with "Purple Rain," the biggest-grossing rock film ever. The sound-track album, which has been in the Top 10 since August, has sold an estimated 10 million copies in this country alone.
Prince's passionate music and sexual renegade image were also probably troubling four years ago to many of the 6,000 members of the National Academy of Recording Arts & Sciences, which sponsors the Grammy competition.
They, too, however, were captured by "Purple Rain," granting him five nominations in this year's competition--including the year's best album--and inviting him to perform on the TV show even though he also appeared on the rival American Music Awards telecast last month.
As the star-studded audience watched the presentation of preliminary awards on Tuesday at the Shrine, Prince appeared to be the main topic of conversation. Would he have enough support to win the closely contested best album nod, or would he have to settle for wins in lesser categories (rhythm & blues song, group rock vocal, producer, motion picture score)?
Part of that question was answered early Tuesday as Prince picked up two awards in the pre-televised part of the Grammy ceremony. They were for best rock group vocal (with his band, the Revolution) and the best R&B song, "I Feel For You." The latter was a recent hit for Chaka Khan. But the wins weren't necessarily indicative of the trend, because Prince wasn't pitted against the other best album nominees in those two categories.
Unlike last year, when Michael Jackson won a record eight Grammys, no one was in a position to sweep the balloting. Rather than strip the nationally televised event of its drama, however, the wide-open nature of Tuesday's affair may have added to the tension.
Prince's status was only one of a series of intriguing possibilities. Among the others:
Would Tina Turner, with five nominations, climax an extraordinary comeback year by winning best album and/or best record? Would she also become the first woman to win in pop, rock and R&B vocal categories in the same year? Her only previous Grammy victory was in 1971 when she and ex-husband Ike won a best R&B duo recognition for their vocal on "Proud Mary." Michael Jackson is the only male to win that triple vocal crown, having done it last year.
Would Bruce Springsteen, the most acclaimed figure in American rock since Bob Dylan, finally win his first Grammy? Springsteen's "Born in the U.S.A." was nominated for best album. The LP, which has sold nearly 6 million copies, is a robust yet questioning look at traditional American ideals and allegiances.
Would trumpeter Wynton Marsalis, who won in both jazz and classical categories last year, repeat that previously unprecedented feat? Would he extend the accomplishment by also winning in a pop area (best instrumental composition)?
Would the daffy but endearing and richly talented Cyndi Lauper repeat Christopher Cross' 1980 longshot of sweeping best new artist, best album, best record and best song awards?
All four of these questions were also partially answered in the pre-telecast ceremony. (Of the 67 categories, less than two dozen are presented each year during the telecast itself.) Turner got off to a promising start in her attempt at a sweep by winning in the rock vocal field. Springsteen did make it a first, being declared best male rock vocalist, while Lauper was judged best new artist, and Marsalis did win again in both jazz and classical competitions. However, his "Hothouse Flowers" lost in the pop instrumental competition to Randy Newman and John Williams, who shared the award for their respective works, "The Natural" and "Olympic Fanfare and Theme."
And there was more suspense: Would Elvis Presley and John Lennon win posthumous Grammys for their respective "A Golden Celebration" and "Heart Play" LPs?
Would Stevie Wonder move into third place on the all-time Grammy list by winning four more statuettes? Wonder, whose nominations included best song and best pop vocal, now ranks fourth on the list with 15 Grammys. He trails Sir Georg Solti (23 awards), Henry Mancini (20) and Vladimir Horowitz (18). Solti and Mancini, incidentally, went into the evening with one nomination each.
Would Michael Jackson pick up two more Grammys? He had two nominations again this year, one for best R&B vocal duet (with brother Jermaine for "Tell Me I'm Not Dreaming") and one for best album video ("Making Michael Jackson's Thriller").
And what about Lionel Richie?
Richie, whose only Grammy was for best male vocal in 1982, went into the evening the slight favorite in the best album category. His "Can't Slow Down" album, which has sold about 9 million copies in this country alone, didn't receive near the critical acclaim of his four rivals in the category, but its classy, conservative brand of pop is in keeping with Grammy voting patterns.
If the Grammys were a political convention, you could describe the competition for best album as between progressive (Springsteen, Prince), moderate (Turner, Lauper) and moderate/conservative (Richie) factions.
Paul Grein, a Billboard magazine columnist who has been extremely accurate in predicting Grammy winners for The Times in recent years, suggested there was considerable sentiment among younger Grammy voters to move in a more progressive direction, but the presence of two strong candidates--Springsteen and Prince--might split the progressive vote, leaving Richie the winner.
Whatever the outcome, the best album competition is the most respectable in years. The Grammy voting has been frequently chided over the years for ignoring challenging newcomers and concentrating on conventional best sellers. That emphasis works out all right in years where the best-selling records also are distinguished works, but it has sometimes led to such awkward best record/best album choices as Toto, Christopher Cross and Captain & Tennille.
This year, however, three of the five entries in the best album competition finished in the top five in Village Voice's recent nationwide poll of 240 pop critics. Springsteen's "Born in the U.S.A." finished first, followed closely by "Purple Rain" and, in fifth place, Turner's "Private Dancer." A fourth nominee, Lauper's "She's So Unusual," finished 11th in the balloting.
Richie's album did not place in the Top 40, but you almost have to put an asterisk by that album. Critics are often as guilty of overlooking quality in mainstream albums as Grammy voters are of missing outstanding achievement among maverick pop-rock forces.
The field in the other most prestigious category--best record (single)--wasn't as noteworthy. Only two of the five finalists were among the top five in the Voice poll: Springsteen's "Dancing in the Dark" and Turner's "What's Love Got to Do With It," which finished second and third, respectively.
Lauper's "Girls Just Want to Have Fun" finished 11th in the critics' balloting, but the other two nominees--Chicago's "Hard Habit to Break" and Huey Lewis & the News' "The Heart of Rock & Roll"--didn't make the top 25. Turner was considered a strong favorite to capture the award.
Competing against "Purple Rain" for best original movie score were "Against All Odds," "Footloose," "Ghostbusters" and "Yentl." Lauper's competition for best new artist was Frankie Goes to Hollywood, Corey Hart, the Judds and Sheila E.
Even if one of his four nominations don't turn into victories for him, Richie was guaranteed one reason to celebrate Tuesday. Pepsi-Cola planned to kick off its new advertising campaign during the Grammy telecast by showing a 3-minute commercial built around Richie. If Pepsi paid $1 million for the air time Tuesday, you can bet Richie will net considerably more from the campaign.
The Grammy ceremony, which began at 5 p.m., was telecast live across the country on CBS, but was scheduled to be shown on delayed basis (8 p.m.) on the West Coast. John Denver again emceed.
Also contributing to Grammy coverage were Richard Cromelin, John Horn, Lori Pike and Chris Willman.
MORE ON PRINCE
Celebrities react to Prince's death: 'And just like that ... the world lost a lot of magic
Review: Prince dazzles and baffles on two new releases
From the Archives: Prince: 'If I knew the things I know now before, I wouldn't be in the music industry'
From the Archives: Just how princely is Prince's Warner Bros. deal?
Get our L.A. Goes Out newsletter, with the week's best events, to help you explore and experience our city.
You may occasionally receive promotional content from the Los Angeles Times.