Rickie Lee Jones settles down — sort of — at 64: 'The pressure is off'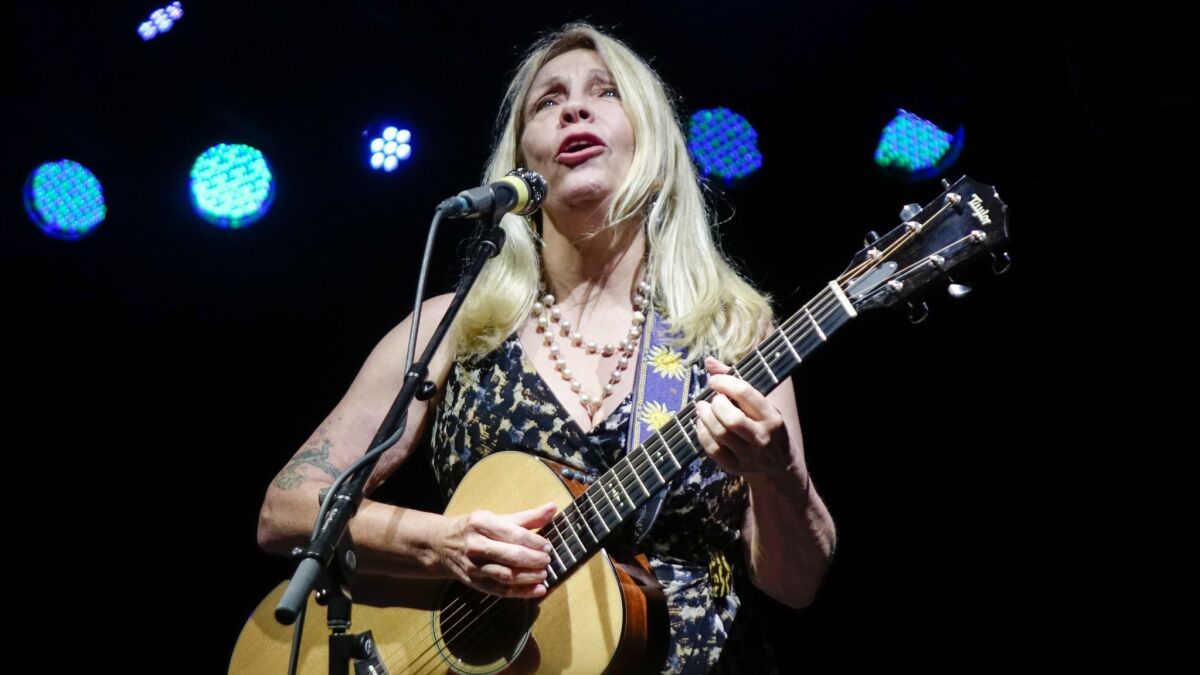 Reporting from New Orleans —
On several occasions in early 2019, Rickie Lee Jones could be seen hanging out at various cafes and garden parties in downtown New Orleans — sipping black coffee, flipping the pages of the local punk-rock magazine, eating crawfish that were driven in, alive in wet sacks on the back of a truck, from Cajun country.
Jones seems at home here in New Orleans, which isn't exactly new stomping grounds for the Duchess of Coolsville. The pirates of her 1981 release "Pirates" were French Quarter denizens, outlaw hipsters she met here on a sojourn during which she got advice from Dr. John on how to keep at bay a spirit that was causing nightmares. He had played keyboards on her 1979 self-titled debut album, and he also knew the right herbs and oils ("dragon's blood," she once told me) with which to anoint her bedroom, to drive away the malicious haints and let her sleep in peace.
Jones returned to LA from L.A. this time in the early 2010s and settled in nicely. Now 64, she has a dog, a memoir in progress and a boyfriend and plants to care for. She planted her flag here with the 2015 album "The Other Side of Desire"; it was her first collection of original material in five years, a smooth amalgam of her distinctive soul-jazz and her adopted hometown's heritage, blending in swamp-pop, Cajun waltzes and Fats Domino-style rhythm-and-blues piano.
Four years later, she has a second New Orleans album, recorded quickly around Mardi Gras with a gang of local players who have become good friends and inspirations: "Kicks," an eclectic collection of covers. On it, she puts her interpreter's hat (it's not a beret) back on and returns to what she first loved best — exploring the nuances of popular songcraft.
"I know people admire the songwriter so much, but the craft of interpreting and arranging is as heavy and difficult," she said during one of various occasions early this year when we connected over coffee or crawfish. "The singer-songwriter took over the pop craft in music, but my first love is a good pop song."
This affection wasn't so well received when Jones was coming up in the late '70s, when the music industry was in thrall of the singer-songwriter and her home base of Los Angeles its ground zero. She was a little bit younger than the kings and queens of that scene — Crosby, Stills, Nash, Young, Browne, Nyro, Mitchell, the list goes on — and she wasn't really convinced, in her youth, that she'd want to be part of the club even if it would have her as a member.
"When I came out in '79, I was trying not to be part of the singer-songwriter thing," she said. "I didn't like what I perceived, at that age, to be elitism."
She wrote of course, and brilliantly — vivid, intimate, near-genre-less songs that hopped around the sounds and experiences of the 20th century with amazing ease and detail: cinematic tone poems like "On Saturday Afternoons in 1963" sequenced cheek-by-jowl with finger-snapping jive like "Woody and Dutch on the Slow Train to Peking."
"Of course, you have to ask yourself, is that jealousy?" she mused. "Are you unhappy you're not living next door in the Malibu colony? But I think I rejected that because it would have been death, isolating myself with my pottery and my beach. I was looking for real life with real people. It's easy to be tribal, rich with rich, white with white. But you're not going to get new information."
Forty years ago, in the spring of 1979, her self-titled debut made a splash: a best new artist Grammy along with a handful of other nominations, No. 3 on the Billboard 200 albums chart and top 10 on the Hot 100 for the single "Chuck E.'s in Love," and the cover of Rolling Stone magazine. "Pirates," the 1981 follow-up, did well too (both were reissued on vinyl this year). But Jones followed her ear and wound up in and out of critical and market favor as she chased new information: electronic experiments, pop and jazz covers, spiritual folk, building an eclectic catalog that has, over 20-odd albums and 40 years, never failed to keep people guessing.
Constant motion, literal and figurative, is Jones' modus operandi. "I've always liked to run away," she told Rolling Stone in 1979. "It's my favorite thing to do." Maybe that impulse is her heritage. Her grandfather was a vaudeville dancer named Peg Leg Jones, and her father, a singer and actor who nurtured his daughter's love of music, traveled the country hopping freight trains in his youth. The family moved around a lot during Jones' childhood: She was born in Chicago, but lived in Phoenix, Los Angeles and Olympia, Wash., all before high school.
The first time she properly ran away she was 14 — she and a friend "borrowed" a neighbor's car and drove from Phoenix to L.A. Four years and three failed attempts at high school later, she had moved to L.A. and was writing songs, waitressing, hanging out at the Tropicana Motel on Santa Monica Boulevard — where she famously met early running buddies Chuck E. Weiss and Tom Waits — and sleeping on couches, when she was lucky. "I remember when she was broke and used to sleep under the Hollywood sign," Weiss told Rolling Stone. 1979 was when it all changed: Early that year, Lowell George heard her composition "Easy Money" and recorded it for his solo album, "Thanks, I'll Eat It Here." By spring, she was the musical guest on "Saturday Night Live."
Forty springtimes later, midmorning at a cafe in the Treme neighborhood, Rickie Lee Jones seems, on the surface at least, not so restless. She loves dogs — after losing her beloved elderly mutt Juliette a couple of years ago, she's enjoying some time caring for her daughter Charlotte's French bulldog — and plants. (When she leaves the cafe, she's heading to her boyfriend's garden, she said, explaining that in the tropical heat of New Orleans, some plants need watering twice a day or more.) The romance, which is new, has influenced her work in a way, she said. So has the move to friendly, musically fertile New Orleans, where she often goes out to see live music and theater. "In New Orleans people say hello, they smile," she said. "They acknowledge your existence.
"I do think my dial has turned, and I'm in a happier, positive part of life," she said. "It's radiated into everything." The playfulness, for example, of "Kicks": "Most of my music demands that you stop and pay attention," she said. "This one, I wouldn't really be upset if you listened to it while you were doing something else."
Satisfaction, however, has not made Jones mild. At the New Orleans nightclub Tipitina's on a sweaty June Saturday night, starting off the "Kicks" tour with a stripped-down, traveling version of her band — New Orleans percussionist Mike Dillon, guitarist Cliff Hines and bassist Robbie Mangano — Jones' onstage presence embodied the shape-shifting nature of her creativity. She bounced around the stage with a big grin to the springy, joyous rubber-band groove of "Chuck E.'s in Love." On the '70s classic-rock stalwart "Bad Company," she dropped her shoulders and dipped her hips, leaning into a jam with Dillon. Then, for "Cry," the R&B ballad recorded by Ray Charles, among others, she stood straight as a lamppost, both hands on the neck of the mike stand and eyes limpidly aimed at the heavens, lashes fluttering, as she crooned like a big-band chanteuse.
"Kicks," as previous cover albums like 1991's "Pop Pop" or 2000's "It's Like This" have been, is an eclectic bill of fare that samples jazz and pop standards, soul and country and rock 'n' roll, from "Bad Company" to a cheerful, sympathetic take on Dean Martin's sad-clown tune "Houston" to a version of "Mack the Knife" that comes off both delightfully fresh and reverent to Kurt Weill, Louis Armstrong and everyone in between.
The "Kicks" sessions also led to a poignant reunion of sorts. Shane Theriot, the Grammy-winning producer and former Neville Brothers band member who had appeared on "The Other Side of Desire," was helping out with "Kicks" at the same time he was working on a project with Jones' old friend Dr. John, an as-yet-unnamed Americana project that features appearances from Aaron Neville and Willie Nelson, among others. Theriot suspected the album would be the final one for Dr. John, who passed away June 6.
"It was important to me to get people who had meant something to Mac," Theriot told me. While they were at work on "Kicks," he played Jones some demos of the new Dr. John material, and she offered to contribute vocals before he even had a chance to ask her. She recorded a stripped-down version of "I Walk On Guilded Splinters," the closer of his 1968 debut "Gris-Gris," and one other song.
Jones and her old friend didn't actually get to reunite in the studio — by the time he cut Rickie's tracks, Theriot said, Dr. John was no longer venturing out — but Theriot filmed the sessions and the Night Tripper loved them.
"After her parts were mixed," said Theriot of Jones, "I asked, do you want to hear your vocal? She put on the headphones, lay down on the floor and just grinned and grinned."
Mike Dillon, the New Orleans-based percussionist and vibes player, started touring with Jones in 2016 and was also a big part of "Kicks." An avant-garde jazz player in his other musical life, Dillon gets passionate talking about Jones' work, especially her jazz bona fides — and her resistance to being pigeonholed.
"She had Joe Henderson, one of the greatest tenor players of the modern jazz era, on 'Pop Pop,' and she had Charlie Haden from the Ornette Coleman quartet," he said. "And then she also worked with Mike Watt! She's just a pure artist, and that's probably why they don't know what to do with her."
Indeed, although "Pirates" landed at No. 49 on NPR Music's 2017 list of the 150 Greatest Albums by Women, it arguably might have been higher if Jones had been willing to walk a straighter path.
"It's not my nature to do one thing," she explained. "What grace has come to me lately is that I know who I am. I know where I'm weak and where I'm strong. It's about confidence, whether you're a singer or a plumber. I don't think it'd be helpful to my work if I saw myself through others' eyes."
In some ways, that's been a hard-won lesson. In others, it's simply the way Rickie Lee Jones has always been. The former Rolling Stone pinup will turn 65 in November, and she is aware that female artists don't usually get the consideration that men do when they produce work in the elder-statesman part of their creative lives; women do not, as a rule, get automatically afforded the crown of wisdom and venerable genius. But she's going to keep making the work, and trusting the discerning listener to pay attention.
"The thing is, before you get to be venerable as a woman, people assess you sexually," she noted matter of factly. "When they finally stop, they really listen to your work. I think that happened a few years ago, so the pressure is off. I lasted that long."
---
Get our L.A. Goes Out newsletter, with the week's best events, to help you explore and experience our city.
You may occasionally receive promotional content from the Los Angeles Times.