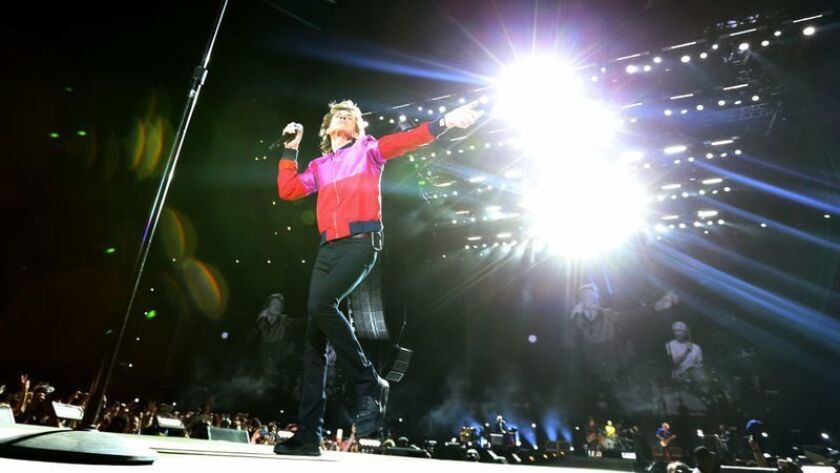 The Rolling Stones are rolling again. The group has rescheduled its North American No Filter tour, about two months later than originally planned after singer Mick Jagger underwent surgery in April, reportedly to replace a faulty heart valve.
Jagger, 75, telegraphed the resumption of the tour on Wednesday when he posted a video of himself on Twitter working on his stage moves in a dance studio. The video has been viewed almost 10 million times in the first 24 hours, according to a Twitter spokeswoman.
The rejiggered tour will now commence with shows June 21 and 25 at Soldier Field in Chicago and will reach Southern California on Aug. 22 with a stop at the Rose Bowl in Pasadena. The only other date in California is an Aug. 18 show in Santa Clara. The tour is slated to run wrap up Aug. 31 in Miami.
The group's performance in New Orleans that had been booked as a cornerstone of the 50th anniversary Jazz & Heritage Festival, which the Stones have never played, will now be a stand-alone date at the Mercedez-Benz Superdome. Tickets for that show go on sale May 31.
For all other stops, tickets for the original dates will be honored.
When the North American slate of No Filter tour dates was announced last fall, Jagger told The Times, "We've been quite happy doing these shows the way we're doing them. Nobody's really talking about stopping. But sometimes it's hard to believe you're still doing it."
Follow @RandyLewis2 on Twitter.com
For Classic Rock coverage, join us on Facebook
---