Ryan Destiny ready for the spotlight on her own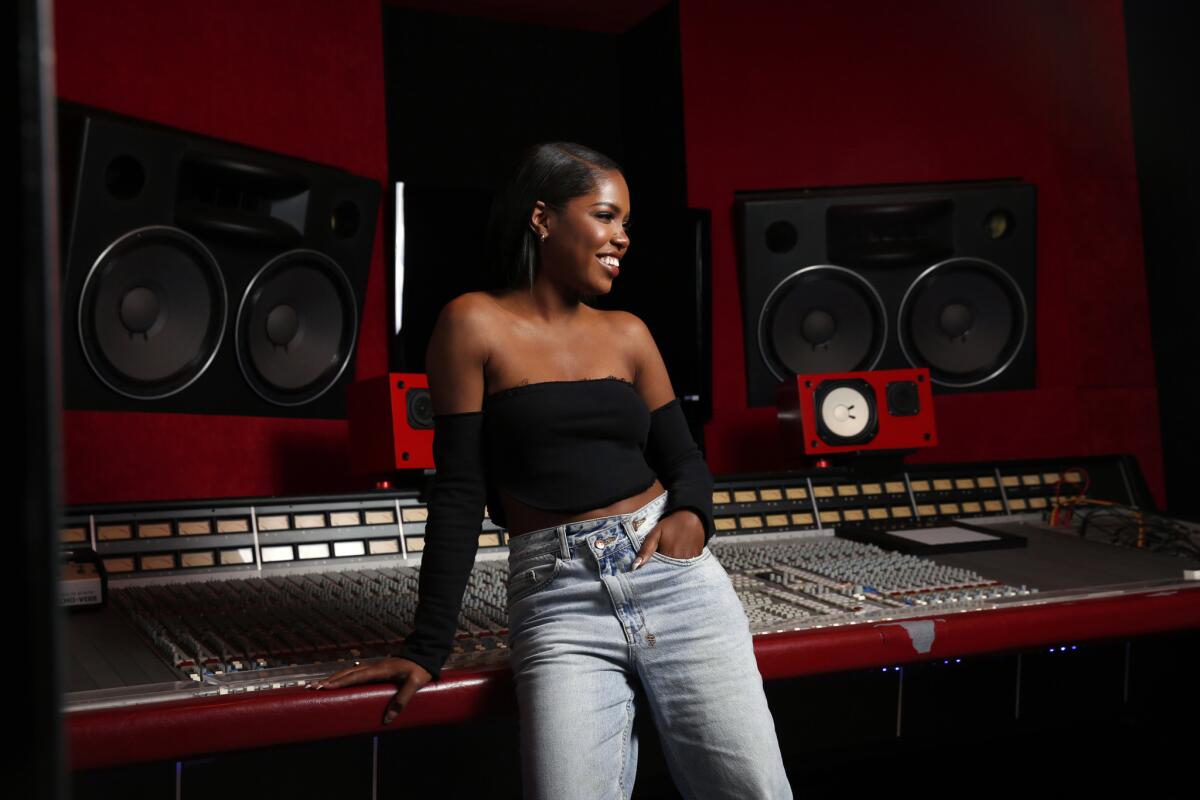 Ryan Destiny's breakout role on Fox's hit musical drama "Star" isn't exactly life imitating art.
On the series, she portrays Alexandra Crane, one-third of the fictional R&B trio Take 3, a role the singer-songwriter-dancer-actress landed after having to drop out of "Empire" due to contractual obligations with her own group, Love Dollhouse.
But where her on-screen persona is a savant in the studio, off-screen she's still finding her voice as an artist.
"It's cool to play [this character] that helps me grow," Destiny said during a recent break from filming the show's third season in Atlanta. "Alex just pops these songs out. For me, it's not that easy. I'm still getting into the groove."
After three years of starring on a soap about the ups and downs of a group, she's ready to launch her solo career with a forthcoming debut, aptly titled "On One's Own."
At 23, Destiny is already an industry veteran.
When she was in junior high, the Detroit native formed a girl group with her friends and landed on NBC's "America's Got Talent" in 2011 before its members splintered and morphed into Love Dollhouse. That group, which signed to Russell Simmons' All Def Music, released an infectious Motown-tinged bop in 2014 that caught some buzz before the girls went their separate ways.
Destiny went on to star in the 2015 indie film "A Girl Like Grace" and originally scored the role of Tianna on Lee Daniels' hip-hop drama "Empire," but label commitments kept her from accepting the role.
I finally get to be myself, and for people to see that and appreciate and recognize that it is different from the show and it is just me is really refreshing.
— Ryan Destiny on releasing music outside of her hit show "Star"
Landing the role of Crane not only offered her a second shot at working with Daniels (co-creator and executive producer of "Star"), it was a chance to portray the type of artist she aspires to be.
"One of my favorite things about Alex is she's the producer/songwriter of the group — like the face of it," Destiny said. "I'm figuring out who I am as an artist while Alex is figuring herself out too. It's interesting to go between those worlds."
The demanding schedule of "Star" — episodes tape in the same number of days as your typical drama, but the stars are also recording the music, learning choreography and filming music sequences — has made it challenging to record outside the show.
"On One's Own" is the result of nearly three years in the studio during downtime from the show. The EP's lead single, "The Same," is a slice of slinky late-'90s R&B that makes for a potent coming-out party.
But Destiny is in no rush to get the project out. For now, she's just happy people get to hear her on her own outside the fictional artist she portrays.
"I finally get to be myself, and for people to see that and appreciate and recognize that it is different from the show and it is just me is really refreshing," she says. "It's been a long time coming."
Inside the factory powering Fox's R&B girl group drama 'Star' »
Get our L.A. Goes Out newsletter, with the week's best events, to help you explore and experience our city.
You may occasionally receive promotional content from the Los Angeles Times.