'Shout Sister Shout!' puts early rock influence Rosetta Tharpe center stage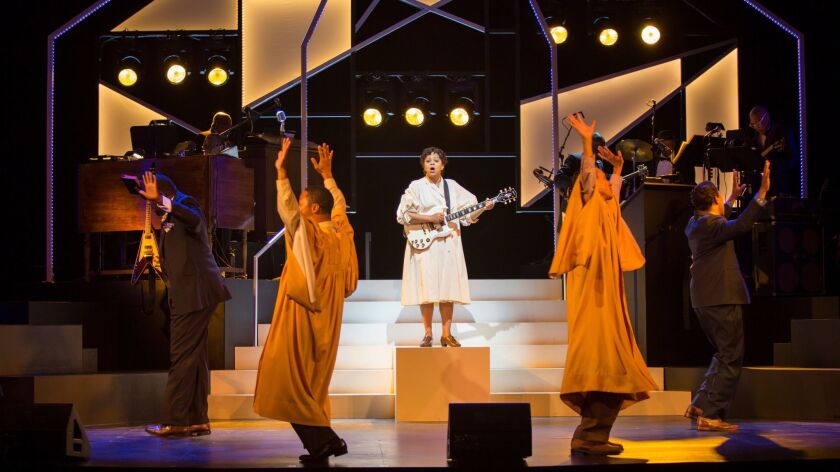 The Pasadena Playhouse's new musical "Shout Sister Shout!" — about the life and music of pioneering gospel singer Sister Rosetta Tharpe — is no doubt one of the only original creations for the stage born in a souvenir gift shop.
That's precisely how the idea for this show, which traces the career of the electrifying singer and guitarist who influenced early rockers such as Elvis Presley, Little Richard, Chuck Berry, Jerry Lee Lewis and Johnny Cash, came to its co-creator, Randy Johnson, who is also the writer and director of the "A Night With Janis Joplin" show that made it all the way to Broadway.
"When a production of 'A Night With Janis Joplin' was in Cleveland in 2013, I decided to go to the Rock and Roll Hall of Fame — I wanted to see the museum and see all their Janis stuff," Johnson said the day after Sunday's world premiere performance.
See the most-read stories in Entertainment this hour »
"You exit through the museum's gift shop," he recalled. "I always get a mug or something when I go to museums, and while I was looking around I saw this book on the shelf with a picture of this amazing woman on the cover. It was [Gayle F. Wald's 2007 biography] 'Shout, Sister, Shout!' My first thought was, 'That's the best title for a musical I've ever seen.'
"I took it home and read it and decided that this story needs to be told," he said. "I took my time in finding a follow-up to 'A Night With Janis Joplin,' and when I found this I thought it was the right continuation for my exploration of the great American musical artists."
He brought in collaborator Cheryl L. West to write the book on which they could hang a show that would explore the repertoire of the woman Bob Dylan once described as "a powerful force of nature — a guitar-playing, singing evangelist."
This Johnson-directed production includes, among more than a dozen songs, gospel standards such as "Up Above My Head" and "Strange Things Are Happening," as well as some of her forays into jump blues like "Tall Skinny Papa." Those are performed live with considerable verve by the show's star, Broadway veteran Tracy Nicole Chapman, with roof-rattling support from an onstage house band assembled by musical director Rahn Coleman.
As Times Theater Critic Charles McNulty argued in his review, this inaugural incarnation employs a potentially corny framing device in which the singer, who was a full-blown gospel music star in the 1930s, '40s and '50s, is remanded by God to help save the soul of a young white rock dude-in-crisis before she can pass through the Pearly Gates.
Still, much of the joy in the show is in the musical performances by Chapman and costars Yvette Cason (who shines as Tharpe's singer-preacher mother, Katie Bell, and in a cameo as another gospel superstar, Mahalia Jackson) and Angela Teek Hitchman (as Tharpe's '50s collaborator Marie Knight).
Even relative theater newcomer Logan Charles — the would-be rock star — by the end of the show summons a convincing degree of soul with his own voice thanks to his supernaturally prompted meeting with Tharpe.
Chapman sees an element of divine guidance behind her route into the show, which continues through Aug. 20.
"I went in to audition for Marie," Chapman said in a separate interview. "I hadn't done theater in a while because I was raising my children here in L.A.," she said referring to her kids— 6 and 8 — she and her husband had after relocating from New York to Sherman Oaks about 10 years ago.
"When I did the audition, they told me 'Go learn Rosetta's stuff and come back,' " she said. "I was shocked and surprised that I ended up getting the [lead] role. But because I knew her, and her music, I really wanted to honor this woman."
For Johnson too Chapman's audition was a lightning rod moment.
"When I heard her sing, watched her read, I just knew — this woman is Rosetta, and she actually plays the guitar," Johnson said. "When you hold these auditions, you intuitively know who's right the minute they walk in the door."
Johnson doesn't refer to "Shout Sister Shout!" — or "A Night With Janis Joplin," for that matter — as a "jukebox musical," instead describing both as "artist legacy portraits."
"We tell the stories of their lives through the music," he said. "It's not a greatest-hits revue."
Thus, there's no built-in nostalgia factor in this show as in so many musicals rooted in pop hits of the '50s, '60s and '70s.
Indeed, although Tharpe is a pivotal figure in the world of gospel music for the way she wedded stinging guitar strumming and solos from secular blues and jazz traditions with the inspirational content of spiritual music, she's little known to many contemporary music fans, and to most theatergoers.
"The biggest difference between this show and others that I've seen like 'Motown: The Musical' and 'Jersey Boys' [the homage to the Four Seasons] is that most people don't know who Sister Rosetta Tharpe is," Chapman said.
"We're creating a version of her that is introducing most people to her," said Chapman, who confessed to learning a thing or two herself in the process of donning Sister Rosetta's signature white gospel robe and strapping on one of her go-to Gibson electric guitars.
"The biggest thing I learned is that she was a child prodigy who started singing when she was 4 to 6 years old," Chapman said. "You think about child prodigies today and the experiences they go through, then think about this girl at 6 years old traveling through the South in the '20s with the racism and Jim Crow laws and all the things she saw. That had to affect her in a deep way."
Mainly, Chapman, Johnson, West and the rest of the "Shout Sister Shout" team hope the show will embody the message on Tharpe's epitaph after she died in 1973 in Philadelphia at 58:
"She would sing until you cried and then she would sing until you danced for joy," it reads. "She helped to keep the church alive and the saints rejoicing."
♦ ♦ ♦ ♦ ♦ ♦ ♦ ♦ ♦ ♦
'Shout Sister Shout!'
Where: Pasadena Playhouse, 39 S. El Molino Ave., Pasadena
When: 8 p.m. Wednesdays-Fridays, 4 and 8 p.m. Saturdays, 2 and 7 p.m. Sundays; ends Aug. 20
Tickets: $25-$115
Information: (626) 356-7529 or www.PasadenaPlayhouse.org
Running time: 1 hour, 55 minutes
Follow @RandyLewis2 on Twitter.com
For Classic Rock coverage, join us on Facebook
---
The complete guide to home viewing
Get Screen Gab for weekly recommendations, analysis, interviews and irreverent discussion of the TV and streaming movies everyone's talking about.
You may occasionally receive promotional content from the Los Angeles Times.