Spring music picks: Ariana Grande, Vince Staples, Bikini Kill and more
The sounds of spring in Southern California are not just about the annual Coachella Valley Music and Arts Festival. Here is a look at our music writers' must-see events this season.
APRIL 3 | Vince Staples
After a triumphantly acidic Coachella main stage set last year, Vince Staples returned with "FM!," a brisk, 22-minute LP that felt distilled to its acerbic, insightful essence. He's usually more scabrous in interviews than on record, but here he wields his wordplay like a switchblade and can filet an upbeat song like "Fun" in an instant: "My black is beautiful, but I'll still shoot at you." His hometown view of Long Beach is humid with menace and regret, but his cynicism about the future is always paired with real loss and yearning. (August Brown)
Fox Theatre, 301 S. Garey Ave., Pomona, 9 p.m. $30. www.vincestaples.com/tour
APRIL 13-14 | The Millennium Tour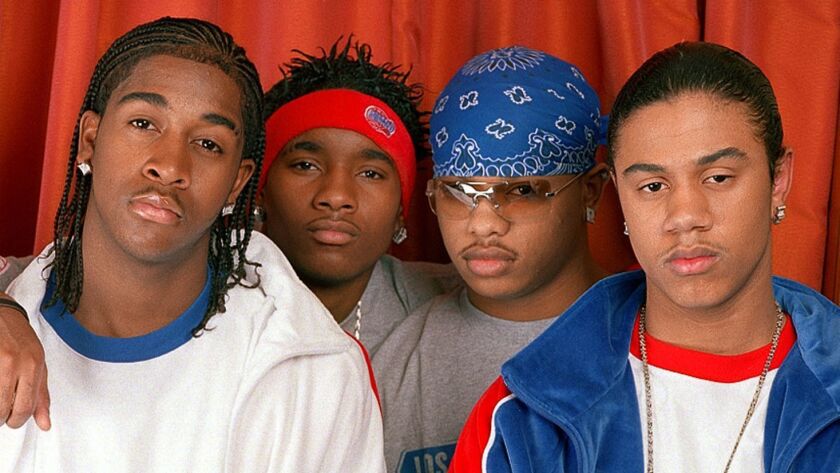 For kids of the "106 & Park" generation, there was no bigger group than B2K. The group had the moves, looks and catchy hooks expected of a boy band and brought some serious edge and swagger to a Y2K pop explosion overflowing with frothy offerings. B2K quickly became a multi-platinum sensation and defined early-2000s R&B. But the group was finished just as quickly as it shot to the top — the result of a bitter 2003 split. The Millennium Tour reunites B2K for the first time in 15 years, and it's brought along other acts that dominated the "106 & Park" era, including Mario, Pretty Ricky and Ying Yang Twins. (Gerrick D. Kennedy)
The Forum, 3900 W. Manchester Blvd., Inglewood, 7:30 p.m. $99-$424. www.b2kofficial.com/tourdates
APRIL 20 | Mdou Moctar, Marisa Anderson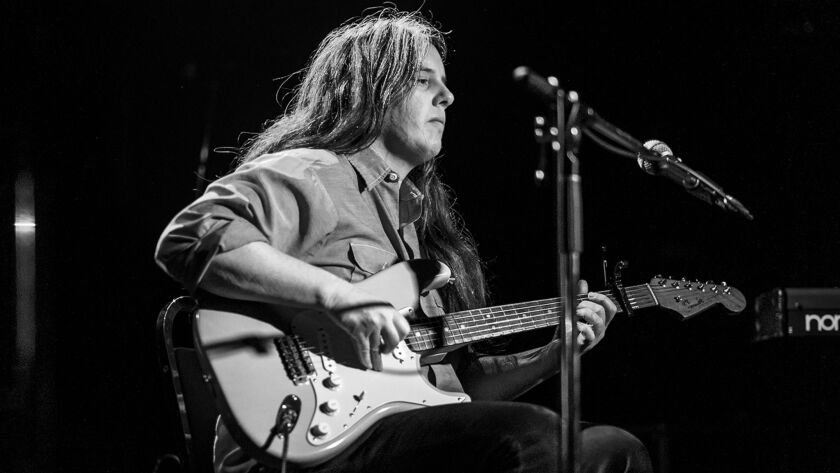 In 2010, the small U.S. label Sahel Sounds issued "Music From Saharan Cell Phones, Vol. 1," featuring the music of artists gathered, yes, by digging through old SD cards from discarded cellphones. One of the stars of the mesmerizing collection was guitarist Mdou Moctar, whose wicked work since then has drawn an increasingly passionate fan base. In January, musician Jack White issued a live Moctar recording on his Third Man imprint, and it's great. Moctar — who, like the Saharan guitar band Tinariwen and the solo artist Bombino, is Tuareg — is based in Agadez, Niger, but regularly tours. An electrifying performer, the artist and his band build electric guitar-centered jams dense with beguiling, relentless dance rhythms. Opening this show is the young solo guitarist Marisa Anderson, whose meditative instrumental work teems with dynamic, melodic ideas. (Randall Roberts)
Zebulon, 2478 Fletcher Drive, Los Angeles, 8 p.m. $18-$22. www.sahelsounds.com/artists/mdou-moctar
APRIL 25-26, MAY 1-2 | Bikini Kill
Excitement about a reunion by this pioneering riot grrrl band quickly turned to frustration when tickets for its run of comeback shows sold out so quickly that many fans were left out in the cold. (Passes for the group's four Palladium shows are currently available only from resellers.) But the intensity of the online outcry just demonstrated how passionately people feel about Bikini Kill, which injected catchy punk songs with a radical feminist message for seven intense years before its members broke up in 1997. Original guitarist Billy Karren is sitting out the reunion; here, singer Kathleen Hanna, bassist Kathi Wilcox and drummer Tobi Vail will be joined by the writer and musician Erica Dawn Lyle. (Mikael Wood)
Hollywood Palladium, 6215 Sunset Blvd., Hollywood, 7 p.m. $66. www.bikinikill.com/tour
MAY 3-4 | Shoreline Mafia
With Drakeo the Ruler and 03 Greedo in lockup, the leading light of the new wave of L.A. rap to emerge after the Compton resurgence of the 2010s is the quartet Shoreline Mafia. The scene is mostly centered around the producer Ron-Ron, but after signing with Atlantic, Shoreline is poised to be its commercial breakthrough. The group is super prolific (it even cut a Christmas album, "OTXMAS"), and after three mixtapes and an EP in just a couple of years as a band, it's looking ready to make a definitive statement. (A.B.)
Shrine Expo Hall 665 W. Jefferson Blvd., Los Angeles, 8:30 p.m. $34.50-$40. www.hellawave.com/tour
MAY 6-7, 10 | Ariana Grande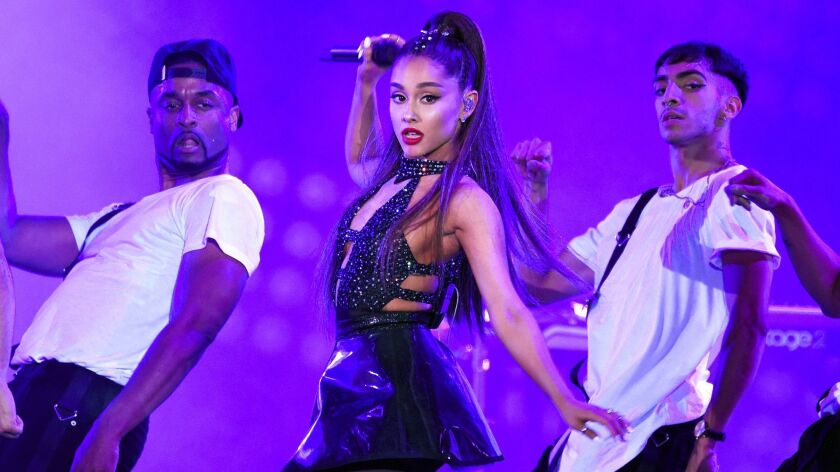 Is there a more self-aware pop star in 2019 than Ariana Grande? After channeling grief and heartbreak into last year's bright, triumphant "Sweetener," she went right back into the studio after another round of personal hardships only to come out swinging with her second album in six months, "Thank U, Next." Fervent outputs have been hip-hop's DNA for years, and Grande was saavy enough to capitalize on both her propensity to answer headlines with music and our insatiable appetite for tunes in a playlist-forward streaming world. Her last tour positioned her as a performer ready for the big leagues, and now she's hitting the road at a time when she's dropping hit after hit. What's sweeter than that? (G.D.K.)
Staples Center, 1111 S. Figueroa St., Los Angeles, 8 p.m. May 6-7. The Forum, 3900 W. Manchester Blvd., Inglewood, 8 p.m. May 10. $144-$254. www.arianagrande.com/events
MAY 14-15 | Kali Uchis with Jorja Smith
The enigmatic singer, songwriter, producer and all-around creative spark Kali Uchis buzzes through sounds, vibrations and inspirations with such energy that when it comes to musical classification, she's hard to capture. Weaving R&B, contemporary beat music, tinges of rock, cumbia and waves of interlocking grooves, Uchis has been on the rise as a solo artist after appearing on tracks by British hit-makers Gorillaz, inventive rapper Tyler, the Creator, and R&B crooner Daniel Ceasar. The Los Angeles-based Uchis will perform for two nights at the Greek with British R&B singer Jorja Smith. Smith is also on the rise as a solo artist, due in part to her featured vocals in tracks by Uchis, R&B singer Khalid and British rapper Stormzy. (R.R.)
The Greek, 2700 N. Vermont Ave., Los Angeles, 6 p.m. $39.50-$75. www.kaliuchis.com/shows
MAY 17-18 | Eric Church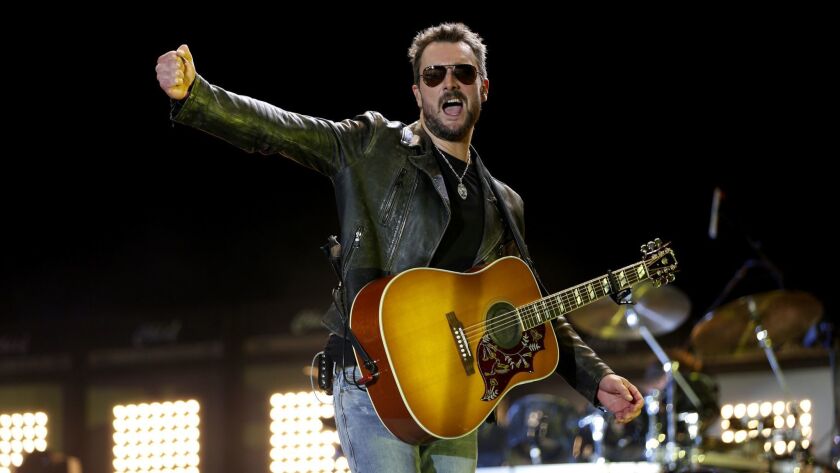 The country singer's excellent 2018 album, "Desperate Man," made a small splash by his superstar standards. But that hasn't stopped Church from playing the kind of king-size concerts he's known for on the road. Expect him to do at least three hours in each gig of this two-night stand, pulling from all six of his studio records and throwing in a surprise cover or two inspired by his surroundings. Last time he was at Staples, in 2017, he barreled through Randy Newman's "I Love L.A." with more enthusiasm than precision. It sounded great. (M.W.)
Staples Center, 1111 S. Figueroa St., Los Angeles, 8 p.m. May 17-18. $25-$129. www.ericchurch.com/events
MAY 22 | Mavis Staples
The veteran gospel, R&B and soul singer will join the ranks of musicians still active at 80 when she reaches that milestone birthday this summer. She remains a commanding force as a singer and someone who uses her music to preach the gospel of the ongoing struggle for civil rights. She's released a string of potent albums over the last dozen years, the latest being the "Live in London" set that culls songs from throughout her half-century-plus career as a solo act and as a member of the Staple Singers. (Randy Lewis)
Theater at Ace Hotel, 929 S. Broadway, Los Angeles. 7:30 p.m. $39-$79. www.mavisstaples.com/tour
MAY 24 | El Gran Festival de Musica Cubana
The richness of the Cuban music scene will be on display at this gathering of five acts that will survey a broad swath of what the island nation's music has been historically and what it is today. The lineup includes long-running populist group Los Van Van with Ibrahima Ferrer Jr. and other guests, along with Juan DeMarcos, one of the founders of the influential Cuban folk group Sierra Maestra and later a member of the Buena Vista Social Club. Rounding out the show are Eliades Ochoa y Cuarteto Patria, Barbarito Torres y su Piquete Cubano and Jesus Aguaje Ramos y su Orquesta Buena Vista. They'll present examples of Cuban son, mambo, guajira and jazz, as well as songs that show the contemporary marriage of Cuban roots music with hip-hop, R&B and soul music. (R.L.)
Greek Theatre, 2700 N. Vermont Ave., Los Angeles. 7:30 p.m. $65-$125. www.lagreektheatre.com
Spring Arts Preview 2019 full coverage »
Follow me on Twitter: @toddmartens
---
From the Emmys to the Oscars.
Get our revamped Envelope newsletter, sent twice a week, for exclusive awards season coverage, behind-the-scenes insights and columnist Glenn Whipp's commentary.
You may occasionally receive promotional content from the Los Angeles Times.