Of all the things Aerosmith frontman Steven Tyler had learned upon relocating to Nashville a few years back to make the first solo album of his estimable career, the one that clearly tickled him the most involved a particular stretch of freeway.
That would be Interstate 440, the 7 ½-mile loop that is the southern bypass around downtown Nashville.

"Route 440 — that's the key of A, but nobody knows it," he said excitedly in a recent phone conversation. Tyler lived in the country music capital in 2015 and 2016 while working on his 2016 album "We're All Somebody From Somewhere."
He's referring, of course, to the sound-wave frequency of 440 cycles per second, producing the note A in the Western musical scale, and the standard frequency to which musical instruments are most often tuned.
"This town is crazy, crazy musical," said Tyler, who turned 70 in March. The fact that somebody chose a number strongly associated with music as the designator for one of its freeways, he said, "shows that it's not like any big secret. What makes this town so great is the fact that any time somebody writes a song, somebody else says, 'I'm going to write a better one.'"
The Interstate 440 story is one of several anecdotes he relates in a new documentary, "Steven Tyler: Out on a Limb," following him along his journey south to Nashville to write and record the songs that made up the album.
Directed by Casey Tebo, a onetime Aerosmith roadie who worked his way up through the ranks to shooting videos and other film projects for the notorious hard rock band, "Out on a Limb" takes viewers onstage and backstage when Tyler performs at the celebrated Ryman Auditorium, often called the Mother Church of Country Music.
It also features interviews with Guns N' Roses guitarist Slash, as well as other friends and songwriters he collaborated with, and members of the Nashville-based group Loving Mary. The last performed with him on the album.
The title refers to the doubts Tyler faced over the decision by one of hard rock's quintessential screamers to go country with his first-ever solo effort.
It was less of a question whether the Nashville music community or country fans would welcome him: Both have famously embraced musicians from other genres who visit or adopt the genre for good, among them Sheryl Crow, Darius Rucker, Kid Rock and Jessica Simpson.
Going back further, Bob Dylan notably relocated to Nashville to complete his watershed 1966 double album, "Blonde on Blonde," using a bevy of that city's studio pros.
Neil Young also set up shop there to record most of his commercial breakthrough album, "Harvest," in 1972.
"So many of my favorite artists have worked here: Dylan, Neil, Willie Nelson, Waylon Jennings," Tyler said. "You gotta wonder: Why is that? Is there something in the water? Or is it just that a lot of people here think music and play music."
"Steven Tyler: Out on a Limb" recently had its world premiere in the city it salutes, at the opening of the Nashville Film Festival on May 10, which Nashville Mayor David Briley also proclaimed as Steven Tyler Day in the city. The documentary is now streaming through video-on-demand and digital HD services.
"It shows another side of me," he said. "It shows how great this band is, shows the vibe at the Ryman and lets folks give their opinions about music. It shows this period of time in my life. I've never done a solo record, and in that, it's pretty cool."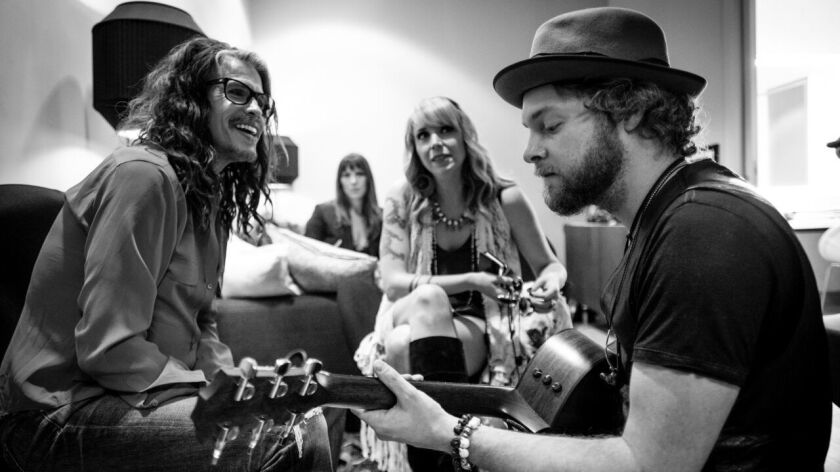 It makes no attempt to sidestep the famous interpersonal tensions among the members of Aerosmith, noting how rarely the guys in the band socialize off tour.
By contrast, Tyler often talks on camera about the camaraderie among the writers and musicians he encountered in Nashville, a feeling of community that ultimately prompted him to move there full time.
"As a songwriter, I came down here to see if I would write with anybody else," he said. "I had written some songs with Aerosmith that I felt were country-ish. I moved here, and I fell in love with the town."
An early motivator, he said, was hearing bluegrass-country luminary Alison Krauss sing a song that resonated with him at a difficult time in his life about a dozen years ago.
"I'd gotten a divorce, and I was just losing it," he said. "I heard her sing 'Ghost in This House' [from her 1999 album 'Forget About It'] and I could not listen to that album without crying."
Through his management, he reached out to Krauss with a phone call. "I said 'Hi, this is Steven Tyler — your album is a real tear-jerker,' and I told her what I'd been going through.
"She said, 'That's the damnedest thing: My baby daddy left me' " around the time she made that record, Tyler recalled. "Then she said, 'I cut my teeth on you and AC/DC.' Who knew? I asked her, 'How did you go through that grief and be able to sing that song?'
"Before I got there [to Nashville] I thought, 'Wouldn't it be great to do something with her?' When Robert Plant did that ['Raising Sand'] record with her [in 2006], I was sort of bummed about it. He beat me to it."
He has been touring with Loving Mary periodically since "We're All Somebody From Somewhere" was released, and their summer tour takes them through the Northeast and then to Europe, including the U.K., for a handful of shows.
Along with the discovery of Interstate 440, Tyler has developed a keener appreciation for what makes rock rock, and what keeps country country.
"There's a freedom in Aerosmith that I enjoy," he said. "I can write lines [from 'Walk This Way'] like 'I talked to my daddy, he say, you ain't seen nothin' / Till you're down on a muffin,' and use the filthiest words on the planet. Then we could write something [more introspective] like 'Cryin': [he starts singing] 'There was a time I was so broken-hearted….' which could be called a very country song."
He's rearranged a few Aerosmith classics, including "Sweet Emotion," to perform alongside the material from the solo album when he tours.
"Lyrics and melody play a big role in country, and the way singers fall off their notes in country — you won't find that very often in rock," he said. "Although, look at how Robert Plant falls off notes. In that, country creates its own little niche."
Mostly, he's been reveling in the sense of family he's found in Nashville.
"When I was working on the album, I found out that Alison lived right down the street from where I was writing the song 'It Ain't Easy' with the Barlowes [sibling writers Cary and Nathan] and Hillary Lindsey. I called her and said, 'Baby, I'm right around the corner,' and she said, 'Come right over.' When I got there, she had a crock pot going in her kitchen. It was beautifully real."
Follow @RandyLewis2 on Twitter.com
For Classic Rock coverage, join us on Facebook
---