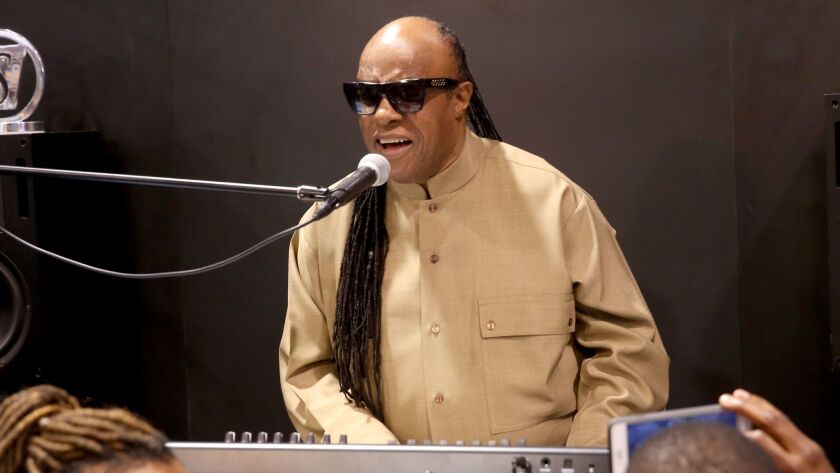 Stevie Wonder has been tapped to give the keynote address at the American Society of Composers, Authors and Publishers' annual ASCAP I Create Music expo next month in Los Angeles.
During the conference, set for for April 13-15 at the Loews Hollywood Hotel, the 25-time Grammy-winning singer, songwriter, producer and multi-instrumentalist will also be presented ASCAP's first Key of Life award, in recognition of his track record of 65 hits on the Billboard Hot 100 singles chart, including nine that reached No. 1.
See the most-read stories in Entertainment this hour »
"Stevie has deservedly been given every award imaginable, yet he continues to innovate and elevate the art of songwriting to the point where no honor can truly capture what he means to his creative kin at ASCAP, and to songwriters and music lovers worldwide," ASCAP President and Chairman and veteran songwriter Paul Williams said in a statement.
"This award has been created as a way to honor his singularly inspirational songwriting career and to recognize his spirit in generations to come."
In the future, the Key of Life award will be presented "to songwriters and composers who best exemplify Stevie's legacy through talent, dedication and unparalleled heart," ASCAP officials said.
Wonder has been a member of the 113-year-old performing-rights organization for more than 50 years and will be joined at the conference by other ASCAP members including the Futuristics songwriting and producing duo, "Manchester by the Sea" film composer Lesley Barber, songwriters Dave Pirner, Jean-Baptiste, Dave Bassett, Malik Yusef, Sam Hollander and others who've been responsible for numerous hits in recent years.
The expo, which explores various facets of songwriting and publishing, is billed as the largest conference in the U.S. for songwriters, composers, artists and producers in all music genres. ASCAP officials reported that last year's event drew a record 3,000 participants.
Wonder's talk and award ceremony are scheduled for 3:45 p.m. April 15 in the hotel's Dolby Ballroom.
Follow @RandyLewis2 on Twitter.com
For Classic Rock coverage, join us on Facebook
---