Review: Stevie Wonder's holiday concert played like an open-mike night for his pals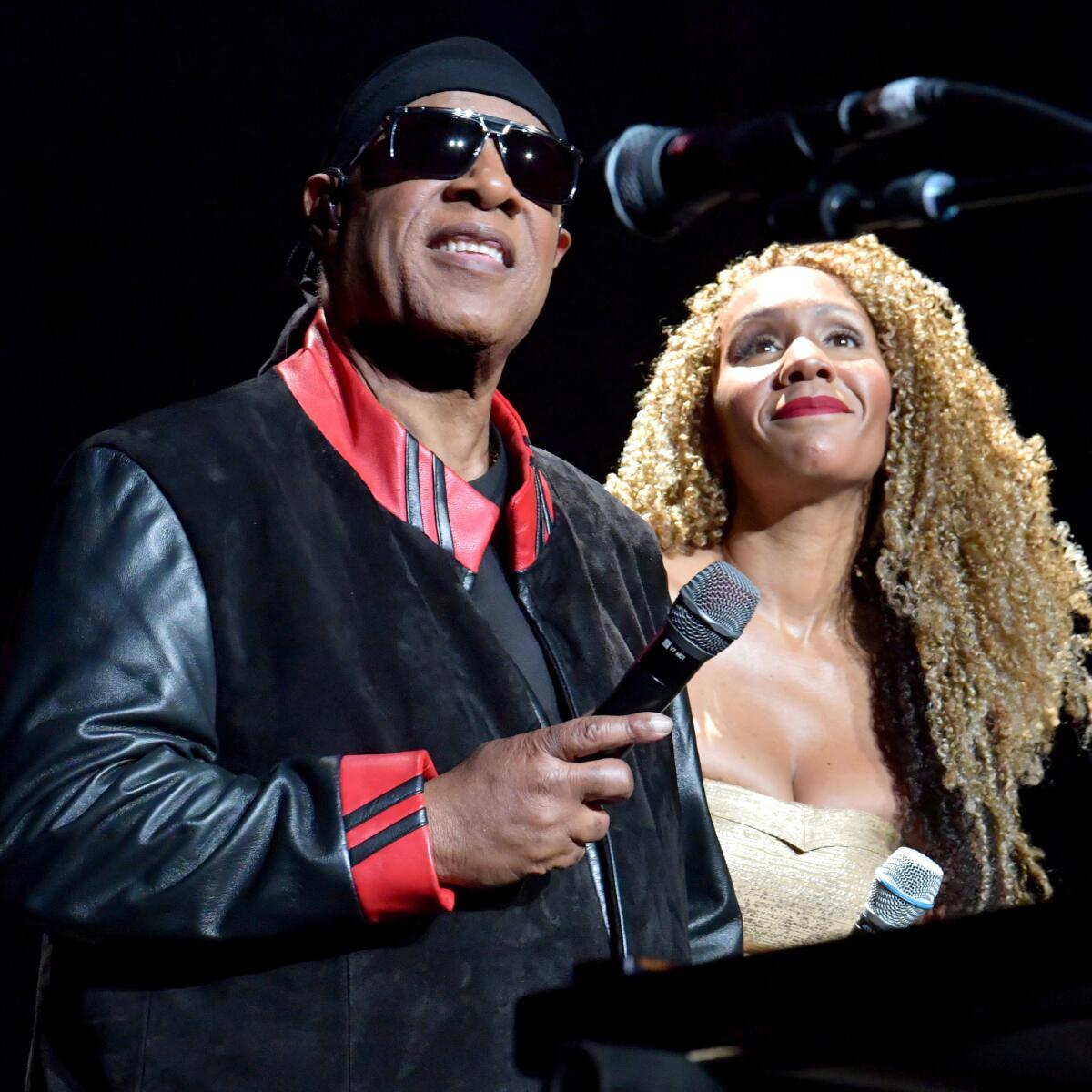 Pop Music Critic
"I know we've got to leave in a minute, but I want to do this song with this person."
That was Stevie Wonder, almost comically indefinite, at 10:59 on Sunday night, addressing the crowd gathered at Staples Center for the singer's House Full of Toys benefit.
An annual holiday event, the concert aims to collect unwrapped gifts from attendees for distribution to "children, people with disabilities and families in need," according to a spokesperson; this year's edition, Wonder's 22nd overall, doubled as a fundraiser for victims of last month's California wildfires.
It was also, as Wonder's comment made clear, an extremely loosey-goosey affair: 3 ½ hours of rambling speeches and scattershot performances, some duets with the legendary headliner, others by folks out there on their own.
Those who had been to House Full of Toys before knew not to be surprised. Yet recently the singer has shown signs of wanting to tighten up this typically relaxed production.
Last year he built the show around complete performances of two landmark albums from his early-1970s peak: "Talking Book" and "Innervisions." And that followed the 2013 installment, in which he played "Songs in the Key of Life" from beginning to end.
Both made you want to see what Wonder, 68, might do with other classics from his discography (or indeed with a tightly prescribed set list).
But that's not what he had in store here: As friendly as it was formless, Sunday's show played like an open-mike night populated by Wonder's pals and admirers.
The host kicked off the evening with spirited renditions of "What Christmas Means to Me" and "Isn't She Lovely." His voice sounded great; the large band led by Rickey Minor was crisp but funky.
As soon as he'd warmed up the room, though, Wonder stood to go.
"OK, OK, that's enough," he said before ceding the stage to a series of guests — Chanté Moore, Ro James, Ari Lennox and a boy band we were told had been featured on an ABC reality show — that hardly filled the vacuum.
Lukas Nelson fared better with a moving "Find Yourself"; you could practically feel people in the crowd wondering who this soulful white dude was. (One of the show's MCs, comedian Chris Spencer, introduced the singer as Willie Nelson's son, but he didn't mention that Nelson co-wrote much of the music from Bradley Cooper's "A Star Is Born.")
Leon Bridges was good too in his retro-R&B ballad "River," though his own introduction by Wonder's daughter Aisha Morris — she pointed out that we might know Bridges' music from several TV commercials — seemed to deflate a young artist who'd surely have preferred to be described in more creative terms.
Daley and PJ Morton came next, which is about all you can say about their performances.
And maybe Wonder agreed, given that he then reemerged for delightful renditions of "Little Drummer Boy" and "Overjoyed." Or delightful fragments of those songs, that is.
"It's not my show!" Wonder insisted as he walked off again. Then it was time for Ella Mai — coolly sensual in her "Boo'd Up" even as Wonder's drummer went overboard with inappropriate power fills — and Anderson .Paak, who called Wonder his hero and played a tune to prove it.
Sunday's gig closed (though not before Sheila E turned up to do "The Glamorous Life") with Wonder back behind his keyboard for some collaborations: "My Cherie Amour" with Moore, a reggae-fied "Winter Wonderland" with Morton, "Creepin'" with Lennox.
Wonder's would-be final request — the one that made you assume curfew was 11 p.m. — ended up being "You and I," for which he was joined by Daley, who made a go of stealing the song until Wonder out-riffed him with ease.
But now that he'd finally seized the spotlight, Wonder appeared to be enjoying himself as much as we'd been longing to enjoy him; he kept playing for another half-hour, chewing through extended vamps on "Superstition" and "As" and "Another Star" with energy and wit.
Imagine if he'd stuck around for more of his own party.
Twitter: @mikaelwood
Get our L.A. Goes Out newsletter, with the week's best events, to help you explore and experience our city.
You may occasionally receive promotional content from the Los Angeles Times.