Tropicália Fest: Five acts everyone should listen to (beyond Morrissey and Cardi B, of course)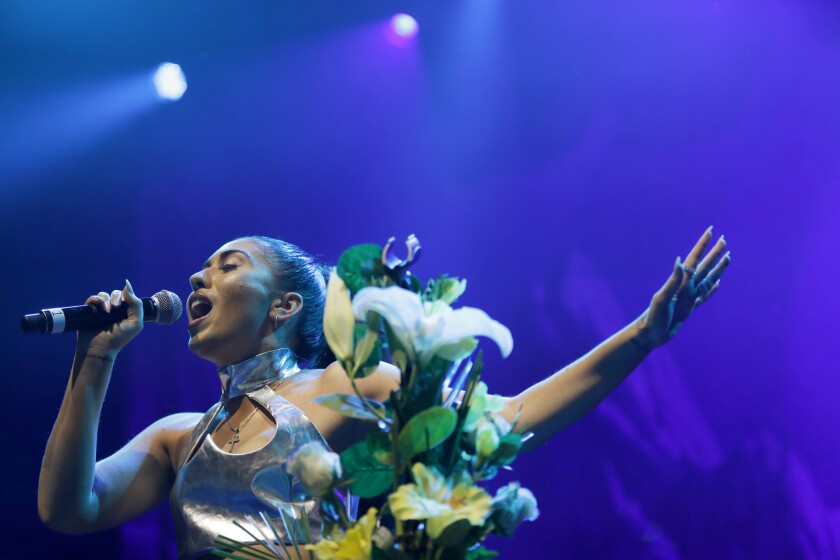 Pop Music Critic
The headliners of this weekend's Tropicália Music & Taco Fest say plenty about the event's broad view of Latin pop at a moment when that genre (if we can really call it that) is dramatically expanding its footprint in the United States.
Set for Saturday and Sunday at Long Beach's Queen Mary Park, Tropicália will feature performances by Morrissey, the British post-punk balladeer with a robust Mexican American following, and Cardi B, the New York rapper whose music draws proudly from her Dominican and Trinidadian roots.
But the show, now in its second year, is no less diverse further down the bill. Here are five other acts to catch.
Kali Uchis
In spite of its title, this Los Angeles-based singer's impressive debut album, "Isolation," plays like a crowded festival all on its own. It jumps from jazzy love songs to retro girl-group pop to funky West Coast rap — appropriate for a young Colombian American woman who's collaborated with everyone from Snoop Dogg to Juanes. In September, Uchis even joined the L.A. Philharmonic at the Hollywood Bowl to cover the Delfonics' old-school R&B hit "La-La Means I Love You." Maybe she'll reprise that one here.
Natalia Lafourcade
She got an undeniable boost when she recorded a version of "Remember Me" with Miguel for Pixar's smash "Coco" (and later went on to perform the tune at this year's Academy Awards). But Lafourcade was already an important figure in Mexican music by the time Hollywood came calling: Her 2017 album "Musas: Un Homenaje al Folclore Latinoamericano en Manas de los Macorinos Vol. 1" — a gorgeous yet understated homage to Latin American folk music — was nominated for album of the year at the Latin Grammy Awards. A sequel came out in February (and is up for more Latin Grammys at this month's ceremony).
Devendra Banhart
Remember freak folk? That neo-hippie movement from the early 2000s — with players including Animal Collective and Joanna Newsom — now seems like it happened a lot longer ago than it did, which probably suits Banhart just fine. On his latest album, 2016's gentle "Ape in Pink Marble," the singer and strummer sounds happily liberated from the pressure to serve as a mascot for some idea of modern psychedelia. He's also thinking more concretely than he used to, as in a recent single about the 25th Amendment to the Constitution — you know, the one that details how to remove an unfit president from office.
Mazzy Star
Heroes to glamorous depressives and Hollywood music supervisors alike since they broke out with 1993's endlessly licensed "Fade Into You," this long-running L.A. noir-folk duo have never topped that perfect bummer of a ballad. Yet Mazzy Star's belief in its signature sound — think Stevie Nicks fronting the Velvet Underground circa "Pale Blue Eyes" — is almost as inspiring as the music is gloomy. On the fittingly titled "Still" EP, released in June, singer Hope Sandoval and guitarist David Roback haven't cheered up a bit.
Clairo
One disappointment going into Tropicália: that the lovable Cuco was forced to drop off the show following a van accident last month. Fortunately, the festival still has Clairo, another budding bedroom-pop auteur with a clear instinct for catchy melodies, dinky drum-machine grooves and funny but moving lyrics that get at the bleak absurdity of the social-media era.
Twitter: @mikaelwood
---
Inside the business of entertainment
The Wide Shot brings you news, analysis and insights on everything from streaming wars to production — and what it all means for the future.
You may occasionally receive promotional content from the Los Angeles Times.