'Anything can happen' at MTV VMAs, but Britney Spears' return marks its nostalgic bent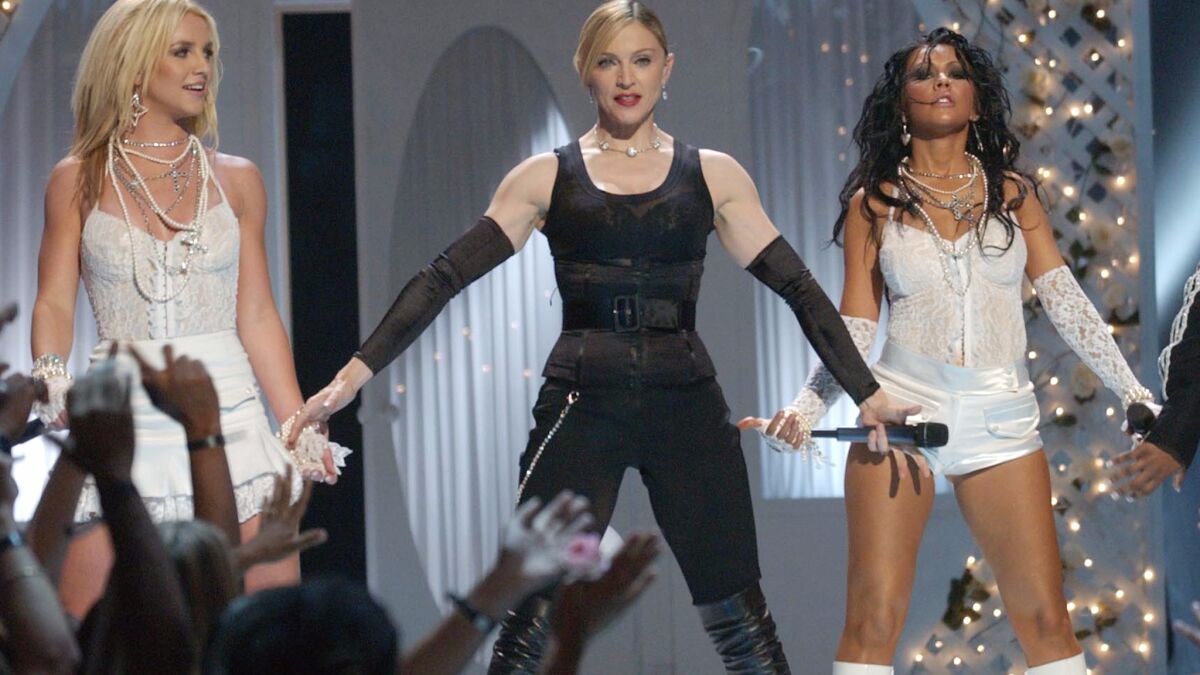 For an idea of the buzz-worthy moments that might play out onstage during Sunday's MTV Video Music Awards, look to past years of the network's annual pop spectacle.
Heading into the weekend, the most talked-about moment was the return of Britney Spears to the VMA stage, her first performance on the telecast since 2007. If the VMAs once led the pop conversation, some wonder today if the gala is simply responding to it.
Recent years have shown that the VMAs, while still an experience that generates tons of tweets and memes, doesn't command TV audiences the way it once did. Last year's Miley Cyrus-hosted telecast drew 9.8 million viewers, down by about 500,000 from the previous year despite airing on 10 networks owned by the MTV's parent company, Viacom.
"For a period of time it was really, absolutely so groundbreaking," said Matt Pinfield, a radio personality and former host of MTV's alt-rock video show "120 Minutes." "It was a place where all things of our culture met."
See the most-read stories in Entertainment this hour »
The ability to speak to a generation has long sustained the VMAs, but today an altered landscape has made it more difficult.
With digital and social media placing the power of music consumption and taste-making into the hands of fans and further away from music television, the question — and criticism — of the VMAs' relevance comes up each year. Generations who came of age during the show's groundbreaking first quarter-century are older, and today's audiences live in an on-demand culture.
Increasingly over the years, show producers have turned to the telecasts of yore to drive the show.
See Madonna's baton-passing (read lip-locking) moment with Britney Spears and Christina Aguilera in 2003, or the reunion of 'NSync in 2013. The network also dusted off its classic "I Want My MTV" slogan for the 2014 telecast. In short, there's always been at least one foot in the past.
And this year is no different. Look, perhaps, to 2007.
At that year's ceremony — held at Las Vegas' swanky Palms Casino — Rihanna performed on the main stage for the first time, Beyoncé lost the majority of the awards she was up for, Kanye West helped oversee the nightclub vibe of the ceremony and Spears fizzled with a troubled and stiff opening number.
Much has changed since then, but the major players are largely the same.
Beyoncé is Sunday's front-runner with 11 nods for her incendiary "Lemonade"; Spears is returning to the VMA stage for the first time since her infamous showing; the lifetime achievement award is going to Rihanna; and West — now pop's biggest instigator — will be present.
Looking back is inherent with any awards show, but for MTV an air of nostalgia has long been part of the appeal of its telecast.
The ceremony has returned to New York, where it began, setting up shop at the famed Madison Square Gardens for the first time. And there's also the reemergence of Spears, who of late has been parked in Las Vegas and whose famous python-assisted 2001 VMA performance inspired an advertisement for this year's awards.
"We want to embrace the heritage of the show, and the history of it, but it also happens organically," VMA executive producer Jesse Ignjatovic noted. "Those kind of moments present themselves, especially when you bring the show back to New York. We definitely want to find those opportunities … but they also tend to just happen."
MTV President Sean Atkins said there wasn't a lot of time spent "with intentionality on nostalgia" for this year's ceremony.
"The VMAs have never had the Oscars or the Grammys problem, like there's a bunch of people in a corner who make magical decisions and it homogenizes," Atkins said. "Anything can happen at the VMAs, any artist can be there … and that's what I think our audience loves about it."
West, for instance, reportedly has an open slot to do whatever he pleases; Ariana Grande will reunite with Nicki Minaj to perform her latest single, "Side to Side"; and Nick Jonas, Future and the Chainsmokers have all been booked for performances.
Beyoncé has been in top-secret rehearsals and Rihanna, as the recipient of the Vanguard Award, will have a meaty performance that will cover her entire discography. (Past recipients Beyoncé and Justin Timberlake staged 15-minute retrospectives.)
Rihanna is the latest iconic artist to receive the Video Vanguard Award at the MTV Video Music Awards. Retrace her rise to the pop stratosphere, from her early hits to her more recent work, and her impact beyond the music world.
Rihanna fans will "be in awe in terms of how much she's done and grown" since her first VMA performance in 2007, Ignjatovic said
Undoubtedly all eyes will be on Spears. She's set to perform her new single, "Make Me" with G-Eazy, and producers are promising a showing that's not "a typical performance."
"She's been on that stage many times. She hadn't wanted to do them for awhile [because] she wanted to focus on other things, but she decided she wanted to do them again so we're doing them again," Spears' longtime manager Larry Rudolph said.
"The VMAs are special. I don't want to lump them in with every other award show. She's like the queen of the VMAs," Rudolph continued. "Probably three or four of the most iconic moments in MTV history are of her at the VMAs. We're very mindful of that and respectful of the platform."
But will it be enough to move the needle?
"[The VMAs] used to create pop culture and now it's chasing it. It's following the trends," Pinfield said. "It's fun as a show, but it's not what it was back when Madonna did "Like a Virgin" … what was happening there was changing the world. It was changing the musical landscape at that period of time. And it's not anymore.
"But the reason why people still want to watch it or be a part of it is because at the end of the day, it's still about that love for music."
2016 MTV Video Music Awards
Where: MTV, also BET, CMT, Comedy Central, Logo, Spike, TV Land and VH1
When: 9 p.m. Sunday
Rating: TV-14-DL (may be unsuitable for children under the age of 14 with advisories for suggestive dialogue and coarse language)
ALSO:
Oops! Britney Spears does 'Carpool Karaoke' with James Corden
Britney Spears' smooth 'Make Me' sees the pop star exploring a new, mature sound
Review: On 'Glory,' her sexy new album, Britney Spears is back in control
---
Get our L.A. Goes Out newsletter, with the week's best events, to help you explore and experience our city.
You may occasionally receive promotional content from the Los Angeles Times.