Backstreet Boys are back — in hologram form at the Grammy Museum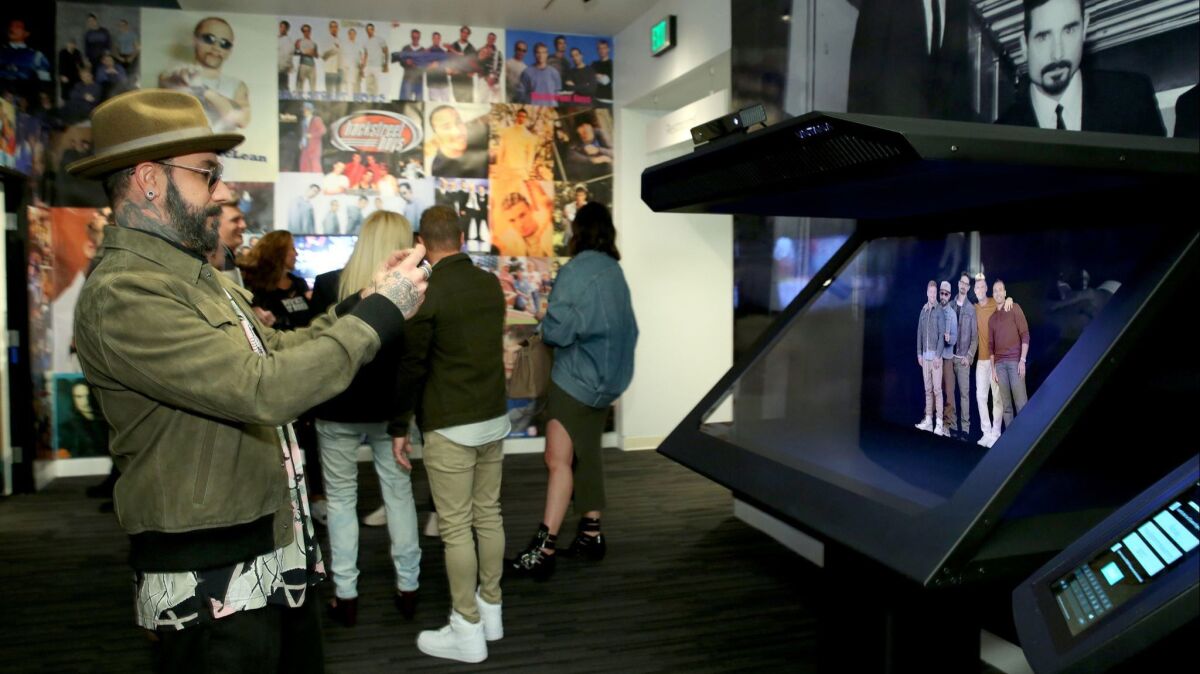 The Grammy Museum's first major foray into mixed-reality allows visitors to get up close and personal with the Backstreet Boys — in hologram form, at least. As part of of the nostalgia-inducing exhibition "Backstreet Boys: The Experience," a mini-hologram of the band will be on display — and interact with guests — from April 10 to Sept. 2.
The hologram, created in conjunction with Los Angeles-based interactive experience company Vntana, turns users into projections themselves, placing their live image on display alongside that of the band. The 3-D images are conjured between two horizontal frames and can instantly capture an image of a Grammy Museum guest.

For the record:
12:40 p.m. April 10, 2019An earlier version of this post said the hologram technology did not use any screens. That is not correct. There are screens at use in the presentation.
Participants can choose from a simulated a cappella serenade of "Quit Playing Games (With My Heart)" or a playful group selfie where Brian Littrell quips, "Smile, look pretty." Both scripts were created to be "fun and inviting and inclusive," for fans new and old, said Kelsey Balch, the museum's production design manager.
"When we were approached about this by the Grammy Museum, we had no idea how it would turn out," Backstreet Boy Nick Carter said on being immortalized digitally. "It's so surreal and vibrant. It really gives you the feeling of being right next us. We love it, and our fans are going to love it."
The entire interaction is recorded and sent to participants via email. This allows fans to save the moment, but more importantly, share it.
"One of our main goals as we go through new exhibits and new content within the museum, is [tying] it back to a social environment," said Grammy Museum executive director Michael Sticka.
In hologram form, Carter, Littrell, Kevin Richardson, AJ McLean and Howie Dorough are portrayed as they are now — middle-aged men preparing to embark on a tour in support of their album "DNA" rather than twentysomethings performing under the pressure of peak fandom. The trek will follow the conclusion a two-year Planet Hollywood residency.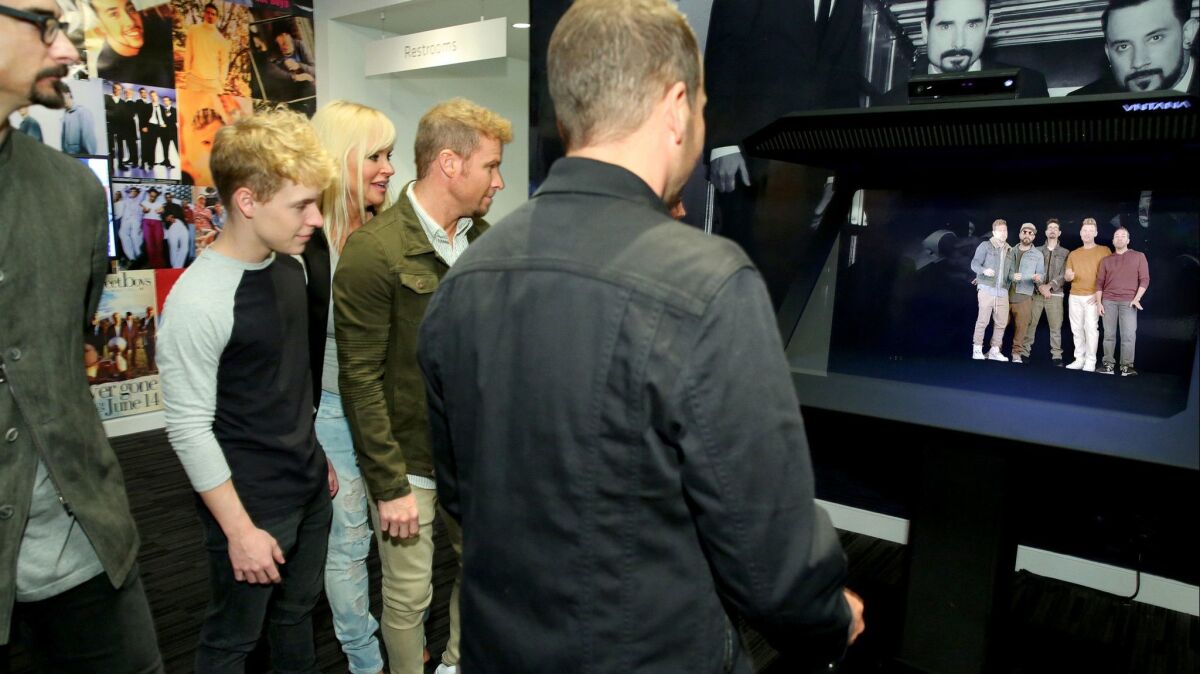 That was out of necessity. It would be technologically difficult to capture them in decades-old music videos or performances as most of that footage is 2-D, explained Vntana co-founder and hologram creator Ashley Crowder.
Although nostalgia plays a large role, the exhibition is meant to do more than just tap into fans' sticky-sweet memories. The hologram in particular, invites people to meet the band where they are in 2019.
"The curatorial team did an amazing job connecting that '90s nostalgia with current technology," said Sticka. "That's the experience that I hope people pick up on."
This digital-meets-analog theme trends throughout the exhibition.
A confessional booth plastered with Backstreet Boys posters from over the years is another interactive opportunity where fans can "leave a message" for the band. The gallery's east-facing wall is adorned with countless photos submitted by Backstreet Boys fan clubs while tour costumes and clothing artifacts are the centerpiece — Richardson's "Matrix"-like outfit from the 2001 Black & Blue world tour being one of them.
One of the more deliberate flashbacks was a '90s-style sticker machine — which, although now elusive, can still be found in select laundromats across America. It dispensed sticky squares with the band member's faces on them as keepsakes, and in this case, a handful of quarters aren't required.
Get our L.A. Goes Out newsletter, with the week's best events, to help you explore and experience our city.
You may occasionally receive promotional content from the Los Angeles Times.