As Los Lobos turns 40, bandmates reflect on a trippy ride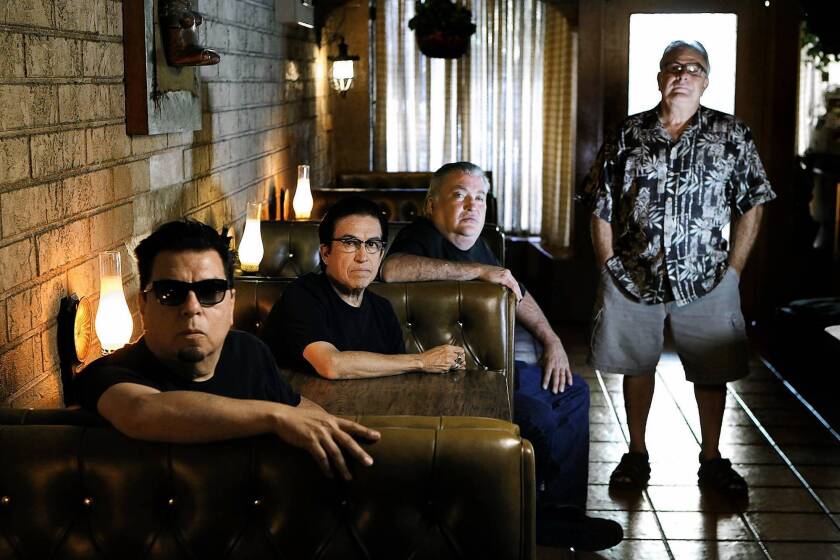 The lunch order at Lucy's El Adobe on Melrose was as follows:
Cesar Rosas: steak picado with corn tortillas.
David Hidalgo: chile relleno, with a beef taco dorado a la carte.
Louie Pérez: vegetarian burrito.
Conrad Lozano: steak picado, but could he have flour tortillas instead of corn please?
The waiter, originally from Tijuana, knew he'd been handed a setup line. "No flour here!" he barked at Lozano. "Only Mexican people here!"
PHOTOS: Unexpected musical collaborations
The Los Lobos bassist and his bandmates broke up laughing. "I'm Mexican American!" Lozano mock-protested. "Oh, and can I get a chile relleno on the side?"
When Los Lobos began playing together four decades ago as hirsute kids in flannel shirts and blue jeans, "Mexican American" wasn't exactly the musical flavor of the month. And in those early days, what the band often got on the side was puzzlement, from both Chicanos and non-Latinos.
Were they a Mexican folk troupe that happened to play electric instruments? Or a brown-eyed, soul-blues-rock outfit that, somewhat suspiciously, sang in Spanish?
"Seventy-three?" Pérez said, drifting back to the L.A. of memory. "There was nobody doing Mexican music. It was unheard of."
Things change. When Los Lobos marks its 40th anniversary Thursday at the Whisky a Go Go, the members will take the stage as pioneering border fusionists, multiple Grammy winners and one of the two indisputably most influential Chicano musical acts in history, along with Ritchie Valens.
Their impact hasn't been measured in chart hits, but in artistic connections forged and possibilities unlocked. Every bilingual L.A. band that has come since, from Quetzal and Ozomatli to La Santa Cecilia, has built on the foundations Los Lobos laid down with landmark recordings such as "La Pistola y El Corazón," its 1988 release of neo-traditional Mexican songs, and "Kiko," its 1992 experimental masterpiece, which the Wall Street Journal likened to "Sgt. Pepper's Lonely Hearts Club Band."
PHOTOS: Behind the scenes of movies and TV
To celebrate its creative longevity the band released a new live album, "Disconnected in New York City," last month. Following the Whisky show, it's booked almost solid with live performances, including a Nov. 21 appearance at Hawaiian Brian's in Honolulu, two nights at the Fillmore in San Francisco and a spring jam at the Acadiana Center for the Arts in Lafayette, La.
That itinerary testifies to the group's expansive range and enduring influence. Yet over lunch a few days ago its original four members — saxophonist-keyboardist Steve Berlin and drummer Enrique "Bugs" Gonzalez, the group's later additions, were in absentia — didn't speak about anniversary accolades. Instead, expressions of gratitude coupled with mild incredulity was the conversation's main course.
"We feel like the Forrest Gumps of Chicano rock," said Rosas, the perennially sunglasses-sporting guitarist. "We've sort of been in a lot of trippy places, you know? We've met presidents too, a lot of heavyweights. Chicano kids playing with the Grateful Dead, you know?"
The choice of Lucy's El Adobe as a meeting place was a small concession to nostalgia. When Los Lobos started venturing outside East L.A., the once-gritty, now hipsterfied blocks around Melrose were the band's first stop in a musical New World.
"We lived in a community that was insulated from the rest of the world," Pérez said. "The bus went as far as Whittier Boulevard and then it could have fallen off the edge of the earth."
When the group first began to break into the Hollywood club scene, it played joints like the Grandia Room, a few blocks from the El Adobe (where they frequently got takeout food while performing or recording). The guys also went "guitar-hopping," Rosas said, at the Guitar Center and other neighborhood musical emporiums.
PHOTOS: Celebrities by The Times
Their breakout performance took place a few miles farther west, at the Whisky in 1983 on a bill with the Blasters. By then, the band had moved on from playing folk music to crowds of diners at Mexican restaurants, including one joint where they were fired for turning up their amplifiers too high. For some years, they had veered between folk tunes and rock covers, searching for a path between the treacly pop-rock that dominated Top 40 and the heavy metal and art-rock that ruled the FM airwaves.
"Seventy-two to '74 was like a little dry spell," Hidalgo said. "That's kind of what led to us doing what we did. Just out of boredom we started goofing off, and it led to something we really got behind."
That something, it eventually emerged, was a lean, rootsy, hemisphere-roaming sound, distantly related to the punk aesthetic being smashed into existence by bands in London and New York, worlds apart from East L.A. In order to keep moving in this new direction, Los Lobos knew it had to start putting out original material. The Blasters gig, before a room packed with music critics, was where the band would try on its new identity for size.
"It was a very important beginning for us in terms of making that move from a folk band into a rock band again," Rosas said. "All the heavyweight journalists were there, that were writing for all the big papers. Everybody wrote about us, and everybody kept writing about us."
Like the Rolling Stones or the Dead, Los Lobos prospered over the long haul by keeping faith with blues-based rock, while simultaneously venturing down musical Americana's less-traveled byways. Ironically, the band's most intense creative crisis came after it hit No. 1 in 1987 with a cover of Valens' 1958 "La Bamba." Although it was propelled to momentary stardom, the band quickly came to fear that it would end up typecast as a retro-oldies group.
PHOTOS: A guide to the current top pop ensembles
Los Lobos confounded expectations, and earned more critical respect, by returning to its Mexican regional-music roots with the very next release, "La Pistola y El Corazón." Finally, with the musical melange of "Kiko," the band exploded the last of what Hidalgo describes as its "self-imposed limitations."
Today, Pérez said, he and his bandmates have a "self-awareness" that "we belong anywhere, we can go anywhere ... whether it be Helsinki or Chapel Hill, N.C." And so they have done. Leading up to its anniversary, Los Lobos has maintained an iron-man touring schedule, often in company with Neil Young. Between other gigs, Pérez and Hidalgo have been providing live accompaniment for "Evangeline," a musical theater piece inspired by the band's oeuvre, at scattered Central Valley venues.
Their musical legacy now is a family affair. Rosas' two daughters have played in bands. One of Hidalgo's sons, David Jr., plays drums in Social Distortion. Another, Vincent, plays guitarrón and jarana with Mariachi El Bronx. Several band members are — deal with it, los boomers — grandparents.
Something else is different. When Los Lobos started touring beyond the Southwest 30 years ago, Pérez said, "there were no brown faces around anywhere." Just as alarming, even in some major cities like New York, there was nary a Mexican restaurant in sight.
"And as the years went along," Rosas said, "Eighty-two, '83, '84, '85, '86, we started saying, 'Hey, there's one, we found one! Hey, there's another one, and then another one.'
"Now there's a lot of mexicanos out there."
PHOTOS AND MORE
PHOTOS: Concerts by the Times
THE ENVELOPE: Awards Insider
PHOTOS: Grammy top winners
---
From the Emmys to the Oscars.
Get our revamped Envelope newsletter for exclusive awards season coverage, behind-the-scenes insights and columnist Glenn Whipp's commentary.
You may occasionally receive promotional content from the Los Angeles Times.