Appreciation: Chris Squire, the cornerstone of Yes at its best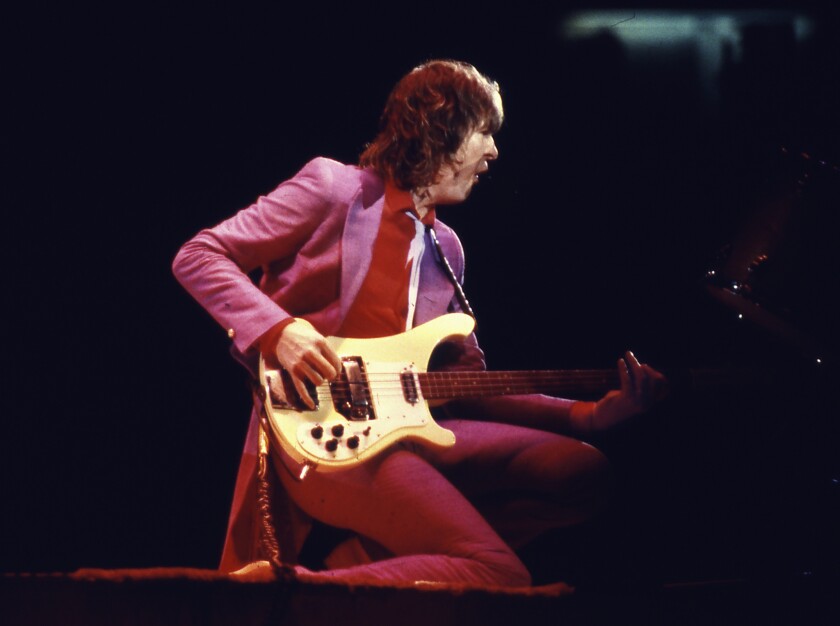 Another valued rock 'n' roll soul has departed our mortal plane and moved on to the heart of the sunrise: Chris Squire, the monstrously powerful and dexterous bassist of Yes, who died Saturday at 67, having battled leukemia.
For me, an appreciation of Squire — and the band he alone served as the unbudged cornerstone through all its many-changing iterations — begins and ends with three consecutive albums Yes released in 1971 and 1972.
"The Yes Album," "Fragile" and "Close to the Edge" are exhibits A, B and C in the case for progressive rock, the branch of popular music that has been least likely to get a fair hearing from the collective jury of tastemakers.
I can't speak for prog-rock fans, because I really am not one of them. I just like what I like, and what I like in progressive rock happened in a clearly demarcated span from 1969 to 1974 and involved five British bands: King Crimson, Emerson Lake and Palmer, Genesis, Gentle Giant, and, foremost, Yes.
Each soured badly after an early sell-by date (although Crimson would get a second life in a more austere, art-rock format), and Yes was the first to curdle. But as Peter Gabriel sang in Genesis' Arthur C. Clarke-inspired song, "Watcher of the Skies": "Judge not this race by empty remains. Do you judge God by his creatures when they are dead?"
Yes at its peak shouldn't be remembered as anything but a great rock band — a supremely virtuosic one that made complex music sound as natural, unforced and organically satisfying as any crunchy three-chord Chuck Berry-inspired progression with a four-four beat, which is a delicacy of a different sort.
It was a band whose four instrumentalists were equals (including Steve Howe on guitar and Tony Kaye or Rick Wakeman on keyboards), but the rhythm section of Squire and drummer Bill Bruford set the mark for prowess and invention.
The best description I can give of Squire's playing is this: "dum-dum-dum-dum/dum-dum-dum-dum/dum-dum-drum-dum-dum/dum-duh-duh-dum." That's the cadence of one of his most trenchant riffs, forming the backbone of the bridge to classic-period Yes' biggest hit, "Roundabout." I won't even try to annotate his blazing playing on "Heart of the Sunrise." Its speed and stuttering rhythmic complexity are more than my ears, let alone my typing fingers, can fully assimilate.
The first time I saw Squire and Yes perform, it was a revelation — of just how boring and profoundly disappointing a great rock band could become, almost overnight. It was 1973, and, with Bruford having exited, Yes slogged through the bloated double-LP "Tales From Topographic Oceans" in all its dismal entirety. I can't say whether they got around to playing any more appealing songs that night, having left very early and very depressed. One's teenaged self had better things to do — and listen to.
(I won't get into what became of Yes in the 1980s, when it followed Genesis down an artistically dubious pop-rock path to riches. Virtuosity can't compensate for tepid songwriting.)
But there's a happier moment that I like to think of as the coda to my brief romance with Yes. Two years after "Topographic," the band was touring a new album, "Relayer," which perhaps I would have enjoyed had I not by then sworn off prog-rock for good, resolving to take Gabriel's cue and not sift through empty remains.
I went to the show and was startled to see how much of its vibrancy Yes had rediscovered, at least for an evening. Most vivid in my memory of that concert is Squire, a tall man (a veritable giant, in fact, next to the elfin singer, Jon Anderson) whose joyful smile and high-stepping energy lit up the stage.
It's a lovely image to hold onto any time I indulge in the pleasure of listening to Yes at its best.
---
The complete guide to home viewing
Get Screen Gab for weekly recommendations, analysis, interviews and irreverent discussion of the TV and streaming movies everyone's talking about.
You may occasionally receive promotional content from the Los Angeles Times.